What Jobs Can I Get With An Associate's Degree In Marketing?
Six Jobs You Can Do With Your Associate's Degree In Marketing
Individuals who earn an associate's degree in marketing frequently have an extensive comprehension of the principles of marketing, consumer behavior, and advertising, which qualifies them to work in multiple areas of the marketing industry.An associate's degree in the marketing field will take roughly two years to complete. A bachelor's can be earned in three to four years, a master's in two years after completing a bachelor's degree program, and a doctorate program takes a bit longer, normally four to six years and require at least a bachelor's degree even though a master's degree is the general requirement. The majority of people working in the marketing field have at least an associate's degree. In some instances, work experience can be stand-in for a degree. Nonetheless, it can be tough to find opportunities or be offered a job without some type of degree or certificate. At minimum, an associate's degree will get your foot in the door and who knows where things can go from there!
Online Masters in Marketing Communication
University College at the University of Denver
Online

| Applicants: Nationwide
+ Click for Program & Admissions Info

No GMAT or GRE required

A Top 100 University for nearly a decade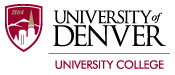 Sponsored
Marketing Programs And Course Subjects
Marketing programs instruct students on how to woo and maintain customers by advertising and allocating products, along with ideas and services. Associate degree programs usually offer curricula in the basics of business regulations and marketing principles in addition to studies in liberal arts. Programs also offer information concerning consumer behavior, marketing roles in numerous industries, and sales techniques.Students may be taught concepts associated with advertising and promotion, research, or ecommerce. Some programs may demand that students complete an internship or capstone projects. Candidates keen on entering a program for an associate's degree should have a high school diploma and submit ACT or SAT test scores. An associate's degree in marketing can lead to a career in sales, customer service, public relations, or advertising.During an undergraduate program in marketing, student might be involved with coursework that teaches them about the management and promotional side of business. They may take course subjects that involve:
Managerial accounting
Consumer behavior
Organizational marketing
Microeconomics
Macroeconomics
Business communication
Customer service
Financial accounting
Services marketing
Statistics
Six Jobs For People With An Associate's Degree In Marketing
1. Direct Marketing
Many students that hold an associate's degree in marketing choose direct marketing as a profession. Direct marketers aim at large consumer groups when trying to promote products. Normally these professionals will disperse catalogs or make telephone calls to contact potential customers. Professionals in this line of marketing must have an accurate comprehension of consumer habits and behavior. Marketing degree programs tend to offer extensive training on reaching consumers; therefore, marketing graduates are perfect candidates for this type of work. According to the research of one institute for direct marketing, direct marketers frequently land jobs at ad agencies and numerous other businesses as well.
2. Business Marketing
Graduates in marketing who favor personal interaction with other business professionals might consider a career in business marketing. Business marketing, also known as business-to-business marketing, entails selling products to other businesses. A business buys such products or services and utilizes them to make additional products to resell them or to run their company. The Business Marketing Association believes that business marketers make countless connections by networking through social media and trade shows. Dissimilar to consumer marketers, business marketers generally work closely with their clients. Keen interpersonal skills and customer service are key attributes.
3. Digital Marketing
Would-be marketers who are tech savvy and take pleasure in following the advancement of digital technology may find a career in digital marketing the ideal career. Digital marketers fashion campaigns with the assistance of digital media, including email, SMS, websites, social media, and more. After identifying their basic consumer, a digital marketer must discover the best way to attract these customers. To accomplish this, they frequently use multiple outlets, such as mobile phone ads, pod casts, viral videos, LinkedIn, and whatever they can to get their message to consumers.
4. Account Executive
The account executive plays the role of the middleperson between advertising accounts and a company. They create fresh contacts, secure new accounts, and sustain existing business relationships.
5. Public Relations Specialist
Also called a communication or media specialist, a public relations specialist takes care of PR activities like communicating with the media, speeches, and writing press releases.
6. Marketing Manager
Marketing managers take care of strategy. They point out potential markets, calculate demand, and promote services, products, or brands. Sometimes people in this position are called advertising, brand, or product managers.
Other Popular Career Options
Individuals with an associate's degree in marketing are also candidates for entry-level careers in the industry as well in areas such as advertising or entrepreneurial marketing, market research, the Internet, and product management. Other positions include:
Market research analysts
Business operations specialists
Public relations specialist
Sales worker supervisors
Art directors
Associates In Marketing Salary Information
As a rough draft of the type of salary a person with an associate's degree in marketing can expect, according to
Payscale
, a marketing assistant can make between $25,700 and $45,370. A marketing coordinator makes between $29,790 and $52,930 annually. Though a graduate will probably need a bachelors or masters degree for management roles, they can enjoy a better salary as manager. According to the Bureau of Labor Statistics, the 2010 average salary for marketing managers, promotions, and advertising, was $108, 260 per year, which is roughly $52 per hour.As with any career, a salary will vary depending on the company, the field of marketing the person is in, their level of education, and years of experience. More than likely, a graduate with an associate's degree will make less money right out of school with their salary-increasing equal to their experience in their field.
Continuing Education
Individuals who graduate with an associate's degree in marketing have the choice of transferring their credits to pursue a bachelor's degree in marketing or a similar field such as a Bachelor of Science in Business program. This type of degree offers skill improvement in analysis, communication, global perspective, and critical thinking. Bachelor's degrees in marketing can lead to careers in marketing, consulting, human resources, communications, and banking.