The 10 Fastest Online Bachelor's in Marketing Degree Programs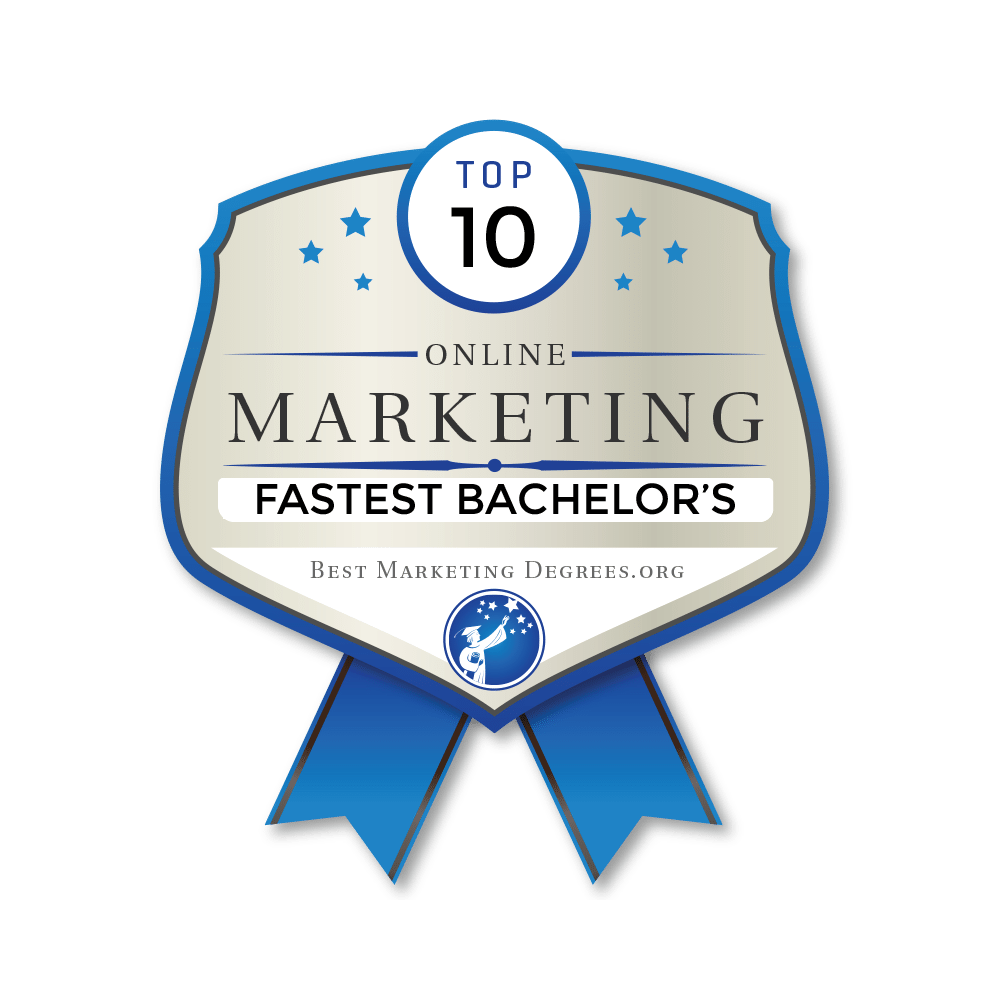 Image is everything, and a great marketing campaign can make all the difference in a brand's visibility, relevance, and reputation. But what's in the "secret sauce" of a successful marketing endeavor? That's a complex blend of methodical research, creative genius, calculated-risk, and audience targeting, and it takes a team of trained marketing professionals to pull it off. Qualified marketing professionals are highly valued by corporations, and are very well compensated. The Bureau of Labor Statistics reports that
Market Research Analysts and Marketing Specialists
make an average salary of $71,450, while
Advertising, Promotions, and Marketing Managers
earn an average salary of $129,380 per year. If you love the idea of helping brands to elevate and celebrate their products or services, you'll want to start with a Bachelor's Degree in Marketing. A typical bachelor's program will provide a solid understanding of marketing essentials like Market Research, Consumer Behavior, Product and Brand Management, Promotion and Public Relations, and Global Marketing. Many programs also offer experiential components (like internships), specializations, or include hands-on learning through projects and portfolios. It typically takes 4 years to earn a bachelor's degree, but if you've got serious drive and ambition, you'll want to find a fast paced bachelor's program that will allow you to get started on your career much sooner than that. We've compiled our guide to the
10 Fastest Online Bachelor's in Marketing
to help you get on the fast track to this essential degree. All of the programs included in our ranking can be completed in under four years, and all are delivered fully online, allowing you to complete your coursework when and where it's most convenient for you. Within these top ten, we've further ranked our Fastest Online Bachelor's in Marketing based on a number of additional metrics that make your degree more prestigious, more flexible, and more affordable.
Affordability (1/3): an institution's cost per credit hour for out-of-state residents provided by degree program or institutional website.
Flexibility (1/3): the number of options—including acceptance of prior college credits, self-paced learning initiatives, accelerated courses, and number of specializations—that allow students to complete a program at a pace of their choosing.
Academic Prestige (1/3): an institution's placement in relation to similar institutions according to either regional or national ranking indexes.
FEATURED ONLINE PROGRAMS
University of Denver – University College

Denver, CO & Online

>Master's in Marketing Communication

Create integrated marketing campaigns that are driven by strategic objectives, reach clearly defined audiences, and deliver desired results. You'll discover the power of brands and determine how to craft, deploy, and measure campaigns from start to finish. Receive hands-on experience as you evaluate traditional and digital marketing communication tactics and dig deep into marketing trends: social, mobile, email, search, and more. Highlights:

Top 100 university
100% online
No GRE
SPONSORED
1. Colorado State University – Global Campus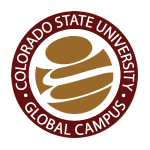 Colorado State University – Global Campus (CSU-Global) is the online campus of the public Colorado State University System. The Global Campus was established in 2007, with the goal of providing high quality distance learning options to working adults, and has its physical headquarters in Greenwood Village, a suburb of Denver, Colorado. Rather than a division within a campus branch of the Colorado State University System, CSU- Global is a fully-independent and self-governing member of the University System, and the school defines itself as "the first statutorily-defined, non-profit, online state university" in the nation. CSU- Global offers top-quality undergraduate and graduate degree programs, as well as degree completion programs and certificates, and also provides professional development to a number of government organizations and corporate entities, including Otterbox, Great West Financial, AT&T, and United Airlines. Colorado State University – Global Campus offers an extremely fast Bachelor's in Marketing. Students in this Bachelor of Science program can expect to develop a thorough grounding in consumer behavior, promotional strategies, public relations, sales, and market research, along with current issues and trends such as digital/social media and integrated marketing. The curriculum blends theory with practical skills and quantitative tools with communication and management. The course of study consists of 120 credits, including 10 three-credit core courses in Marketing, a Capstone, and Practicum. Class topics include Consumer Behavior, Product and Brand Management, Promotion and Public Relations, and International and Multi-Cultural Marketing. Tuition is one of the most affordable of any school included in our Fastest Bachelor's in Marketing Ranking, at just $3560 per credit. CSU Global offers a number of ways for students to accelerate their degree, including transfer credits, fast track classes, and alternative credit options, pathways which grant academic credit for approved job training, military training, professional development, work experience or placement testing. In fact, with maximum transfer credits, fast track classes and alternative credit pathways, a student can earn a fast online bachelor's in marketing from CSU- Global in as little as one year. Prestige, flexibility and a super accelerated degree track make CSU- Global our #1 choice for 10 Fastest Online Bachelor's in Marketing.
Shortest Time to Completion: 1 year
2. Colorado Technical University

Located in Colorado Springs, Colorado, Colorado Technical University (CTU) is a private university with a strong focus on distance education. The university was got its start in 1965 as a technical school aimed at training veterans in civilian professions. Today, CTU continues to emphasize industry-relevant higher education, and popular areas of study include Accounting, Computer Science, Business Administration, and Health Sciences. CTU awards degrees at the undergraduate, graduate, and doctoral levels. The school's online offerings are popular, longstanding, and robust. CTU has been offering online degrees since 2000, and more than 92% of the school's 26,000 students are enrolled in fully online programs. Colorado Technical University offers a highly affordable and incredibly fast online Bachelor's in Business Administration with a concentration in Marketing. The university's high-quality, flexible and fast bachelor's program has been ranked 115th in Best Online Bachelor's Programs for four years in a row by U.S. News and World Report. The program is designed to equip students not only proficiency in business operations, but also special skills in sales, marketing communications, channel development, and consumer behavior. A total of 180 credits are required for this fast online degree: 66 in general education, 86 in the major core, and 28 in the Marketing Concentration. Classes within the marketing concentration include Consumer Behavior Fundamentals, Applied Marketing Management, Marketing and the Virtual Marketplace, and Advertising and Public Relations. This high-quality degree can be accelerated in several ways. Tuition very low, at a cost of just $325 per credit, making it one of the most affordable schools included in our Fastest Bachelor's in Marketing ranking. CTU offers a generous transfer credit policy, allowing up to 75% of the degree's 180 required credits to be transferred in, with approval, from another institution. The program also offers "Fast Track" exams, allowing students to earn credit for demonstrated prior knowledge of course content. CTU also awards academic credit for past experience, training, and certification. By maximizing all available transfer and alternative crediting options, students can earn a fast bachelor's in marketing from CTU in as little as 2 years.
Shortest Time to Completion: 2 years
3. Western Governors' University

Western Governors University (WGU) is a private, nonprofit, university which is headquartered in Salt Lake City, Utah and offers classes exclusively online. The school originated in 1995 from a proposal by the then-governor of Utah to establish an innovative, multi-state distance learning network to provide quality education to working adults. WGU was officially founded two years later, with the backing of 18 other state governors. Today, WGU serves a total of 78,709 non-traditional learners through online, student-centered learning. Almost the entire student body is over the age of 25 and employed full-time, and classes are therefore delivered with maximum flexibility in terms of credit assessment and scheduling (WSU even chose a "night owl" as the school mascot). In order to support distance learners through the challenges of pursuing a degree while maintaining outside obligations, WSU pairs leach student with an individual academic mentor, who serves as their academic advisor, coach, mentor and school liaison. Western Governors University awards an affordable and fast online Bachelor's in Marketing Management. WGU's degree program aims to arm students with a solid knowledge of nine core content areas, including Quantitative Analysis, Project Management, and Business Law and Ethics. A total of 35 classes are required for graduation, and marking management courses include Marketing Fundamentals, Marketing Applications, Principles of Management, and Marketing Management Tasks. The school offers a generous transfer credit policy, and the average WGU student is able to transfer in a total of 32 credits from previous coursework. In addition, all classes are competency-based, meaning that credit is awarded for demonstrating aptitude through assessments, and students can progress through the program as rapidly as they are able to acquire and demonstrate their grasp of the content. By taking full advantage of transfer credits and accelerated courses, it's possible to earn this flexible and fast bachelor's in marketing in just two years, just half the time of a traditional undergraduate degree. Fast learners save money as well as time; WGU charges a flat fee per semester, so those completing their degree in an accelerated time frame will pay less tuition overall.
Shortest Time to Completion: 2 years
4. Removed by Editor
5. Southern New Hampshire University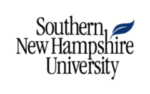 Located in Manchester, New Hampshire, Southern New Hampshire University (SNHU) is a nonprofit, private institute. The university dates back to 1932, with the founding of the New Hampshire School of Accounting and Secretarial Science. SNHU now serves 73,177 students in 6 schools and colleges, awarding undergraduate and graduate degrees, and certificates. Of this large student body, as many as 60,000 are enrolled in SNHU's popular and innovative online programs. In recognition of the school's approach to online learning, which blends the student-centered format of for-profit schools with the academic quality of a nonprofit university, U.S. News and World Report has consistently ranked SNHU 1st in Most Innovative Schools, as well as 83rd in Best Value Schools and 86th in Regional Universities, North. Southern New Hampshire University offers an affordable and fast and affordable online bachelor's in marketing, with the option to pursue a concentration in social media. The program is intended to ground students in a thorough understanding of brand communications, consumer behavior, market research and international marketing. A total of 120 credits are required for graduation, and classes take place in a self-paced format of six 8-week terms per year, allowing students to accelerate their pace of completion. Marketing courses include Principles of Integrated Marketing Communications, Social Media and Marketing, Strategic Brand Management, and Consumer Behavior. For those interested in pursuing an advanced degree at an accelerated pace, SNHU also offers an accelerated BS-to-MS pathway, allowing students to potentially earn both a bachelor's and master's degree in two years- half the time typically required to earn a bachelor's degree alone.
Shortest Time to Completion: 1 year
6. Sullivan University

Sullivan University is a private institute which is based in Louisville, Kentucky, with 6 additional satellite campuses located throughout the state. The school dates back to 1962, when it was established as a one-year vocational school, with a student body of just 300. With an enrollment of 3,165 (2,625 undergraduate), Sullivan is Kentucky's largest private university. The university awards diplomas, associate's, bachelor's, master's and doctoral degrees, and continues its traditional emphasis on career-oriented disciplines like Business, Hospitality, Education, and Health and Nursing. The school prides itself on offering its body of non-traditional learners affordable tuition, flexible scheduling, and extensive supports. Sullivan offers a fast Bachelor's in Business Administration with a concentration in Marketing. Students in the program gain a comprehensive foundation in business principles, such as accounting, business law, economics, financial management, and conflict management, while also developing a specialization in marketing. For this 180-credit degree, students complete a 104 credit Business Core, followed by 16 credits in the Marketing Concentration, with classes such as Marketing Research, Sales Management, and Building a Brand. Professors have backgrounds in business and marketing and bring their real-world experience to their online instruction. Tuition is extremely affordable at a price of $320 per credit. Those with an associate's degree or other relevant prior coursework can complete the entire program in as little as 18 months. Distance learners have access to remote support services like academic advising, library resources, career assistance and even a mentoring team.
Shortest Time to Completion: 1.5 years
7. Rasmussen College

Rasmussen College is a private institution based in St. Paul, Minnesota, which operates 22 satellite campuses throughout the nation. The school got its start in 1900, when it was founded by Walter Rasmussen in Stillwater, Minnesota, as the Rasmussen Practical School of Business. Currently, Rasmussen awards over 70 diplomas, certificates, associates and bachelor's degrees and has a total enrollment of more than 13,600 students nationwide. True to its roots as a school of business, Rasmussen has a strong focus on career-oriented disciplines, and popular areas of study include Health Sciences, Business, Education, Criminal Justice, Nursing, and Technology. The school began offering online classes back in 2002, and today, a large proportion of Rasmussen's students are enrolled in online, with most of these pursuing professionally-focused degrees on a part-time basis while also maintaining their current careers. Rasmussen offers an exceptionally affordable and fast Bachelor's Degree in Marketing. The program is intended to prepare students to succeed in the modern marketing profession, and includes studies in both traditional and online marketing channels, market research, public relations, Search Engine Optimization (SEO) and product management. Students may also chose between two specializations: Digital Marketing or Sales Management. Classes include Marketing Management Foundations, Visual and Social Media, and Integrated Marketing and Sales Planning. Rasmussen's accelerated bachelors in marketing degree program employs the school's signature "Credential Ladder," which automatically awards students enrolled in the bachelor's program an associate's degree once they have completed sufficient required bachelor's coursework, giving them a credential with immediate workplace applicability. The program also employs Rasmussen's "Flex Choice" format, which allows students to combine traditional courses with competency-based learning or self-directed assessments to build a customized degree path, allowing for flexible scheduling and accelerated completion. Through transfer credit and the use of Flex Choice to place out of credit requirements, the entire degree can be completed in as little as 1.5 years.
Shortest Time to Completion: 1.5 years
8. Regis University

Regis University is a Roman Catholic, private, liberal arts school which is based in Denver, Colorado. The school dates back to 1877, when exiled Italian Jesuits priests founded Las Vegas College, a small institute in Nevada. The same group later founded Sacred Heart College in Morrison, Colorado, and the two eventually merged to become Regis. In keeping with the Jesuit tradition, Regis has a longstanding and extensive commitment to community service and social justice, which is manifested in the school's many community service and outreach projects, such as serving food to the homeless. Liberal arts play a major role in all areas of study, and ethics are interwoven across disciplines. The most popular majors include health sciences, followed closely by business and management. U.S. News and World Report ranks Regis 23rd in Regional Universities, West. Regis offers a well-respected, fully online and fast bachelor's in business with a concentration in marketing. Students in this degree program gain a solid grasp of business fundamentals, along with specialized studies in marketing, including how to coordinate market research, marketing strategy, sales, advertising, promotion, pricing, product development, brand management and public relations. A total of 128 credit hours are required for the degree, with 30 credits in foundational courses, 33 in upper division requirements, 20 electives, and 9 in the marketing concentration. Class topics include International Marketing, Digital Marketing, Influencing Buyer Behavior, and Marketing Communications. With maximum transfer credits, this fast, rigorous, and well-respected program can be completed in just one year. Students interested in an advanced degree can pursue an accelerated Bachelor of Applied Science with Management specialization and M.S. in Organization Leadership by applying up to four graduate courses towards their undergraduate degree.
Shortest Time to Completion: 1 year
9. Arizona State University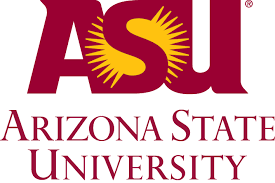 Arizona State University (ASU) is a large, public university which is headquartered in Tempe, Arizona and operates multiple satellite campuses throughout the Greater Phoenix area. The university was founded in 1885, and actually predates the founding of the state of Arizona itself. ASU got its start as as the Arizona Territorial Normal School, in order to train teachers, with just 33 students in its first class. Today, ASU has no less than 82,060 students: 66,309 undergraduates and 15,751 graduate students, making it the nation's largest public university by enrollment. The university has an outstanding reputation for both education and research, with a number of top nationally-ranked programs in business, law, engineering and education. The Carnegie Foundation classifies ASU as a "research university with very high research activity," recognizing its advanced contributions in the fields of energy efficiency, business, and aerospace and defense. The university is ranked 115th in National Universities, 110th in Best Value Schools, 53rd in Top Public Schools and 1st in Most Innovative Schools by U.S> News and World Report. Arizona State University offers an accelerated online Bachelor's in Business with a concentration in Communication through its prestigious W. P. Carey School of Business. This reputable and fast degree is best-suited for those with a strong in terse in business who wish to shape and deliver message-related behaviors for the purpose of improving communicative interactions in the workplace and with consumers. The degree requires the completion of 120 credit hours, including 51 Upper Division Hours, for a total of 41 classes. The curriculum includes such classes as Communication in Business, Communication, Conflict, and Negotiation, Communication Training and Development, and Small Group Communication. Courses are fast paced, lasting just 7.5 weeks. Those interested in pursuing a master's degree from ASU can accelerate their pace of completion through the school's "Fast Track" option, which allows bachelor's degree students to complete credit hours toward their master's degree during their senior year, earning a graduate degree in one year instead of two. With maximum transfer credits, under the university's generous transfer policy, the entire bachelor's program can be completed in 2.5 years. Tuition is very reasonably priced for a school of ASU's caliber, at $521.50 per credit.
Shortest Time to Completion: 2.5 years
10. Full Sail University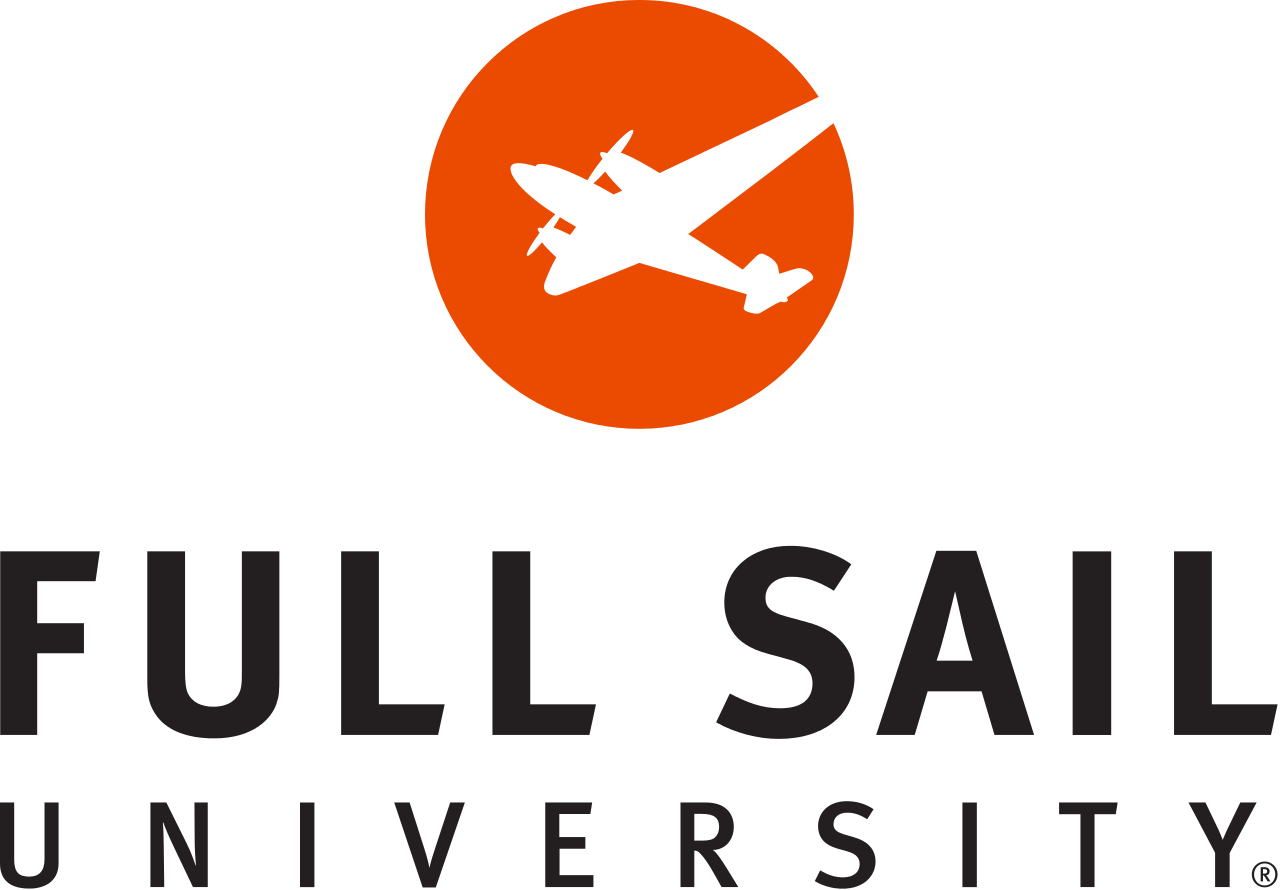 Full Sail University is a private institute based in Winter Park, Florida, a suburb of Orlando. The university got its start back in 1979 in Dayton, Ohio, as as Full Sail Recording Workshop, with the aim of providing instruction in the production end of the music industry. By 1980, the new school had relocated to its current home in Florida, and soon began offering expanded academics other fields of entertainment and media. Nowadays, Full Sail has a student body of 16,100, and confers 49 degrees and certificates at the associate's, bachelor's, and master's level, in disciplines like computer animation, film, video production, design, and business. Many programs are offered online, and most are available in an accelerated format. The school has earned several distinctions, such as FAPSC School/College of the Year, the Technical Excellence and Creativity award for Best Recording School/Program from Mix magazine, and placement in the "five best music programs in the country" from Rolling Stone magazine. Full Sail has an accelerated online Bachelor's in Internet Marketing. This affordable and fast degree is specific to digital commerce, and is intended to thoroughly train students in developing dynamic content, search engine optimization, direct advertising, and market-related data analytics, to help companies reach their target audience. Internet marketing course topics include Search Engine Optimization, Display Advertising and Email Marketing, and Web Analytics and Reporting. Throughout the program, students complete hands-on project and portfolio based courses, and graduate with a selection of professional work to demonstrate their aptitude to employers. The entire degree can be earned in just 29 months, and tuition is reasonably priced at $450 per credit.
Shortest Time to Completion: 2.5 years