Online Marketing Education Opportunities in New York
New York's economy ranks third in the United States, with an annual GDP of $1.2 trillion. Of course, Wall Street makes up a significant portion of the state's economy, and New York City is widely regarded as the banking, finance, and media capital of the world. But the State of New York boasts one of the most diverse economies in the country: publishing, technology, logistics, transportation, healthcare, manufacturing, and agriculture are all major sectors, several of which have rapidly expanded in recent years. As with any healthy economy, New York's marketing sector is one of the largest in the country, from top-tier advertising agencies on Madison Avenue to cutting-edge digital startups in "Silicon Alley." Thankfully, the state is also home to some of the best universities in the country, which are offering innovative online programs in marketing to keep pace with the job market.
Average Salaries for Common Marketing Roles In New York
While New York can be an expensive place to live, marketing professionals enjoy high-paying salaries and an exceptional job market. In each of the common roles listed below,
New York marketing professionals earn above the national median salary
. In upper-level roles, New Yorker marketers rank near the top 25% of earners.
Social Media Analyst: $64,996
Marketing Specialist: $70,686
Marketing Manager: $103,415
Marketing Director: $145,686
Chief Marketing Officer: $243,940
Job competition can be fierce in New York, but current or prospective professionals with a specialized degree in marketing will have a major advantage, both during the recruiting process and on the job. Not only will you earn the credentials, you'll also develop and hone your marketing skills with the help of expert instructors and innovative technologies. With the Bureau of Labor Statistics projecting a 10% increase in marketing jobs over the next decade, now is the time to get your degree and start (or advance) your career in marketing.
The 5 Best Online Marketing Degree Providers in New York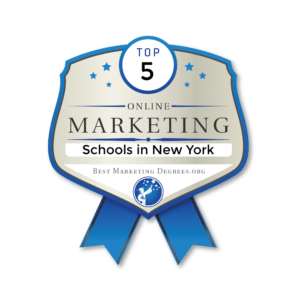 There are a total of 8 schools offering marketing education online in New York. From community colleges through graduate business schools, there are marketing degrees available at every level in New York. While future students may find their interest piqued by the "best" universities in the state, they should first and foremost check to make sure that the institution offers the type of degree they're looking for. After all, marketing roles can be reached through a wide variety of angles, from speech and communication degrees, to business degrees in marketing analytics. We looked at two factors to compile the ranking below: the number of full online marketing degrees offered by an institution of higher learning, and the academic prestige score of an institution. The academic prestige score took into account metrics including the average amount of financial aid met, the average size of classes, admissions standards, and the percentage of professors holding terminal degrees in their field. Check out our 5 favorite institutions for marketing education in New York below!
Directory of Online Marketing Degree Providers in New York
New York University
New York, NY
Online M Degrees: 1

ADDRESS & CONTACT INFO

(212) 998-1212 70 Washington Sq South, New York, New York 10012-1091
Berkeley College-New York
New York, NY
Online M Degrees: 3

ADDRESS & CONTACT INFO

(212) 986-4343 3 East 43 Street, New York, New York 10017
Houghton College
Houghton, NY
Online M Degrees: 1

ADDRESS & CONTACT INFO

(585) 567-9200 1 Willard Ave, Houghton, New York 14744
Bryant & Stratton College-Online
Orchard Park, NY
Online M Degrees: 2

ADDRESS & CONTACT INFO

(716) 884-9120 180 Redtail Rd, Orchard Park, New York 14127
Fashion Institute of Technology
New York, NY
Online M Degrees: 1

ADDRESS & CONTACT INFO

(212) 217-7999 227 W 27th St, New York, New York 10001-5992
Herkimer County Community College
Herkimer, NY
Online M Degrees: 1

ADDRESS & CONTACT INFO

(315) 866-0300 100 Reservoir Rd, Herkimer, New York 13350-1598
LIM College
New York, NY
Online M Degrees: 1

ADDRESS & CONTACT INFO

(800) 677-1323 12 E 53rd St, New York, New York 10022-5268