Share this infographic on your site!
Evolution of Slogans
Often repeated ad infinitum, advertising slogans can make or break a brand. If the motto is clever, simple and above all memorable, the company will reap the benefits and may never change it. If the tagline tanks with the target demographic, so too will sales, meaning the ads get axed. Let's take a look at advertising slogans through history, along with how they've changed – or haven't.
Changing With the Times
Some companies have responded to a changing world with taglines that reflect our increasingly global society.
FedEx
FedEx started out focusing on its punctuality and reliability as a parcel delivery service. As a globalized economy developed with the advent of online commerce, the company's later slogans shifted the emphasis to the "world." (1)
"When it absolutely, positively has to be there overnight" (1978–1983)
"Our most important package is yours" (1991–1994)
"The way the world works" (1996–1998)
"Be absolutely sure" (1998–2000)
"Relax, it's FedEx" (2004–2008)
"The world on time" (2009-present)
Verizon
Similarly, Verizon's earlier slogans touting the company's dependability evolved into a focus on call quality and, finally, broadband and mobile access. (1)
"Join in" (2000)
"We never stop working for you" (early 2000s)
"Can you hear me now? Good" (mid-2000s)
"Rule the Air" (2010)
If It Ain't Broke…
Other companies have built their brand around slogans that have withstood the test of time. Content to leave well enough alone, their philosophy is: Why mess with perfection? Here are some of the longest-lasting company slogans in America.
97 years Maxwell House: "Good to the last drop"
According to advertising lore, President Theodore Roosevelt made an offhand statement in 1907 about a particularly enjoyable cup of coffee. Ten years later, that statement was immortalized as a slogan for Maxwell House, the same one the company uses today. (1)
67 years
De Beers: "A diamond is forever"
Advertising Age called this slogan the best of the 20th century. A young copywriter named Frances Gerety dreamed up this iconic phrase, which is credited with solidifying the precious stone's status as the go-to engagement ring gem. (2)
In pop culture
James Bond creator Ian Fleming was inspired by a De Beers ad to write the book "Diamonds Are Forever," which was turned into a film starring Sean Connery in 1971. More recently, the 2005 Kanye West song "Diamonds from Sierra Leone" features the refrain "Diamonds are forever." (3-4)
52 years
Avis: "We try harder"
Avis was the second-ranking car rental company, trailing Hertz, and when Avis' president was asked what set his business apart from the industry leader, he remarked, "Well … we try harder." Two years after adopting this slogan, Avis' sales were up 30%. (1)
21 years
Nike: "Just do it"
Legend has it this pithy motto was inspired by a death-row inmate's final words. The night before Nike's first big campaign launched, advertising firm Wieden + Kennedy founder Dan Wieden penned that phrase based on convict Gary Gilmore's famous statement, "Let's do it." (5)
11 years
Las Vegas: "What happens here, stays here"/"What happens in Vegas, stays in Vegas"
Ad agency R&R Partners was tasked with rebranding the city for something other than gambling. The agency hit upon the idea "freedom to let go" with its new campaign, triggering an influx of visitors who raised the city's hotel room occupancy rate to an all-time high of 97%. (6)
In pop culture
Former first lady Laura Bush memorably quoted the slogan to Jay Leno, when he asked her if she'd seen any Chippendales dancers during a visit to Las Vegas. The slogan also inspired an Usher song and a trio of "Hangover" movies starring Bradley Cooper and Zach Galifianakis. (3, 7)
Fast Food, Frequent Fine-Tuning
Fast-food restaurants in particular have generally taken a "try it all and see what sticks" approach throughout the years.
Wendy's
Originally focusing on taste, Wendy's slogans changed throughout the years to emphasize convenience, personal choice and, more recently, a "real food" approach – though the company did have a brief reprise of its most famous motto. (8-10)
An abbreviated list:
1970: "Quality is Our Recipe"
1978: "Juicy hamburgers and lots of napkins"
1980: "Wendy's Has the Taste"
1983: "Aren't you hungry… Aren't you hungry?"
1984: "Where's the beef?"
1997: "Eat great, even late"
2005: "It's Good To Be Square"
2006: "Don't Compromise. Personalize"
2008: "It's waaaay better than fast food"
2009: "You know when it's real"
2011: "Where's the beef?"
2012: "Now that's better"
In pop culture
The ad committee originally rejected the "Where's the beef?" commercial, but changed its mind after a second presentation. Clara Peller, who asked the now-famous question in the ad, was given a three-year contract but was dropped a year later when she did an ad for Prego spaghetti sauce in which, in reference to her more famous ad, she announced, "I found it. I really found it!" (10)
Burger King
Burger King hasn't messed around too much with its slogan, but like Wendy's, it returned to a slogan that proved to be immensely popular. Burger King, on the other hand, stuck with it. (1)
An abbreviated list:
"Have it your way" (1974)
"Best darn burger" (1978)
"Burger King town" (1986)
"The Whopper says" (2001)
"Have it your way" (2005)
McDonald's
McDonald's never quite found the slogan sweet spot its competitor Burger King did — at least, until its most recent motto, which has remained unchanged for 11 years. (1, 11)
An abbreviated list:
"Look for the Golden Arches," 1960
"The closest thing to home" (1967–1969)
"You deserve a break today" (1971–1975)
"It's a good time for the great taste of McDonald's" (1984–1988)
"Did somebody say McDonald's?" (1997–2000)
"We love to see you smile" (2000–2003)
"I'm lovin' it" (2003–present)
Soft Drink Slogan Showdown
Coca-Cola came to the market first in 1886, followed closely behind by Pepsi in 1898, and for the ensuing century-plus, both brands have been locked in battle. For the ad agencies, the difficulty lies in promoting their drink over the competitor's when the products are so similar that many people can't tell the difference in blind taste-tests. As a result, the companies are forced to continually reinvent themselves with slogan after slogan. Here's an abbreviated list: (1, 12-15)
Coca-Cola
1900: For headache and exhaustion, drink Coca-Cola
1939: Thirst Asks Nothing More
1952: What You Want is a Coke
1969: It's the Real Thing
1985: America's Real Choice
2000: Coca-Cola. Enjoy
2009-present: Open Happiness
Pepsi
1903: Exhilarating, Invigorating, Aids Digestion
1939 Twice as Much for a Nickel
1950: Any Weather is Pepsi Weather
1969: You've Got a Lot to Live, and Pepsi's Got a Lot to Give
1983: Pepsi Now! Take the Challenge!
1999: For Those Who Think Young/The Joy of Pepsi-Cola
2012-present: Live For Now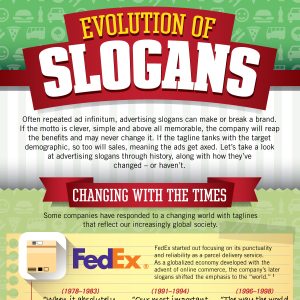 Sources: 1. http://www.theatlantic.com 2. http://www.nytimes.com 3. http://www.imdb.com 4. http://rap.genius.com 5. http://www.adweek.com 6. http://www.vegasinc.com 7. http://theweek.com 8. http://adage.com 9. http://www.bluemaumau.org 10. http://www.bizjournals.com 11. http://www.telegraph.co.uk 12. http://www.coca-colacompany.com 13. http://www.pepsico.com 14. http://www.gmdist.com 15. http://abduzeedo.com