Online Marketing Education Opportunities in Ohio
Ohio is a nexus of the United States. Many national highways run through it, and it has become a major air travel hub as well. In 2016, Ohio's gross domestic product (GDP) was $626 billion, making it the seventh-largest of all fifty states and the District of Columbia. It's known for its schools, sports, Midwest charm, and of course its pro-business policies. The Small Business & Entrepreneurship Council, Site Selection Magazine, and The Directorship's Boardroom Guide, Forbes have all cited Ohio for its business activity, climate, lax regulations and business-friendly taxes. Ohio couples its business enticement policies with a powerful education system. It has 5 of the top colleges in the country, according to U.S. News and World Report. Its unemployment levels have been more than halved in the last eight years, dropping from 10.7% in May 2010 to 4.5% in February 2018. Much of its GDP comes from its manufacturing and financial activities sector, so a marketing education based in a strong business foundation could go a long way here. Other major sectors of the Ohio economy include healthcare, education, government, and professional and technical services. Major corporations including Procter & Gamble, Goodyear Tire & Rubber, AK Steel, Timken, Abercrombie & Fitch, Wendy's and others are headquartered in Ohio.
Average Salaries for Common Marketing Roles In Ohio
The aforementioned corporations, and virtually every sector of the Ohio economy needs quality marketers and advertisers. Unfortunately, Ohio's average salaries are generally below the national average. The following was compiled from Indeed, Payscale and Glassdoor.
Social Media Analyst: $49,395
Marketing Specialist: $46,998
Marketing Manager: $63,435
Marketing Director: $116,908
Chief Marketing Officer: $143,257
Marketing positions have been, and are expected to see consistent growth in the coming years. As companies desperately look to make their way in the evolving media climate, you can benefit from their lack of knowledge and experience by getting your marketing degree online ASAP.
FEATURED ONLINE PROGRAMS
University of Denver – University College

Denver, CO & Online

>Master's in Marketing Communications

The Marketing Communication master's concentration prompts you to analyze consumer behavior, conduct market research, and engage the power of brands and messages in order to develop powerful digital marketing strategies. Evaluate various tactics, measure their effectiveness, and explore the intricacies of working with or in complex, multi-functional teams to execute compelling marketing campaigns. You'll learn to:

Design, manage, and measure persuasive, integrated, digital marketing communication campaigns
Assess the current scope and predict future trends in traditional, social, mobile, email, search, and digital marketing
Measure traditional and digital marketing communication efforts and create plans to adjust future campaigns based on results
Create strategies to elevate an organization's or client's marketing and branding efforts
SPONSORED
The 5 Best Online Marketing Degree Providers in Ohio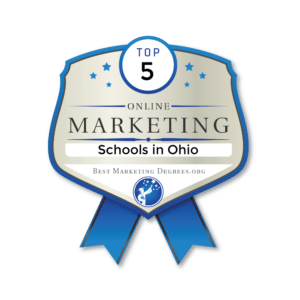 This list was compiled from looking at 10 different colleges and universities that offered online Marketing degrees in Ohio. 19 degree programs were considered in the ranking, with only the top 5 school's programs making the cut. The schools were inspected for flexibility, affordability, academic quality, national rankings and more. Remember, your career goals in Marketing or other related pursuits are what's most important, not a specific school, especially when you have the option to attend online. Look for the program that best reflects what you hope to accomplish, and fits into your life in a way you can make work financially and within your schedule and current obligations.
1
University of Cincinnati-Main Campus
Public
Online M Degrees: 2
The University of Cincinnati is a research university based in its namesake. It was founded in 1819 as Cincinnati College, and is the first higher learning institution in the evolving and underrated metropolis. It serves nearly 37,000 students while maintaining a 17:1 student-to-faculty ratio. It's often ranked the second largest university in Ohio and one of the 50 largest universities in the United States. In the 2011 edition of the U.S. News & World Report "Best Colleges" rankings, the University of Cincinnati began ranking as a Tier One university, ranking as the 140th National University and 71st Top Public University in the 2016 rankings. It was also ranked third in the nation in the "Up-and-Coming" National Universities section in 2014, and multiple rankings among the top 200 from Leiden University and USNR. Students at UC can access 100 bachelor's degrees, over 300 degree-granting programs, and over 600 total programs of study, from certificates through doctoral degrees. UC offers an online Bachelor's in Communications, and an MBA with a concentration in Marketing. The Communications program will give students elite communication skills based in advanced, tested practices. Its prestigious faculty members use research to explore issues related to voice, identity, public participation and advocacy/leadership throughout numerous sectors of society. Past its curriculum, the program utilizes experiential learning and community engagement through team-based projects, internships and residencies, service learning and community collaboration. Graduates will be prepared for careers in Advertising, Marketing, Human Resources, Sales, Education and much more. The MBA program allows students to pay for their classes as they enroll in them. It builds core skills in accounting, economics, finance, marketing, information technology, leadership, business analytics, and more. Students will gain a thorough understanding of the legal issues related to business, and how ethics and social responsibility impact it. This program has accelerated courses based on 7-week terms. The Marketing concentration prepares students for careers in brand, marketing and sales management, market research analysis and media planning. It's comprised of MBA program courses, two marketing core courses and between three and five electives.
Private
Online M Degrees: 2
Tiffin is located in Tiffin, Ohio. It was founded in 1888. It serves over 3,000 students, and has a 14:1 student-to-faculty ratio. It offers undergraduate and graduate degrees from several campuses in Ohio, and online through three schools (Arts & Sciences, Business and Criminal Justice & Social Sciences). Its MBA program comes in concentrations that include Finance, General Management, Healthcare Administration, Human Resource Management, International Business, Leadership, Marketing, Non-Profit Management, and Sports Management. Tiffin offers accelerated courses to help students graduate quicker and get to work with their new degree. Tiffin offers a Bachelor's in Marketing and an MBA in Marketing, both delivered online. The Bachelor's program features 30 hours of Marketing courses including Buyer Behavior, Global Marketing, Marketing Research, Personal Selling, Marketing Communications, Managerial Accounting and a Marketing Internship. You'll be invited to join the Marketing Club, to help you understand practical, real-world business and marketing and to add to your resume through portfolio-building. The MBA in Marketing offers advanced knowledge in marketing products, services, increasing exposure of a product or service, market positions and more. You'll learn about topics ranging from negotiating sponsorships and endorsements to maximizing revenue for individuals and organizations, to local and international marketing. Sample classes include Marketing Field Analysis, Global Marketing Management, Strategic Brand Management, and Information Systems for Marketing.
Private
Online M Degrees: 6
Franklin University was founded in 1902, and is based out of Columbus, Ohio. It has five campuses in Ohio and Indiana, and a comprehensive online presence. Over 5,000 students attend Franklin (13:1 student-to-faculty ratio). Students attend Franklin from over 72 countries. The school emphasizes recruiting top talent to its faculty. You can expect Franklin professors to have terminal degrees in their practice and have excellent real-world experience in their respective fields. Franklin's educational philosophy has four cornerstones. They are: ensuring academic quality, providing access to educational opportunities, adapting to the needs of students and responding to changes in society, professions, and the business community. Franklin offers a whopping 6 online programs in Marketing. They are: An A.S. in Communications and an A.S. in Public Relations, a B.S. in Communications, a B.S. in Marketing, a B.S. in Public Relations, and an M.S. in Marketing & Communication. The Associate's programs give students a basis in communication narratives, social media and others tools that create and foster relationships between organizations and their audiences. They also build creative, technical and organizational skills that let students know how to craft messaging tailored to clients, investors, employees and more. The Bachelor's programs build off the Associate's, and allow you to transfer up to 94 previously earned college credits, and build skills in communication, leadership, right and left-brain creativity in a rapidly evolving media-obsessed world. The M.S. in Marketing & Communication can be completed in 16 months, and doesn't require applicants to take the GMAT or GRE exam. Through the program you'll learn to exploit thoughts, behaviors and actions of a market through unique, inspirational branding and fostering trust between it and its consumers. You'll also learn how to build high-performance teams and monitor market share, volume and ROI.
Public
Online M Degrees: 1
UT is a research university that was founded in 1872 in the city it was named after. It serves over 20,600 students and has a 21:1 student-to-faculty ratio. It offers more than 250 academic programs through 18 schools and its online division. UT is a big proponent of undergraduate research. Its undergraduate engineering and business programs are consistently highly ranked by U.S. News & World Report, in addition to its programming in nursing, pharmacy, physician assistant, law, and education. Toledo offers an online Bachelor of Business Administration in Marketing. The curriculum is made up of a versatile liberal arts background, core business courses, and a specific area of specialization. During freshman and sophomore years, students take general education classes and apply to the upper division of the program in their sophomore year. Juniors begin their business core and major courses and select an area of specialization. Graduates often go on to work in professional sales, advertising, purchasing, product management, business and market analysis, or marketing research.
Private
Online M Degrees: 1
Walsh is a non-profit, Catholic University based in North Canton, Ohio. It was established in 1960, and serves nearly 2,800 students and has a 13:1 student-to-faculty ratio. Walsh offers over 70 majors and seven graduate programs. Its graduate programs include Counseling, Education, Business, Nursing, Occupational Therapy and Theology, and a clinical doctorate in Physical Therapy It has several Ohio satellite campuses, as well as a campus in Italy, and a thriving online wing. It offers an accelerated structure to its programs that's aimed at allowing working adults to complete their degrees at a pace that fits their lifestyle. Walsh offers rolling admissions and a strong library of recorded and archived classes for its online students. Walsh offers an online Bachelor's in Business Administration. It accepts up to 92 transfer credits of the 124 required for graduation. The program comes in three specializations: Accounting, Management and Marketing, and has six start dates each year. Sample courses include Business Ethics in Global Environment, Project Management/Global Systems, Communication in Multicultural Environment and many more. Walsh is an AACSB Business Education Alliance Member. The program will combine a strong business acumen that's then applied to the specialization of each student's choice.
Directory of Online Marketing Degree Providers in Ohio
University of Cincinnati-Main Campus
Cincinnati, Ohio
Online M Degrees: 2

ADDRESS & CONTACT INFO

(513) 556-6000 2600 Clifton Ave, Cincinnati, OH 45220
Tiffin University
Tiffin, Ohio
Online M Degrees: 2

ADDRESS & CONTACT INFO

(800) 968-6446 155 Miami St, Tiffin, OH 44883
Franklin University
Columbus, Ohio
Online M Degrees: 6

ADDRESS & CONTACT INFO

(614) 797-4700 201 S Grant Ave, Columbus, OH 43215
University of Toledo
Toledo, Ohio
Online M Degrees: 1

ADDRESS & CONTACT INFO

(800) 586-5336 2801 W Bancroft St, Toledo, OH 43606
Walsh University
North Canton, Ohio
Online M Degrees: 1

ADDRESS & CONTACT INFO

(800) 362-9846 2020 E Maple St, North Canton, OH 44720
University of Northwestern Ohio
Lima, Ohio
Online M Degrees: 3

ADDRESS & CONTACT INFO

(419) 998-3120 1441 N Cable Rd, Lima, OH 45805
Mount Vernon Nazarene University
Mount Vernon, Ohio
Online M Degrees: 1

ADDRESS & CONTACT INFO

(740) 392-6868 800 Martinsburg Rd, Mt Vernon, OH 43050
Columbus State Community College
Columbus, Ohio
Online M Degrees: 1

ADDRESS & CONTACT INFO

(614) 287-5353 1722, 550 E Spring St, Columbus, OH 43215
Marion Technical College
Marion, Ohio
Online M Degrees: 1

ADDRESS & CONTACT INFO

(740) 389-4636 1467 Mt Vernon Ave, Marion, OH 43302
University of Rio Grande
Rio Grande, Ohio
Online M Degrees: 1

ADDRESS & CONTACT INFO

(800) 282-7201 218 N College Ave, Rio Grande, OH 45674