Online Marketing Education Opportunities in Pennsylvania
When you think of Pennsylvania, you might think of the Liberty Bell, Ben Franklin, or even Independence Hall. If you think "what jobs are there in Pennsylvania?" you probably think steel, metal, railroads, or manufacturing. Why? Probably because of the state's long manufacturing history with its heavy reliance on industrial machinery and metal products. I mean 2 of the 4 Monopoly Railroads are from Pennsylvania, one of the state's NFL teams is the Steelers, it was the home of Andrew Carnegie (and his steel corporation), and the state's nickname has at various times been "The Coal State", "The Oil State", and "The Steel State." But did you know that Pennsylvania today is home to
21
Fortune 500 companies and that if Pennsylvania were an independent country its economy would rank 19th in the world according to the IMF? In other words, its a state that has a whole lot to offer. That is especially true for advertisers and marketers as they are needed across all industries. With a growing economy looking to reinvigorate its manufacturing past and continue improving its future as a big business destination, Pennsylvania is a state to seriously consider if you are thinking about pursuing a career in marketing. All of that can start by enrolling in an online marketing education from one of the 5 great schools explored here.
Average Salaries for Common Marketing Roles In Pennsylvania
At the national level, marketing and advertising is an industry expected to grow. In the state of Pennsylvania that couldn't be more true. The median household income in Pennsylvania is $55,702. However, most marketing jobs, especially marketing managers in the state make nearly double. According to the
Bureau of Labor Statistics
, marketing managers in the state of Pennsylvania make an average annual wage of $154,030, while advertising and promotions managers make an annual of $131,730. Admittedly, these average salaries reflect marketing managers at director and executive levels. But even entry-level positions or middle marketing management roles like those listed below can expect salaries that exceed that state's median income:
Marketing Coordinator:$51,955
Salary Media Analyst:$60,119
Marketing Specialist:$65,382
Marketing Manager:$95,655
Sales and Marketing Director:$147,108
When coupled with the state's
estimated employment rise of 13.9% for advertising and promotions managers
, now is a great time to consider starting a marketing career in Pennsylvania. The growing availability of fully online marketing degrees also means that even working professionals can jumpstart their marketing career.
FEATURED ONLINE PROGRAMS
University of Denver – University College

Denver, CO & Online

>Master's in Marketing Communications

The Marketing Communication master's concentration prompts you to analyze consumer behavior, conduct market research, and engage the power of brands and messages in order to develop powerful digital marketing strategies. Evaluate various tactics, measure their effectiveness, and explore the intricacies of working with or in complex, multi-functional teams to execute compelling marketing campaigns. You'll learn to:

Design, manage, and measure persuasive, integrated, digital marketing communication campaigns
Assess the current scope and predict future trends in traditional, social, mobile, email, search, and digital marketing
Measure traditional and digital marketing communication efforts and create plans to adjust future campaigns based on results
Create strategies to elevate an organization's or client's marketing and branding efforts
SPONSORED
The 5 Best Online Marketing Degree Providers in Pennsylvania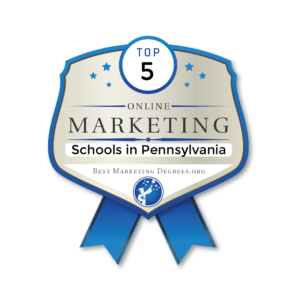 There are a total of 9 schools offering marketing education online in Pennsylvania. From community colleges through graduate business schools, there are marketing degrees available at every level in Pennsylvania. While future students may find their interest piqued by the "best" universities in the state, they should first and foremost check to make sure that the institution offers the type of degree they're looking for. After all, marketing roles can be reached through a wide variety of angles, from speech and communication degrees, to business degrees in marketing analytics. We looked at two factors to compile the ranking below: the number of full online marketing degrees offered by an institution of higher learning, and the academic prestige score of an institution. The academic prestige score took into account metrics including the average amount of financial aid met, the average size of classes, admissions standards, and the percentage of professors holding terminal degrees in their field. Check out our 5 favorite institutions for marketing education in Pennsylvania below!
1
Pennsylvania State University-World Campus
Public
Online M Degrees:2
Pennsylvania State University World Campus, or Penn State Online, is the online campus of Pennsylvania State University. Launched in 1998 from the University's long established distance education program, Penn State Online offers more than 120 online undergraduate and graduate degree or certificate programs. With nearly 13,500 students, Penn State Online has become a major resource for flexible, online education for today's busy students. In the 20 years that Penn State Online has been around, it has consistently been recognized as providing one of the nation's best online educations. Penn State Online offers 2 degrees and 1 certificate in
marketing
:
Bachelor's of Science in Marketing
Master's of Professional Studies in Data Analytics – Marketing Analytics Option
Graduate Certificate in Marketing Analytics
Penn State's fully online business programs are some of a handful of online programs to receive AACSB (the Association to Advance Collegiate Schools of Business) accreditation. That means that Penn State students can be sure of the quality of their education, but also take advantage of a network of other elite AACSB schools around the globe. Penn State's Bachelor's in Marketing is consistently recognized as one of the top Marketing programs in the nation. Undergraduate students take courses in marketing topics like B2B, consumer behavior, global marketing, marketing research, and advertising or sales promotion. Penn State's Bachelor's students can also take advantage of lifelong networking connections by participating in Beta Sigma Gamma, an international business honors society. At the graduate level, Penn State's online students have a lot of options related to business, only 2 of which we've highlighted here for their direct correlation to marketing. The Master's in Data Analytics – Marketing Analytics option focuses on issues like brand positioning, pricing strategy, marketing campaign performance, and customer satisfaction. Even though the degree program is fully online, all online graduate students also complete interactive and collaborative projects, which enhances the program's learning experience and creates a network of marketing professionals. If students aren't quite ready for the Master's level, they can also complete the Graduate Certificate in Marketing Analytics, which can fully transfer into the Master's program at a later date.
2
Saint Joseph's University
Private
Online M Degrees:2
Saint Joseph's University, or St. Joe's, is a private, Catholic university in the Philadelphia suburbs. Founded in 1851 by the Jesuits, St. Joe's is the 7th oldest Jesuit university in the nation. Today, St. Joe's works to maintain it's Jesuit Christian mission by promoting service and social justice. St. Joe's meets the needs of its 9,200 students by offering a wide range of degrees including: over 60 undergraduate majors, 53 graduate programs, and over a dozen study-abroad, special study, and joint degree programs. The variety of degree options at St. Joe's carries over to their online offerings. With 29 online degrees and certificates, students have the flexibility to explore their interests. St. Joe's offers 3 degrees in
marketing
:
Master of Science in Food Marketing
Master of Business Administration in Food Marketing
Master of Science in Marketing
The most unique marketing degrees on this ranking are perhaps St. Joe's 2 graduate degrees in Food Marketing. In fact, St. Joe's is one of the only schools in the nation to offer Food Marketing degrees and the
only
school in the world to offer a Food Marketing MBA. These degrees may be fairly unique to St. Joe, but they are also 25 years old. That legacy, when combined with the Department of Food Management's own Academy, Co-Op Program, Fellowships, and powerhouse industry connections like General Mills and PepsiCo, St. Joe's Food Marketing students are exposed to truly unique educational experiences. While both Food marketing masters programs can be completed online, MBA students must also complete a capstone residency at St. Joe's Philadelphia executive campus to give hands-on experience working at a local hotel and spa. If you aren't entirely focused on the food industry or want a broader marketing degree, St. Joe's also offers a Master's in Marketing that covers issues like consumer behavior, marketing trends, marketing analytics, and marketing research. While situated in a broader industry setting, this marketing masters also includes 2 specialization options: international marketing or customer analytics. The customer analytics option is specifically designed for online students with a focus on harnessing big-data to improve marketing tactics.
Private
Online M Degrees: 2
Central Penn College is a private college in the suburbs of Harrisburg. Established in 1881, Central Penn was originally designed as a business school. The college now offers a wide range of degrees in and out of the realm of business, including associates and bachelors degrees, as well as a Masters in Professional Studies. With only 1,047 students, faculty at Central Penn are also able to devote time to individual educational experiences. Even with a small student body, all of Central Penn College's degree offerings demonstrate a commitment to flexibility and working with students' busy schedules. In that vein, the college offers flexible course schedules, accelerated degree programs, as well as online and blended courses. Central Penn offers 3 degrees in
marketing
:
Associates in Marketing
Associates in Communication
Bachelor's of Business Administration in Marketing
At the Associates level, marketing students learn about pricing, promotion, and distribution. The degree also culminates with the completion of an integrated marketing communications project. While Central Penn's Associate's in Marketing program begins to introduce students to basic marketing principles, Bachelor's level students can choose between 4 concentrations within the Business Administration degree: banking and finance, human resource management, management, and marketing. In the marketing track, students complete the business administration core courses, as well as taking classes in consumer behavior, advertising, fashion analysis, marketing research, and marketing management. Because of Central Penn's mission to be a career-focused college, all students at all degree levels must complete an internship or capstone course. Online students may decide to complete the capstone course rather than the internship in order to better suit their needs. The course includes a major research project related to the student's specific career path rather than a generalized project. Either way, students are getting hands-on experience in their field. One other way that Central Penn ensures its students get additional experience is through required community service. All students complete a set number of hours of community service over the course of their degrees.
Private
Online M Degrees:3
Point Park University is a comprehensive liberal arts institution in downtown Pittsburgh. Point Park comes from humble beginnings as a one-room business school in 1933 with only 50 students. Over time the school grew, moved downtown, and expanded its offerings, all the while maintaining its commitment to career-oriented, one-on-one education. Today, Point Park College has over 3,800 students enrolled in its 82 undergraduate and 18 graduate programs available across its 3 schools. The school is also well-known for having many notable alumni in the entertainment industry, especially on Broadway, in TV, as well as professional sports. Point Park offers 5 degrees in
marketing
:
Bachelor's in Public Relations and Advertising
Bachelor's in Writing for Screen and Media
Bachelor of Science in Business Management
Master's in Communications Technology
Master of Business Administration
Point Park University offers a number of online degrees related to marketing. Several are fairly standard across many universities like Business Administration. Others, however, are more unique to the Point Park. For instance, the Bachelor's in Public Relations and Advertising covers topics like PR writing and PR research, as well as social media practices, ad copy, journalistic writing, and media ethics. Students can further specialize by taking electives in media planning, video production, branding, and advertising campaigns. By crafting an interdisciplinary degree with courses from journalism, communications, business, and visual art, Point Park's Bachelor's in Public Relations and Advertising offers students a unique entry to the work of marketing that not many other schools offer. Point Park University's Master's in Communication Technology is another unique degree offering that can give students advanced knowledge in digital communication methods, while combining interdisciplinary approaches to marketing. All master's students in this degree have to take courses in media ethics and research. From there, however, students choose between 2 specializations: Applied Practices or Social Media. The applied practices focus gives students an edge in visual forms of communication, with courses in photo editing, video production, and electronic publishing. The social media track, on the other hand, covers topics like social media crisis, analytics, and marketing campaigns. Either way, graduates leave ready for an advanced career in marketing and advertising.
Private
Online M Degrees:2
DeSales University is a private Catholic university in Lehigh County, Pennsylvania. The university opened its doors in the 1960s as the only Catholic college for men in the Allentown Diocese. While DeSales has undergone a lot of changes since then, in name, size, and co-ed enrollment, it still maintains its roots in Christian values. The university offers traditional, online, and hybrid degree programs at the undergraduate and graduate levels. With nearly 3,000 students, DeSales can offer individualized educational experiences while still providing a wide variety of degree programs to choose from. DeSales also works hard to ensure every student has equal access to education with more than 95% full-time students receiving some sort of financial aid. DeSales offers 3 degrees in
marketing
:
Bachelor's in Marketing
Bachelor's in Business Administration
Master's of Business Administration in Marketing
One of DeSales' online degree programs is a Bachelor's in Marketing. Marketing students take general business courses in economics, accounting, and management, as well as marketing-focused classes in topics like marketing research and consumer behavior. With flexible options including a generous transfer policy, students can design a degree that works for them and shorten their time-to-degree. DeSales' undergraduate students finished with an understanding of marketing theory and practices ready to start jobs at business enterprises, institutions, and organizations. DeSales' commitment to flexible degree paths continues in their Master's of Business Administration in Marketing program. Students can enroll in the online MBA program part-time and take advantage of multiple start dates, allowing them to finish the degree at a pace that works best for them. MBA students take the same set of core courses, and then have the option to choose between 9 concentrations, one of which is marketing. In the Marketing track, students take additional courses in research, marketing simulation, buyer behavior, and international marketing. All graduate students also complete a capstone marketing integration course that prepares them for marketing research in their specific industry.
Directory of Online Marketing Degree Providers in Pennsylvania
National University
Online M Degrees:2

ADDRESS & CONTACT INFO

(814) 865-5403 128 Outreach Building, University Park, Pennsylvania 16802-1503
National University
Online M Degrees:2

ADDRESS & CONTACT INFO

(610) 660-1000 5600 City Avenue, Philadelphia, Pennsylvania 19131-1395
National University
Online M Degrees:2

ADDRESS & CONTACT INFO

(800) 759-2727 College Hill & Valley Rds, Summerdale, Pennsylvania 17093-0309
National University
Online M Degrees:3

ADDRESS & CONTACT INFO

(412) 391-4100 201 Wood St, Pittsburgh, Pennsylvania 15222-1984
National University
Online M Degrees:2

ADDRESS & CONTACT INFO

(610) 282-1100 2755 Station Avenue, Center Valley, Pennsylvania 18034-9568
National University
Online M Degrees:3

ADDRESS & CONTACT INFO

(800) 222-4222 1 HACC Dr., Harrisburg, Pennsylvania 17110-2999
National University
Online M Degrees:1

ADDRESS & CONTACT INFO

(610) 519-4500 800 Lancaster Avenue, Villanova, Pennsylvania 19085-1699
National University
Online M Degrees:1

ADDRESS & CONTACT INFO

(724) 925-4000 145 Pavilion Lane, Youngwood, Pennsylvania 15697-1895