Online Marketing Education Opportunities in Texas
Texas is home to the 12th largest economy in the world. It also hosts one of the
largest small business labor markets
in the nation, with 2.4 million businesses hiring 4.4 million employees that make up nearly 99% of the entire business workforce in the State of Texas. And with 19 schools offering at least one online marketing degree throughout the state, Texas houses some of the best online learning opportunities for marketing in the Southern half of the United States. Due to the ever-increasing size of the marketing and public relations infrastructure in almost every industry and governmental body, earning a degree from a top-tier Texas university goes a long way toward establishing one's credentials as a professional marketer in fields like business administration, technical communication, consumer psychology, publishing, and public relations.
Average Salaries for Common Marketing Roles In Texas
As both a national and international leader in exports, agriculture, aeronautics, and energy, Texas values marketers and advertisers in all of its industries.
This is evidenced by particularly high earnings for those with marketing manager roles in the State of Texas.
But it is also true of other roles, all of which make salaries that are at or above Texas's median household income of $55,653:
Social Media Analyst: $54,613
Marketing Specialist: $59,398
Marketing Manager: $86,895
Marketing Director: $122,171
Chief Marketing Officer: $204,578
Indeed, with Marketing Manager and Market Research Analyst jobs projected to grow by over 100,000 openings between now and 2024, jobs such as those above are some of the
best an online learner can have
, especially in a state where marketers and PR professionals are increasingly needed in every industry.
The 5 Best Online Marketing Degree Providers in Texas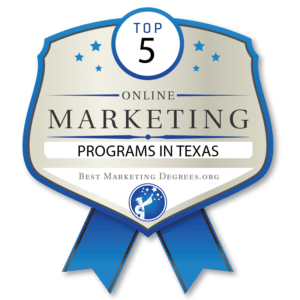 There are a total of 19 schools offering marketing education online in Texas. From community colleges through graduate business schools (and even a doctoral program in communication), there are marketing degrees available at every level in Texas. While future students may find their interest piqued by the "best" universities in the state, they should first and foremost check to make sure that the institution offers the type of degree they're looking for. After all, marketing roles can be reached through a wide variety of angles, from speech and communication degrees, to business degrees in marketing analytics. We looked at two factors to compile the ranking below: the number of full online marketing degrees offered by an institution of higher learning, and the academic prestige score of an institution. The academic prestige score took into account metrics including the average amount of financial aid met, the average size of classes, admissions standards, and the percentage of professors holding terminal degrees in their field. Check out our 5 favorite institutions for marketing education in Texas below!
Directory of Online Marketing Degree Providers in Texas
Laredo Community College
Laredo, TX
Online M Degrees: 6

ADDRESS & CONTACT INFO

(956) 722-0521 West End Washington St, Laredo, TX 78040
Midland College
Midland, TX
Online M Degrees: 5

ADDRESS & CONTACT INFO

(432) 697-5863 3200 W Cuthbert Ave, Midland, TX 79701
Angelina College
Lufkin, TX
Online M Degrees: 5

ADDRESS & CONTACT INFO

(936) 639-1301 3500 S 1st St, Lufkin, TX 75904
University of Houston-Victoria
Victoria, TX
Online M Degrees: 3

ADDRESS & CONTACT INFO

(877) 970-4848 North Ben Wilson Street, Victoria, TX 77901
Texas Tech University
Lubbock, TX
Online M Degrees: 2

ADDRESS & CONTACT INFO

(806) 742-2011 2500 Broadway, Lubbock, TX 79409
Dallas Baptist University
Dallas, TX
Online M Degrees: 2

ADDRESS & CONTACT INFO

(214) 333-7100 3000 Mountain Creek Pkwy, Dallas, TX 75211
University of the Incarnate Word
San Antonio, TX
Online M Degrees: 2

ADDRESS & CONTACT INFO

(210) 829-6000 4301 Broadway St, San Antonio, TX 78209
Texas Tech University Health Sciences Center
Lubbock, TX
Online M Degrees: 2

ADDRESS & CONTACT INFO

(806) 743-1000 3601 4th St, Lubbock, TX 79430
Northwood University-Texas
Ceder Hill, TX
Online M Degrees: 2

ADDRESS & CONTACT INFO

(800) 622-9000 1114 W FM 1382, Cedar Hill, TX 75104
University of North Texas
Denton, TX
Online M Degrees: 1

ADDRESS & CONTACT INFO

(940) 565-2000 1155 Union Cir, Denton, TX 76203
Lamar University
Beaumont, TX
Online M Degrees: 1

ADDRESS & CONTACT INFO

(409) 880-7011 4400 S M L King Jr Pkwy, Beaumont, TX 77705
The University of Texas of the Permian Basin
Odessa, TX
Online M Degrees: 1

ADDRESS & CONTACT INFO

(432) 552-2020 4901 East University Boulevard, Odessa, TX 79762
Remington College-Fort Worth Campus
Fort Worth, TX
Online M Degrees: 1

ADDRESS & CONTACT INFO

(817) 522-4500 300 E Loop 820, Fort Worth, TX 76112

UNDERGRADUATE DEGREES

Bachelor of Business Administration in Marketing
Remington College-Houston Campus
Houston, TX
Online M Degrees: 1

ADDRESS & CONTACT INFO

(832) 699-2221 11310 Greens Crossing Blvd #300, Houston, TX 77067

UNDERGRADUATE DEGREES

Bachelor of Business Administration in Marketing
Remington College-Houston Southeast Campus
Webster, TX
Online M Degrees: 1

ADDRESS & CONTACT INFO

(713) 581-9000 20985 Gulf Fwy, Webster, TX 77598

UNDERGRADUATE DEGREES

Bachelor of Business Administration in Marketing
Remington College-North Houston Campus
Houston, TX
Online M Degrees: 1

ADDRESS & CONTACT INFO

(832) 699-2221 11310 Greens Crossing Blvd #300, Houston, TX 77067

UNDERGRADUATE DEGREES

Bachelor of Business Administration in Marketing
Mountain View College
Dallas, TX
Online M Degrees: 1

ADDRESS & CONTACT INFO

(214) 860-8680 4849 W Illinois Ave, Dallas, TX 75211
Tarrant County College District
Fort Worth, TX
Online M Degrees: 1

ADDRESS & CONTACT INFO

(817) 515-8223 1500 Houston St, Fort Worth, TX 76102
San Antonio College
San Antonio, TX
Online M Degrees: 1

ADDRESS & CONTACT INFO

(210) 486-0000 1819 N Main Ave, San Antonio, TX 78212