Online Marketing Education Opportunities in Illinois
For many people, when they think of Illinois they think of two things: Chicago and corn. Chicago is the 3rd largest city in the United States and is home to some of the nation's largest companies like Boeing, McDonalds, Motorola, and United Airlines. Illinois also lies in the heart of the Corn Belt with a significant portion of the state's economy coming from agriculture. But the state has a lot going for it far outside the Chicago metropolitan area. For instance, Illinois has also developed successful niche agricultural goods, like southern Illinois' growing wine industry with an estimated economic impact of $20 million. The state's agricultural strength, when combined with its other significant industries like manufacturing and mining, make it
the 6th largest export economy in the nation
. While Illinois may be corn country and a powerhouse export economy for the nation, the state's top industry is actually service. Whether its hospitality and tourism, law firms, accounting services, engineering firms, or health-care providers, Illinois' service industry generates the majority of money in the state's economy. The size of the service industry is directly related to the number of marketing opportunities in the state, too. In fact, Illinois has the highest concentration of advertising and promotions managers than any other state in the nation. For new marketers, that means there are a lot of options to help start your career, and for existing marketers, it means a lot of potential for promotion.
Average Salaries for Common Marketing Roles In Illinois
With such a high concentration of marketing managers in the state, you might be asking: Does that mean there's a surplus of marketers and thus lower wages? The answer would be, no. According to the Bureau of Labor Statistics, Advertising and Promotions Managers in Illinois are expected to see
an 8.8% increase in employment
. In Illinois, the median household income is $59,196. But for most marketing jobs, especially marketing managers, the annual salary can be significantly higher. For instance, Advertising and Promotions Managers in Illinois have an annual mean wage of $92,540. Similarly, Marketing Managers in the state make an annual mean wage of $122,030. While there is a lot of wiggle-room in those salaries according to managerial level and location, often entry-level marketing positions and middle management roles in Illinois still meet or exceed the median household income:
Marketing Coordinator: $53,330
Social Media Analyst: $61,710
Digital Marketing Manager: $97,991
Marketing Manager: $98,187
Sales and Marketing Director: $151,002
When these salaries are coupled with the
higher than national average
growth expectations for advertising roles, now is a great time to consider starting a marketing career in Illinois. The growing availability of fully online marketing degrees also means that even working professionals can jumpstart their marketing career. As you'll see from the degrees we discuss below, there is also a lot of variety in the type of online marketing programs as well.
FEATURED ONLINE PROGRAMS
University of Denver – University College

Denver, CO & Online

>Master's in Marketing Communications

The Marketing Communication master's concentration prompts you to analyze consumer behavior, conduct market research, and engage the power of brands and messages in order to develop powerful digital marketing strategies. Evaluate various tactics, measure their effectiveness, and explore the intricacies of working with or in complex, multi-functional teams to execute compelling marketing campaigns. You'll learn to:

Design, manage, and measure persuasive, integrated, digital marketing communication campaigns
Assess the current scope and predict future trends in traditional, social, mobile, email, search, and digital marketing
Measure traditional and digital marketing communication efforts and create plans to adjust future campaigns based on results
Create strategies to elevate an organization's or client's marketing and branding efforts
SPONSORED
The 5 Best Online Marketing Degree Providers in Illinois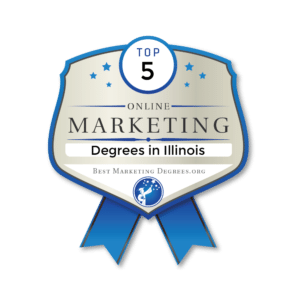 From community colleges through graduate business schools, there are marketing degrees available at every level in Illinois. While future students may find their interest piqued by the "best" universities in the state, they should first and foremost check to make sure that the institution offers the type of degree they're looking for. After all, marketing roles can be reached through a wide variety of angles, from speech and communication degrees, to business degrees in marketing analytics. We looked at two factors to compile the ranking below: the number of full online marketing degrees offered by an institution of higher learning, and the academic prestige score of an institution. The academic prestige score took into account metrics including the average amount of financial aid met, the average size of classes, admissions standards, and the percentage of professors holding terminal degrees in their field. Check out our 5 favorite institutions for marketing education in Illinois below!
1
University of Illinois at Urbana-Champaign
Public
Online M Degrees: 2
The University of Illinois at Urbana-Champaign, also known of U of I, is a public research university in Illinois. Founded in 1867 as a land-grant institution in the twin cities of Champaign and Urbana, U of I was one of 37 universities created under the Morrill Land-Grant Act. From its early beginnings of only 2 faculty and 77 students, today U of I has grown to over 45,000 students across 16 schools and colleges and offers more than 150 undergraduate and 100 graduate degree programs. U of I is well known for its high level of research and is categorized at the highest level of research university by the Carnegie Classification of Institutions of Higher Education. With that level of national recognition for its educational excellence, students at U of I can be sure of the value and name recognition of their degrees. U of I offers 3 Degrees and 3 Certificates in
marketing
:
Masters of Business Administration
Master of Science in Recreation, Sport, and Tourism
Master of Science in Strategic Brand Communication
Graduate Certificate in Digital Marketing
Graduate Certificate in Analytics
Graduate Certificate in Strategic Brand Communication
When it comes to degrees related to marketing, U of I has several options to choose from. Their fully online MBA program offers the same curriculum as its on-campus program, but with the added benefit of more flexibility. But U of I also offers some other marketing degrees that would be especially beneficial to students who want to enter the hospitality industry or are looking to advance their careers in branding. The Master's in Recreation, Sport, and Tourism allows students to focus in 3 areas: Parks Management, Sports Management, and Tourism Management. The tourism track includes classes on Marketing, as well as event planning and management, and critical issues in tourism. When combined with U of I's graduate certificate in Strategic Brand Communication, this master's degree could easily set you up for a focused career in tourism marketing. Speaking of branding, if you want more than a graduate certificate, U of I also offers a fully online Master's in Strategic Brand Communication. In this interdisciplinary degree, students take classes in consumer insights, business management, messaging, data visualization, and complete a professional capstone project. The capstone project ensures students leave the program with an example branding plan to use in their portfolios or to implement in their current jobs.
Private
Online M Degrees: 2
Benedictine University is a private Catholic university in the suburbs of Chicago. Founded in 1887 as St. Procopius College by the Benedictine monks of St. Procopius Abbey on the west side of Chicago. Today, the institution maintains its close relationship with the Benedictine Order and satellite campuses in Springfield, IL and Mesa, AZ. Benedictine offers 59 undergraduate majors across 4 colleges. At the graduate level, the university offers 19 masters programs, 34 certificates, and 4 doctoral programs. That means that the university's roughly 5,000 students have a lot of options to choose from, all the while getting an intimate educational experience. Benedictine University also established the Center for Values-Driven Leadership in 2008 to help leaders improve their companies and make contributions to businesses and society. Benedictine offers 1 degree and 1 certificate in
marketing
:
Master's of Business Administration in Marketing
Graduate Certificate in Internet Marketing
One of Benedictine's graduate level programs related to marketing is their Graduate Certificate in Internet Marketing. For the certificate, Benedictine partnered with Market Move, an online corporate training firm specializing in digital marketing. Because of that partnership, the online certificate's classes are constantly updated to reflect the changing methods of internet marketing. Students in this program learn about online public relations, SEO, data analysis, web analytics, PPC advertising, and conversion optimization. With an additional 3 courses, students can also add this certificate to their MBA to count as a concentration for that fully online degree. If an Internet Marketing certificate or concentration doesn't fit your career needs, Benedictine's fully online MBA offers 6 other areas of concentration including a general marketing track. For the Marketing MBA track, students take the core MBA courses as well as courses on digital marketing trends, marketing research and strategy, international marketing, and branding. Online students also get the added benefit of accelerated options, which means you could finish your MBA in as little as one year.
3
Concordia University-Chicago
Private
Online M Degrees: 2
Concordia University – Chicago is a private, liberal arts university in a suburb of Chicago. The university is a member institute of the national Lutheran Church-Missouri Synod network. Concordia continues that connection today through integrating theology curriculum into many of its degrees. Formerly Addison Teachers Seminary, a teacher education institute, Concordia-Chicago is today a comprehensive university offering more than 100 undergraduate and graduate degrees to its over 5,000 students. Concordia University – Chicago spends a lot of effort demonstrating its commitment to quality education available to everyone, as evidence by its average class sizes of only 15 and 100% of full-time undergraduate students receiving some sort of financial aid. Concordia offers 2 degrees and 1 certificate in
marketing
:
Bachelor's in Marketing
Master's of Business Administration in Digital Marketing
Graduate Certificate in Digital Marketing
If you already live in the Chicago area, you might be interested in looking at Concordia's Bachelor's in Marketing. Unlike the graduate degree and certificate listed above, this undergraduate degree is only available on-campus. But with Chicago being one of the largest cities in the nation, it also has a lot of opportunities for early-career marketers, and a undergraduate degree from Concordia can set you on that path. Concordia also offers several online degrees related to marketing. The MBA with a specialization in Digital Marketing includes courses on digital marketing analytics, ROI, social media marketing, and mobile marketing. Online students can also add one of Concordia's 9 other specializations their degree to complete a dual specialization track. Concordia also ensures that all of its MBA graduates finish the program ready for career advancement by requiring an e-Portfolio as the degree's culminating project. These projects are designed with the job market or promotion committee in-mind. Finally, if you already have a graduate degree but are looking to shift into digital marketing or improve your existing knowledge base, you might check out Concordia's graduate certificate in digital marketing that is designed to add onto an existing graduate degree.
Private
Online M Degrees: 2
McKendree University is a private liberal arts university in Lebanon, Illinois. Founded in 1828 as Lebanon Seminary, McKendree is the oldest college in Illinois. Today, it maintains its affiliation with the United Methodist Church largely through advocating for an open dialogue of respect, inquiry, and diversity. McKendree has nearly 3,000 students across its 4 colleges and schools. That small size means students ensure they get individualized education in each of their classes. Due to its location in the Greater St. Louis area, McKendree students can take advantage of the intimate setting of a liberal arts school while still gaining the diverse experiences found in a major metropolitan area. McKendree offers 2 degrees in
marketing
:
Bachelor's of Business Administration in Marketing
Master's of Business Administration
McKendree also offers several fully online degree programs. One of those is a Bachelor's in Marketing. Online marketing students get flexible options like taking courses as their schedule allows and enrolling in accelerated course terms, which can shorten the time-to-degree. Marketing students take classes in topics like marketing research, advertising & promotion, consumer behavior, and marketing principles. All online bachelor's students in marketing also complete a Business Strategy capstone course. In this course, student develop a case study business plan that includes marketing strategy, problem assessment and management, and implementation. Students can then use work from this capstone course as part of their job portfolio as they look to start their marketing careers. McKendree students can also continue their education through pursuing an online Master's in Business Administration. In McKendree's online MBA program students take a range of courses in finance, management, business ethics, and marketing research. In the online degree, students take accelerated courses in set modules that allows students to complete the degree in as little as a year. Graduate students also have the option to add a Human Resource Management specialization or to enroll in dual degree programs with a Master's in Criminal Justice or a Master's in Nursing.
5
Tribeca Flashpoint College
Private
Online M Degrees: 2
Tribeca Flashpoint College is a for-profit private college in Chicago. It offers 2 and 4 year degrees focused in media, arts, and communication. Founded in 2007 as Flashpoint, the college has since entered into a 50/50 partnership with Tribeca Enterprises, the company behind the Tribeca Film Festival. Because of its association with film production and Hollywood, the campus has some advanced video technology, including a 55-seat screening room, a recording studio, sound-design labs, and animation labs with green screen walls. All students regardless of degree, also take Flashpoint Capstone courses to finish their degrees. These classes pair students with faculty mentors to create final media projects, like web series or TV pilots, from early phases of pre-production all the way through post-production advertising. Tribeca offers 2 degrees in
marketing
:
Bachelor of Art in Digital Marketing
Bachelor of Art in Graphic Design and Interactive Media
If you are artistically inclined but still interested in marketing then Flashpoint College is probably the school for you. One of Flashpoint's fully online degrees is a Bachelor's in Graphic Design and Interactive Media. Students in this degree program can add specializations via advanced courses in interactive media, digital marketing, front-end web development, branding, mobile applications, and entrepreneurship. Additionally, most students leave the program knowing coding languages like HTML and CSS, expert knowledge in the Adobe Creative Suite, and e-commerce web development. All students leave also complete the interactive media major with a career ready portfolio of projects that can be used to kick start their marketing careers. If you want a creative degree but with more of a focus on marketing, you might consider Flashpoint's Bachelor's in Digital Media, with a major in Digital Marketing. Students in the online digital marketing program explore topics like consumer behavior, integrated marketing, SEO and SEM, pay-per-click, and social media marketing. Because of Flashpoint's artistic focus, however, marketing students also cover topics like design, web development, and influencer engagement. All online digital marketing students also have the option to complete an internship to further prepare them for their new marketing careers.
Directory of Online Marketing Degree Providers in Illinois
University of Illinois at Urbana-Champaign
Champaign County, Illinois
Online M Degrees: 3
Benedictine University
Lisle, IL
Online M Degrees: 1
Concordia University-Chicago
River Forest, IL
Online M Degrees: 2
McKendree University
Lebanon, IL
Online M Degrees: 1
Tribeca Flashpoint College
Chicago, IL
Online M Degrees: 2