Online Marketing Education Opportunities in Georgia
Georgia is a hotbed of investment, leading to small business and corporate growth. In 2005, if Georgia was its own country, it would have had the 28th ranked economy in the world. Since then, it's doubled down on opening itself to outside investment and influence. For example, in the past five years, Georgia has been repeatedly ranked the top state in the nation to do business, also being named the number 1 state in business and labor climate in the nation, number 1 in business climate in the nation, number 1 in the nation in workforce training and more related accolades. All of this business means Georgia has lots of marketing and PR opportunities, and if you want to, or do live and work in Georgia, earning a degree from an in-state college can help you make connections that lead to one in this booming economic climate. Getting your degree in Marketing has never been easier, and you can enter a program based out of Georgia from the comfort of your home, in your state, via the magic of the Internet. This will give you more time to meet current obligations, save you money, and give you flexibility and opportunity to end up working and living in the beautiful land of the peaches, or perhaps even working for a business there remotely. Keep in mind the breadth of the field while considering a marketing program. An online marketing degree can prepare you for roles in business administration, technical communication, consumer psychology, publishing, public relations, and much more.
Average Salaries for Common Marketing Roles In Georgia
With all of the business growth in Georgia, there's an ongoing demand for top-notch advertisers, marketers, and people working in related roles. Marketing Manager's in Georgia make 12% more than the national average (something to consider in your program selection and potential career goals in Georgia). The following was compiled from Indeed, Payscale and Glassdoor.
Social Media Analyst: $40,963
Marketing Specialist: $48,717
Marketing Manager: $78,193
Marketing Director: $107,214
Chief Marketing Officer: $193,096
With the above national average salary in Marketing Management, Georgia is especially desirable for that position, and related positions like Market Research Analysts, which are expected to see over 100,000 openings between now and 2024.
The 5 Best Online Marketing Degree Providers in Georgia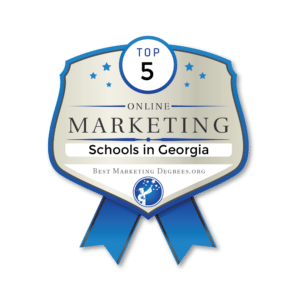 The schools on this list were chosen from 9 Georgia colleges and universities that offered online Marketing degrees. 13 programs from these schools were inspected, and nine are represented here on this list. When considering which school to attend from the list, you'll be able to choose between programs that lean more towards standardized business curriculum, all the way to cutting edge creative curriculum that will prepare you to take the lead in new media marketing, along with other great options that fall somewhere between. You know what you want to accomplish, and you know how much time you have to do it, and what you can afford. Make sure to consider these colleges carefully to see how they meet up with your goals and needs. We've looked at these schools' flexibility, affordability, academic quality, national rankings and more in preparing this ranking.
Directory of Online Marketing Degree Providers in Georgia
Kennesaw State University
Kennesaw, GA
Online M Degrees: 1

ADDRESS & CONTACT INFO(470) 578-6000
1000 Chastain Road, Kennesaw, GA 30144
Brenau University
Gainesville, GA
Online M Degrees: 1

ADDRESS & CONTACT INFO(770) 534-6299
500 Washington St SE, Gainesville, GA 30501
Georgia Southwestern State University
Americus, GA
Online M Degrees: 1

ADDRESS & CONTACT INFO(229) 928-1273
800 Georgia Southwestern State University Drive, Americus, GA 31709
Savannah College of Art and Design
Savannah, GA
Online M Degrees: 5

ADDRESS & CONTACT INFO(912) 525-5100
342 Bull St, Savannah, GA 31401
Albany Technical College
Albany, GA
Online M Degrees: 1

ADDRESS & CONTACT INFO(229) 430-3500
1704 S Slappey Blvd, Albany, GA 31701
Atlanta Technical College
Atlanta, GA
Online M Degrees: 1

ADDRESS & CONTACT INFO(404) 225-4461
1560 Metropolitan Pkwy SW, Atlanta, GA 30310
Central Georgia Technical College
Macon, GA
Online M Degrees: 1

ADDRESS & CONTACT INFO(478) 757-3400
3300 Macon Tech Dr, Macon, GA 31206
Strayer University-Georgia
Atlanta, GA
Online M Degrees: 1

ADDRESS & CONTACT INFO(770) 454-9270
3355 Northeast Expy #100, Atlanta, GA 30341
West Georgia Technical College
LeGrange, GA
Online M Degrees: 1

ADDRESS & CONTACT INFO(706) 845-4323
1 College Circle, 1302 Orchard Hill Rd., LaGrange, GA 30240