Online Marketing Education Opportunities in Georgia
Georgia is a hotbed of investment, leading to small business and corporate growth. In 2005, if Georgia was its own country, it would have had the 28th ranked economy in the world. Since then, it's doubled down on opening itself to outside investment and influence. For example, in the past five years, Georgia has been repeatedly ranked the top state in the nation to do business, also being named the number 1 state in business and labor climate in the nation, number 1 in business climate in the nation, number 1 in the nation in workforce training and more related accolades. All of this business means Georgia has lots of marketing and PR opportunities, and if you want to, or do live and work in Georgia, earning a degree from an in-state college can help you make connections that lead to one in this booming economic climate. Getting your degree in Marketing has never been easier, and you can enter a program based out of Georgia from the comfort of your home, in your state, via the magic of the Internet. This will give you more time to meet current obligations, save you money, and give you flexibility and opportunity to end up working and living in the beautiful land of the peaches, or perhaps even working for a business there remotely. Keep in mind the breadth of the field while considering a marketing program. An online marketing degree can prepare you for roles in business administration, technical communication, consumer psychology, publishing, public relations, and much more.
Average Salaries for Common Marketing Roles In Georgia
With all of the business growth in Georgia, there's an ongoing demand for top-notch advertisers, marketers, and people working in related roles. Marketing Manager's in Georgia make 12% more than the national average (something to consider in your program selection and potential career goals in Georgia). The following was compiled from Indeed, Payscale and Glassdoor.
Social Media Analyst: $40,963
Marketing Specialist: $48,717
Marketing Manager: $78,193
Marketing Director: $107,214
Chief Marketing Officer: $193,096
With the above national average salary in Marketing Management, Georgia is especially desirable for that position, and related positions like Market Research Analysts, which are expected to see over 100,000 openings between now and 2024.
The 5 Best Online Marketing Degree Providers in Georgia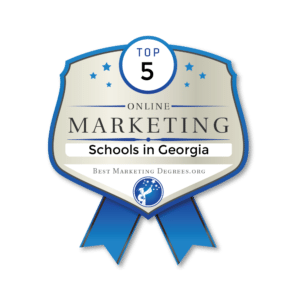 The schools on this list were chosen from 9 Georgia colleges and universities that offered online Marketing degrees. 13 programs from these schools were inspected, and nine are represented here on this list. When considering which school to attend from the list, you'll be able to choose between programs that lean more towards standardized business curriculum, all the way to cutting edge creative curriculum that will prepare you to take the lead in new media marketing, along with other great options that fall somewhere between. You know what you want to accomplish, and you know how much time you have to do it, and what you can afford. Make sure to consider these colleges carefully to see how they meet up with your goals and needs. We've looked at these schools' flexibility, affordability, academic quality, national rankings and more in preparing this ranking.
1
Kennesaw State University
Public
Online M Degrees: 1
KSU is based out of Kennesaw, Georgia. It's a renowned research university, and was founded in 1963. Over 35,000 students are currently attending the school, and a 20:1 student-to-faculty ratio. It's also a member of the University System of Georgia. Kennesaw offers programs in business, education, engineering, nursing, physical sciences, criminal justice, sports management, and of course, marketing. KSU is the third largest university in Georgia, and top 50 in the country. In 2008, U.S. News polled top college officials on which schools had made the most promising and innovative changes in academics, faculty, students, campus or facilities. Kennesaw State was among 70 colleges that received the most nominations. Kennesaw offers an online Bachelor's of Business Administration in Marketing. This program's curriculum goes in-depth into assessing competitive markets, managing and controlling merchandise, designing and delivering quality sales presentations, and managing a sales force. Students will also become well versed in the direct mail industry, advertising, and public relations. Kennesaw has been recognized for its proficiency in social media Master's education, and its affordability, by Best Marketing Degrees and College Choice respectively. From research to distribution to pricing, students will build transferrable, attractive qualities employers in a variety of industries desire.
Private
Online M Degrees: 1
Brenau is a non-profit university headquartered in Gainesville, Georgia. It was founded in 1878, and is known for its multiple campuses and online programs. Nearly 2,900 students attend Breanau, which offers a 10:1 student-to-faculty ratio. Brenau offers undergraduate and graduate degrees through four colleges: Fine Arts & Humanities, Health & Science, Business & Mass Communication, and Education. Brenau has been ranked as one of the top 15 best higher education values in the Southeast by USNR many times. It's also been called one of the best universities in the Southeast by Princeton Review. Its Online MBA was named a GetEducated.com Best Buy in affordability in 2007, so if you choose to continue your education with Brenau this would be a great program to consider. It's also been praised in BestDegreePrograms.org's 2016 list of the best online Bachelor's of Marketing degree programs. Brenau offers an online Bachelor's of Business Administration in Marketing that requires 120 credits to complete (broken into a liberal education core, a business core, and a major concentration). Sample major courses include Marketing Research, International Marketing, Marketing Management and Advertising. The heart of the program revolves around identifying consumer/customer needs and profiting off of them. Students will figure out how to find need, how to target markets, designing a product or service that's relevant to the target market, placing it in the market, and crucially, building a compelling marketing plan to gain corporate backing or other investment. Brenau also offers a wealth of on campus MBA programs in diverse disciplines like Project Management, Management, Marketing, and many more, in addition to graduate certificate programs in Marketing and other facets of business.
3
Georgia Southwestern State University
Public
Online M Degrees: 1
GSW is a state university, and part of the University System of Georgia. It was founded in 1906. GSW lets students access Bachelor's, Master's and Specialist degree programs through schools of Arts and Sciences, Business, Education, Nursing, Computing & Mathematics, and Dual & cooperative programs. Over 2,950 students attend GSW, which boasts a 17:1 student-to-faculty ratio. The school as an impressive collection of alumni, including former President Jimmy Carter. GSW offers a Bachelor of Business Administration in Marketing that can be taken entirely online. The program focuses on helping students build creativity, communication, delivery, and placement skills in a way that is effective and relevant for customers, clients, partners, and society itself. It grapples with problems of the global economy, and opportunities within to partner with customers and businesses to create mutually beneficial relationships, while building a competitive advantage over competitors and meet organizational goals. The program also covers consumer and business behavior. The school promotes a multifaceted approach that includes internships, business clubs, mentorships, cases, and other marketing-related projects. Students will be prepared to enter careers working as sports agents, in public relations, as creative directors, advertising and promotion managers, in marketing research, and much more.
4
Savannah College of Art and Design
Private
Online M Degrees: 5
SCAD is a private, nonprofit art university headquartered in Savannah, Georgia. It was founded in 1978. Over 12,300 students attend SCAD, which has a 19:1 student-to-faculty ratio. It has expanded to include another Georgia location, one in Hong Kong, a sprawling degree-granting online education program, and a study abroad location in Lacoste, France. It confers certificates, Bachelor's and Master's degrees through schools of Building Arts, Communication Arts, Design, Fashion, Entertainment Arts, Fine Arts, Digital Media, Foundation Studies and Liberal Arts. SCAD offers four distinct Marketing degrees through its online wing. They include a Bachelor's in Advertising, a Master's in Motion Media Design, a Master's in Interactive Media, an MFA in Writing, and a Master's in Business Design. These programs are excellent for people who see themselves blending the creative end of advertising with the strictly business side. Students will become inundated with a comprehensive education in copywriting, art direction, digital production and integrated brand marketing. SCAD will introduce you to a network of likeminded creatives, which will pay dividends throughout your career. SCAD tackles the various mediums of marketing through its programs, including print, TV, Web, apps, site-specific interactive experiences and ones their students will create themselves. The Master's in Motion Media Design will help you build title sequences of box office blockbusters, sports visuals, and features that create new forms of media on on mobile devices. Its Interactive Design program lets students learn on the cutting edge of human machine interaction. SCAD eLearning offers the collaborative environment arts leaders are used to working in. The Master's in Business Design covers working in environments like art galleries, publishing houses, while pushing creation, vision and innovation in the construction of festivals, conferences, galleries, product lines and other events and services that enhance the lives of consumers and clients. Its Writing MFA gives students a fascinating exploration and training in professional and personal blogs, advertisements and promotional copy for the Web. Overall, the SCAD programs are extremely diverse, interactive, and offer a very unique approach in preparing students for myriad careers related to marketing.
5
Albany Technical College
Public
Online M Degrees: 1
Albany Technical College is a member of the Technical College System of Georgia (TCSG), made up of 22 technical colleges. It delivers undergraduate degrees and certificates online, and on campuses in seven counties in southwest Georgia. It was founded in 1961, and currently has over 3,250 students enrolled, with a 15:1 student to faculty ratio. 99% of its students receive financial aid. Albany has programs in Agriculture, Business, Communication Technologies, Computer and Information Science, Construction, Education, Engineering Technology, Health, Homeland Security and much more. The school offers a breadth of certificate programs, and Associate degrees. ATC offers an online Associates in Marketing Management. This is a great way to dip your toe into marketing academics and decide if it's a good fit. The skills and curriculum you will encounter in the program is applicable to a wide swath of careers, while also giving you a firm foundation in Consumer Behavior, Buying and Merchandising, Marketing Channels and Research, among many other topics. Within the degree, students can choose to specialize further in Marketing Management, Entrepreneurship, or Retail Management. One of this program's central goals is to give students the practical knowledge, skills and attitude necessary for finding jobs, keeping them, and advancing within them.
Directory of Online Marketing Degree Providers in Georgia
Kennesaw State University
Kennesaw, GA
Online M Degrees: 1

ADDRESS & CONTACT INFO

(470) 578-6000 1000 Chastain Road, Kennesaw, GA 30144
Brenau University
Gainesville, GA
Online M Degrees: 1

ADDRESS & CONTACT INFO

(770) 534-6299 500 Washington St SE, Gainesville, GA 30501
Georgia Southwestern State University
Americus, GA
Online M Degrees: 1

ADDRESS & CONTACT INFO

(229) 928-1273 800 Georgia Southwestern State University Drive, Americus, GA 31709
Savannah College of Art and Design
Savannah, GA
Online M Degrees: 5

ADDRESS & CONTACT INFO

(912) 525-5100 342 Bull St, Savannah, GA 31401
Albany Technical College
Albany, GA
Online M Degrees: 1

ADDRESS & CONTACT INFO

(229) 430-3500 1704 S Slappey Blvd, Albany, GA 31701
Atlanta Technical College
Atlanta, GA
Online M Degrees: 1

ADDRESS & CONTACT INFO

(404) 225-4461 1560 Metropolitan Pkwy SW, Atlanta, GA 30310
Central Georgia Technical College
Macon, GA
Online M Degrees: 1

ADDRESS & CONTACT INFO

(478) 757-3400 3300 Macon Tech Dr, Macon, GA 31206
Strayer University-Georgia
Atlanta, GA
Online M Degrees: 1

ADDRESS & CONTACT INFO

(770) 454-9270 3355 Northeast Expy #100, Atlanta, GA 30341
West Georgia Technical College
LeGrange, GA
Online M Degrees: 1

ADDRESS & CONTACT INFO

(706) 845-4323 1 College Circle, 1302 Orchard Hill Rd., LaGrange, GA 30240