Online Marketing Education Opportunities in Florida
With a GDP of approximately $930 billion, Florida is home to the fourth largest economy in the United States. In addition to staples like agriculture, fishing, and tourism, the state is a leader in international banking services, finance, real estate, healthcare research, aerospace and defense, and the budding field of commercial space travel. Chief Executive Magazine has ranked Florida third on its "Best State for Business" list. Florida is also a major center for higher education, including nearly 60 public, private, and community colleges, a dozen of which offer online degrees in marketing. As Florida's economy continues to grow and demand for marketing professionals rises, a degree in marketing from a top-tier Florida university will help you stand out in the highly competitive job market.
Average Salaries for Common Marketing Roles In Florida
Florida matches great marketing education opportunities with high-quality marketing jobs and excellent salaries, particularly at the upper-level and managerial tiers, which command six-figure salaries. Every role is at or near the national median, and Florida residents have the advantage of zero state income taxes and low cost-of-living,
meaning a marketing salary in Florida is worth more than the national average.
Marketing salaries in Florida also outpace the state's median household income of $48,825.
Social Media Analyst: $57,608
Marketing Specialist: $65,628
Marketing Manager: $96,016
Marketing Director: $129,127
Chief Marketing Officer: $216,212
Given the
national uptick in marketing jobs
– the BLS projects faster than average growth over the next decade – Florida marketers are in a great position, with openings expected in financial services, healthcare, aerospace, agriculture, and at marketing agencies.
The 5 Best Online Marketing Degree Providers in Florida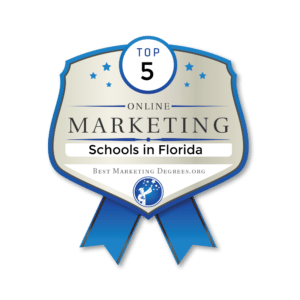 There are a total of 11 schools offering marketing education online in Florida. From community colleges through graduate business schools (and even a doctoral program in communication), there are marketing degrees available at every level in Florida. While future students may find their interest piqued by the "best" universities in the state, they should first and foremost check to make sure that the institution offers the type of degree they're looking for. After all, marketing roles can be reached through a wide variety of angles, from speech and communication degrees, to business degrees in marketing analytics. We looked at two factors to compile the ranking below: the number of full online marketing degrees offered by an institution of higher learning, and the academic prestige score of an institution. The academic prestige score took into account metrics including the average amount of financial aid met, the average size of classes, admissions standards, and the percentage of professors holding terminal degrees in their field. Check out our 5 favorite institutions for marketing education in Florida below!
Directory of Online Marketing Degree Providers in Florida
Florida Institute of Technology-Online
Melbourne, FL
Online M Degrees: 2

ADDGRESS & CONTACT INFO

(321) 674-8000 150 W University Blvd, Melbourne, FL 32901
Florida International University
Miami, FL
Online M Degrees: 2

ADDGRESS & CONTACT INFO

(305) 348-2000 11200 SW 8th St, Miami, FL 33199
Lynn University
Boca Raton, FL
Online M Degrees: 4

ADDGRESS & CONTACT INFO

(561) 237-7000 3601 N Military Trl, Boca Raton, FL 33431
Saint Leo University
St Leo, FL
Online M Degrees: 2

ADDGRESS & CONTACT INFO

(352) 588-8200 33701 FL-52, St Leo, FL 33574
Full Sail University
Winter Park, FL
Online M Degrees: 4

ADDGRESS & CONTACT INFO

(407) 679-6333 130 University Park Dr, Winter Park, FL 32792
Broward College
Davie, FL
Online M Degrees: 2

ADDGRESS & CONTACT INFO

(954) 201-7350 3501 Davie Rd, Davie, FL 33314
Florida Atlantic University
Boca Raton, FL
Online M Degrees: 1

ADDGRESS & CONTACT INFO

(561) 297-3000 777 Glades Rd, Boca Raton, FL 33431
Florida National University-Main Campus
Hialeah, FL
Online M Degrees: 1

ADDGRESS & CONTACT INFO

(305) 821-3333 4425 W 20th Ave, Hialeah, FL 33012
Florida Technical College
Kissimmee,Florida
Online M Degrees: 1

ADDGRESS & CONTACT INFO

(844) 402-3337 3831 West Vine Street, Kissimmee,Florida
Miami Dade College
Miami, FL
Online M Degrees: 1

ADDGRESS & CONTACT INFO

(305) 237-2000 300 NE 2nd Ave, Miami, FL 33132