What is a Business Intelligence Analyst?
If you're reading this, you're likely aware that data is currency in marketing. Data is how you know your marketing worked, how you know it didn't work, and how you know what to change in the future.
Wait up a sec… we should add that data is just the start of all of that. Data in and of itself isn't worth that much, unless it can be coerced into something meaningful. To show you what we mean, let us introduce the DIKW hierarchy.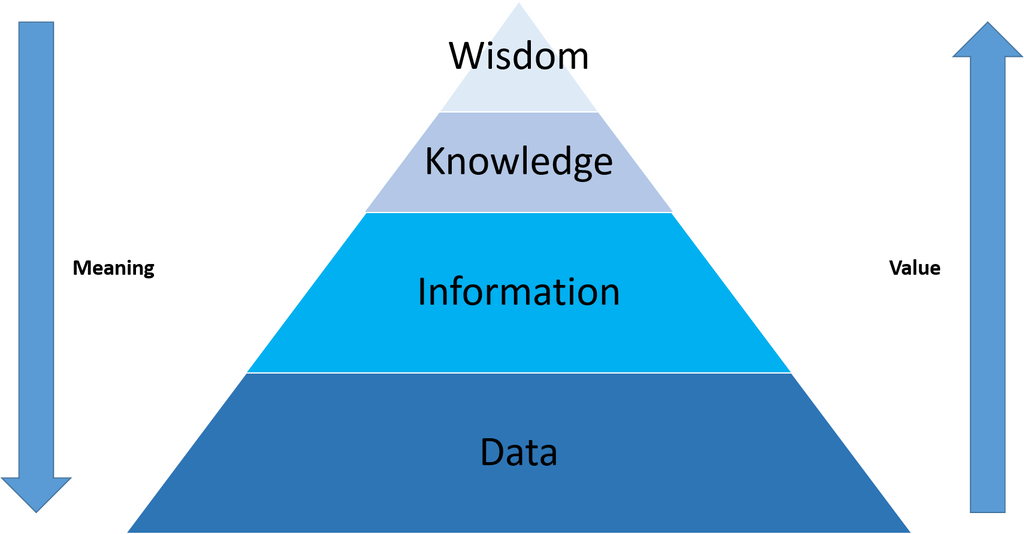 You see what we mentioned in the intro is true, but only using the popular conception of "data." Technically, data in and of itself doesn't tell us much until it's processed. What do we mean by processed? Well that depends on how much (and how quality) the processing is. To illustrate this point, here are examples of what constitutes each step of the DIKW heirarchy:
Data includes logs, measures, addresses, phone numbers, names, number of clicks, and so forth, but without any interrelationships mapped. Data in and of itself does not answer any meaningful questions, but is rather the material out of which answers can be constructed. To fully illustrate this point, data is just a collection of symbols. On it's own it might as well be written in a language foreign to you. What many people commonly refer to as data is actually information.
Information is what many people mistakenly refer to as data. Information is data with a context, or that has been organized into a structure. A list of subscribers to a service and their ages is data. Wrangling the data to provide percentages in certain age groups is information. Following the example, once you know that 90% of your subscribers have kids and are in their 40's, you can start to answer questions like "who, what, when, where." Creating information through the processing and refining of data is a crucial portion of a business intelligence analyst's role.
Knowledge is more abstract than information, but easy to identity when we see it. Knowledge applies personal experience and mental rules (whether knowingly or unknowingly) to information. Put simply, knowledge answers "how" to implement or integrate understandings from information. Knowledge is often exhibited when information is provided to high-level decision makers or those experienced in their field. Knowledge is knowing what to do with your information.
Wisdom can be seen as related to knowledge over time. In a business setting, wisdom extrapolates from knowledge and faces the future. Application of a businesses' values, providing vision into the future based on knowledge, and having the leadership to provide this vision are what wisdom is all about. While elusive, wisdom is seen through "visionary" acts informed by information and knowledge.
So what does this have to do with the role of a business intelligence analyst?
A quick look at what "business intelligence" is should make this clear.
Business intelligence
refers to
Technologies
Applications
And practices
that are used in the collection, analysis, integration, and presentation of
information
. In short, business intelligence analysts take an organization's data, and make it something more valuable in an effort to support business goals. Let's look at a few components of business intelligence analysis below.
Training of Business Intelligence Analysts
Business intelligence analysts may come from a variety of academic backgrounds or be self taught. With this said, most major employers require at least a bachelor's degree for business intelligence roles. While any quantitatively-focused major will do including hard sciences, math, computer science, or engineering, many "softer" degrees coupled with training in informational analysis tools and business processes will also do. As a great deal of data gathered in business settings has to do with the presentation and honing or services or products, marketing is a common degree for business intelligence analysts. Many
bachelor's level degrees in marketing
work on data literacy and learning about the types of information that are useful in marketing settings.
Master's degrees in either marketing
,
data analytics
, or
business administration
further hone marketing-specific tools and data management processes. For those interested in business intelligence, yet who have degrees in other fields,
graduate certificates in marketing
may also provide a time and cost effective way to hone skills in the field.
Tools of Business Intelligence Analysis
We've mentioned a few of the routes to learning tools needed for business intelligence analysis, but what exactly are these tools? Depending on your precise role in your team, business intelligence analysis can range between fully data science-centered roles (more technical) all the way to report creation (less technical). Categories of tools used in this process include the following:
Spreadsheets
Online Analytical Processing
Reporting and querying tools
Digital dashboards
Website Analytics Services
Data Mining Technologies
Business Activity Monitoring Tools
Data Warehousing Practices and Tools
And Data Cleansing Techniques and Tools
Examples of these software and technology types include:
Microsoft Office or Google Sheets
IBM Cognos or Micro Strategy
BIRT Report or Jasper Reports, SQL
Tableau or Domo
Google Analytics among others
Scripting languages or pre-built tools
TaskCentre or KnowledgeSync
Ab Initio Software or Amazon Redshift
OpenRefine among others
This may seem like a large "stack" of tools, techniques, and technologies. But it's likely that your role as a business intelligence analyst will focus on one subset of data collection, analysis, integration, or presentation. Furthermore, your employer will likely have a select group of tools already in place, lowering the number of tools you'll need to be familiar with at any one time.
Business Intelligence Analyst Jobs
So now that you have your bearings a bit, what does the business intelligence analyst job market look like? First off, business intelligence analyst positions can go by a number of names including business analyst, ETL analyst, data warehouse analyst, data scientist, data miner, data processor, analytics solution expert, and so forth. With the basic stack of tools and techniques above a guiding point, there are over 10,000 openings as of the time of this article's writing for business intelligence analyst and similar jobs. These positions range from entry level through C-Level analytics and analyst professionals and are available in every state and metro area in the nation. In fact, there's quite a large shortage of those with data analysis and related skills. That's part of why many publications have named data science as the "hottest" profession of the 21st century.
Business Intelligence Analyst Salary
So you're intrigued by the job description, and maybe could see yourself in a role related to intelligence analysis. What sort of career trajectory can you hope for? First off, this greatly depends on your location and the given field you choose to work in. Analysts work in pretty much every sector and for employers ranging from non-profits to high finance, from city governments, to space agencies. With that said, business intelligence analysts bring home a hefty wage for the requisite education requirements to start. Many entry level data analysts will bring home over $55,000 a year. While senior business intelligence analysts often bring home over $100,000 in salary and additional compensation. As with many information economy jobs, large business hubs and tech-centered economies boast even higher salaries. Experienced data scientists in Silicon Valley have been known to bring home $300,000+ in salary and additional compensation. While this isn't the norm, for enterprising, driven, and talented business intelligence analysts in the making a wide range of opportunities are available.