The 20 Best Online Digital Marketing Agencies Ranked By Effectiveness
Making Magic: The Necessity of Marketing in a Digital World
Gone are the days of optional marketing budgets, quick-shot promotions, and bland TV advertisements (though some of these persist like the stubborn remnants of a species fastly approaching extinction). Truth is that every business is fighting tooth and nail to get their product into the public eye. We live in an age of billion dollar marketing budgets where a triple A blockbuster movie might cost $500 million to make in its entirety, but the marketing budget will double that figure.
Sure you can ignore these demands and seek alternatives, but there is no denying that marketing has become standard for any industry that benefits from consumer attention. This has placed marketers into an enviable position. They are the gatekeepers to going viral, building brands, and multiplying customer bases. A good marketer is the key to unlocking the upper tiers of success in the modern day.
And in the case of marketers, two is better than one; and only established marketing agencies land the best contracts–agencies who can tackle even the most titanic of budgets. These agencies are responsible for the catchy advertisement that you can't get out of your head, the one-liner that made you follow a company's social media account, and the reason why you find yourself gravitating toward one product over another. The best marketing agencies shift the tides of entire industries like Moses splitting the Red Sea and their accomplishments are no less miraculous
So let's take a look at the best marketing agencies around and figure out what kind of secret sauce they use to make magic happen. We've ranked these agencies by effectiveness defined as follows:
Industry clout

: The most successful marketing agencies have demonstrated their skill with their own brand and have succeeded in marketing their own brand. The marketing agencies with most industry clout are those whose name every marketer knows.

Achievement:

In the case of marketing, certain achievements speak for themselves. Some agencies, for instance, have taken small local brands and built them into international titans of industry. These kinds of achievements were our primary interest.

Reputation

: It is a hard thing to finagle high end corporate success while maintaining a good reputation. The marketing agencies that have pulled this off certainly deserve recognition.
Cool Factor:

If it's cool, it sells. Sometimes a marketing campaign sticks with you because it's truly original. Old Spice and Red Bull both had marketing campaigns that have become the backbone of the products themselves. We looked for marketing agencies–big and small–who made success look cool.
The 20 Best Marketing Agencies
Distilled –
Seattle, WA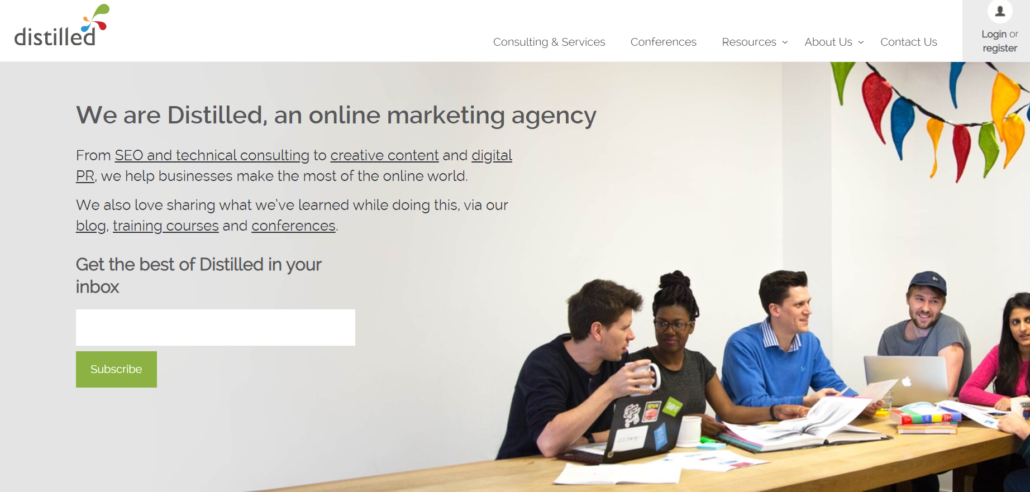 Team Size: < 40
Client Size: All Sizes
Focus: B2B & B2C
SEO

Digital PR Strategy

E-Commerce

Content Marketing

Experimentation



What makes them special?
Distilled takes the #1 spot on our ranking and it will be clear why that is. Ever wonder who was the team behind Red Bull's marketing? That was Distilled. How about Ebay's marketing? Yep, that was Distilled, too. So they must be one of the largest marketing agencies around with tremendous resources at their disposal, right? Amazingly, Distilled has racked up its impressive portfolio all while managing a team of only around 20 core employees.
Distilled is one of those companies that every marketer knows of, and probably dreams of working for someday. What really makes Distilled special is that despite their high level of success and notoriety, they have remained small and maintained a high level of mobility that allows them to choose the clients they want to work with–both big and small. Distilled is the type of marketing agency you can point to when you want to describe 'marketing done right.' Click here to learn more.
Straight North –
Chicago, IL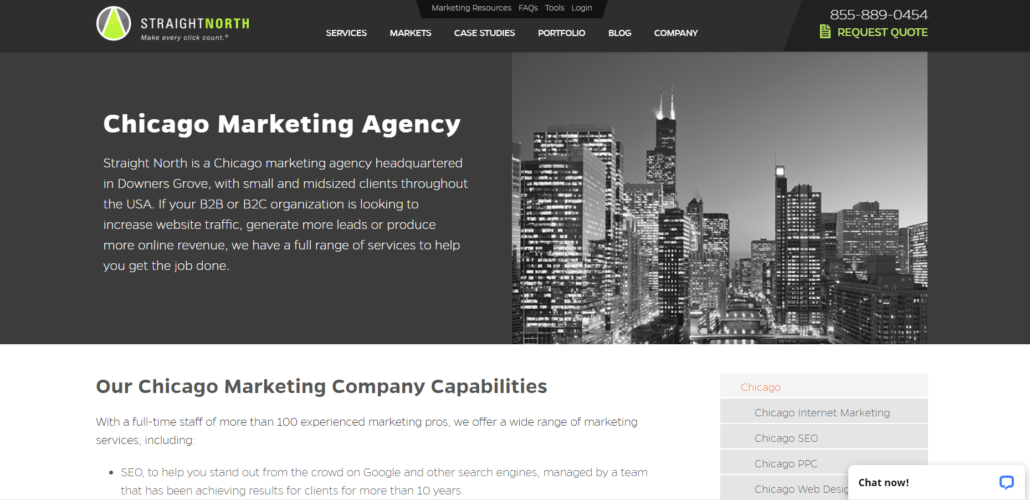 Team Size: < 25
Client Size: Small and Large
Focus: B2B & B2C
SEO

PPC Management

Email Marketing

Graphic Design

Custom Web Design



What makes them special?
Straight North takes the #2 spot on our list for a multitude of reasons. They offer a unique real-time lead reporting tech, maintain strong industry clout, and land year over year successes in national campaigns. But foremost among these is that they are able to do all of this and compete with some of the largest agencies, all while employing the numbers of a much smaller local agency. They have worked with big clients like Raider Painting and the Thoma Foundation, and ServiceSkills eLearning, as well as smaller clients like Chicago Tag Label.
Straight North excels particularly in the area of lead generation, but where they really distinguish themselves is through their 'real-time lead reporting' capabilities. With this technology Straight North can provide reports, lead profiles, and activity projections in real time. This gives clients an enormous amount of control over their lead generation campaigns while simultaneously offering a throttle that can help mitigate the risks of downtime such as that during A/B testing. Click here to learn more.
Disruptive Advertising –
Lindon, UT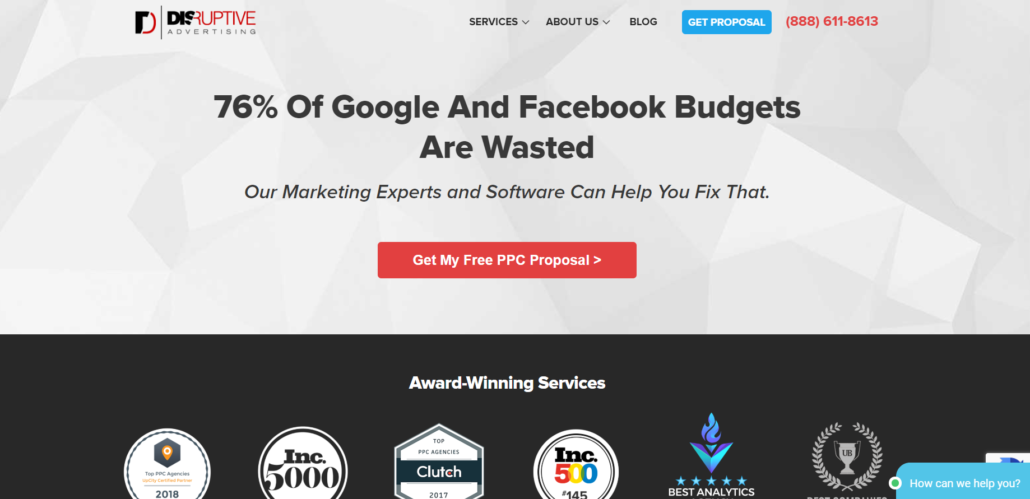 Team Size: > 100
Client Size: Mostly Large
Focus: B2B & B2C
Paid Search (Google, Bing)

Paid Social

Email Marketing

Audio Ads

Conversion Rates, Analytics



What makes them special?
Disruptive Advertising has landed top-tier national accounts such as Fandango, Guitar Center, and Adobe. Disruptive Advertising would probably land higher on this ranking, however we are trying to give credit to the smaller teams that pull off such high levels of success, but Disruptive Advertising certainly reigns as one of the most dominant marketing agencies in the world with an impressive collection of awards and accolades that indicate they are not only successful, but also a pleasure to work with.
Disruptive Advertising distinguishes itself through a top-down comprehensive approach to business analytics. In many ways, they are more than a marketing company, marketing happens to be their primary tool of driving success. For this reason, the team at disruptive is known for diving into every nook and cranny of their client's business and goals in order to develop the best plan of attack. If you are lucky enough to work with Disruptive Advertising, you can rest assured you will have a lifelong partner in building your brand. Click here to learn more.
Seer Interactive –
San Diego, CA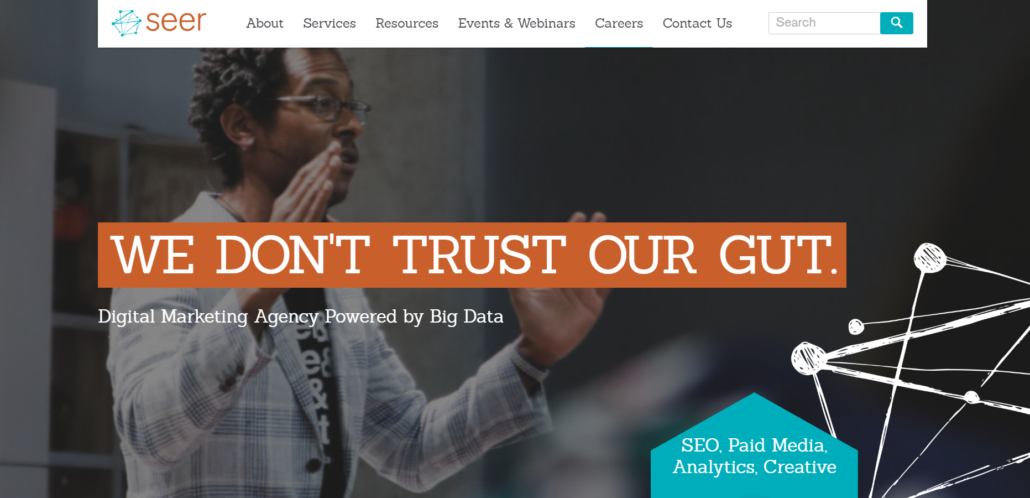 Team Size: > 100
Client Size: Mostly Large
Focus: B2B & B2C
PPC

Paid Social

SEO

Creative

Conversion Rates, Analytics



What makes them special?
Seer interactive is a unique agency that has managed to strike the difficult balance between high levels of success and a down-to-earth philosophy. Seer Interactive has managed to build a humanistic approach into their agency's foundation where they prioritize building trust between the client and the agency, as well as trust between the client and their customers.
Seer has demonstrated the effectiveness of this approach through the tremendously successful campaigns for numerous AAA organizations like Intuit, Harvard University, and Linkedin. Seer manages paid search marketing budgets of over $40 million to drive innovation and stoke explosive growth, while working closely with client-managers to encourage developmental evolution within the client-company's infrastructure. In this way, they take marketing to a whole new level and look to give their client's more than just successful marketing campaigns but organizational face lifts as well. Click here to learn more.
Klientboost –
Costa Mesa, CA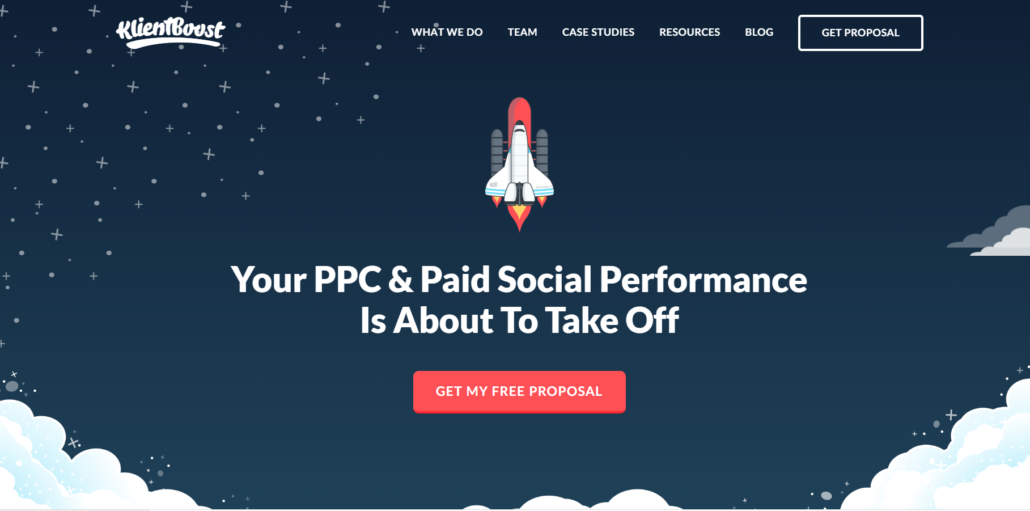 Team Size: > 50
Client Size: All Sizes
Focus: B2B & B2C
PPC

Landing Pages

SEO

Paid Search Marketing

Ad Words (Google, Bing



What makes them special?
Klientboost is an agency that doesn't just focus on link-building and conversion rates. They focus on teaching clients valuable tools and skills along the way. Their work has been responsible for the explosive growth of companies like Airbnb and Stanford University. One notable feature of their strategy is building customer bases into families centered around their client's brand.
Klientboost pushes lead generation and funneling in directions of innovation and creativity. Klientboost marketers believe that convenient and simplistic systems create a healthier relationship between their clients and their customers–which they then leverage to convert leads into scalable sales. It is an attractive model that many try to emulate but few pull off with the same fidelity. Click here to learn more.
Fractl –
Delray Beach, FL
Team Size: > 150
Client Size: Budgets over $10k
Focus: B2B & B2C
Organic Search

Content Marketing

SEO

Marketing

Digital PR



What makes them special?
Fractl is one the most well-known 100+ agencies, and for good reason. Much of their work with previous clientele now double as case studies for demonstrating industry benchmarks for lead generation, conversions, and brand rebounding. Industry pundits look to Fractl for industry standards and trends with their research covered by Harvard Business Review, Forbes, and Marketwatch–just to know a few. This gives new meaning to the phrase 'the work speaks for itself.'
Despite their size and notoriety, Fractl still works with smaller size companies given that they can afford the buy-in of the minimum marketing budget. Fractl has an impressive track record in clientele as well, having worked with industry titans like Discover, Indeed, and DirectTV. Click here to learn more.
SEO Inc –
Carlsbad, CA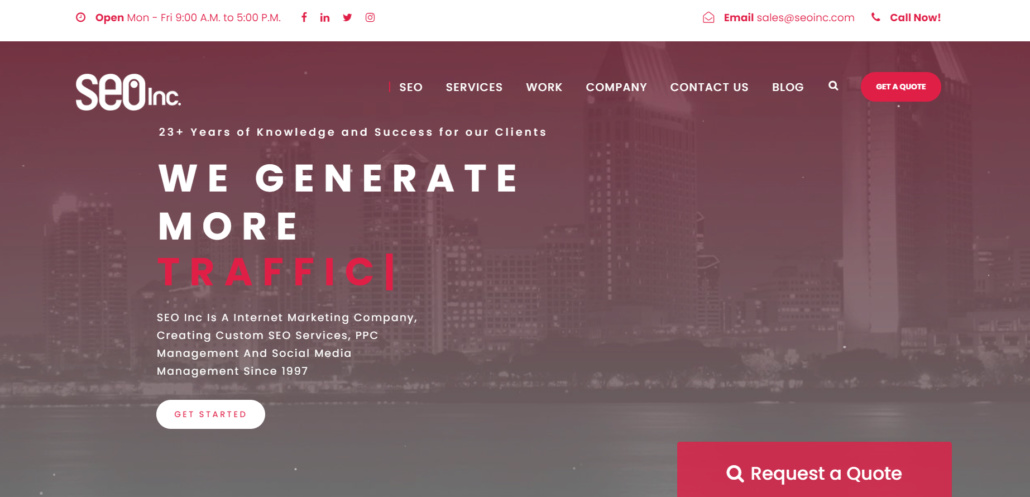 Team Size: < 500
Client Size: All Sizes
Focus: B2B & B2C
PPC Advertising

Social Account Management

SEO Copy

Mobile Optimization

Web Accessibility



What makes them special?
For more than 20 years SEO inc has demonstrated both success and evolution in the field of marketing. As any marketer knows, the industry changes massively from decade to decade and SEO Inc has demonstrated their adaptability by meeting these changes head on, growing to a team of over 500 specialized marketers today. Further demonstrating their clout is their successful accounts with Marriot, Beach and Sandals Resorts, and Burt's Bees.
But what really makes SEO Inc special is that they provide an emphasis on organic search building and lead generation. Many marketing companies that reach SEO Inc' level of success begin to shift their focus to more easily automated paid search options. SEO Inc has earned its reputation as an industry leader in both principles and results. Click here to learn more.
Amp Agency –
Boston, MA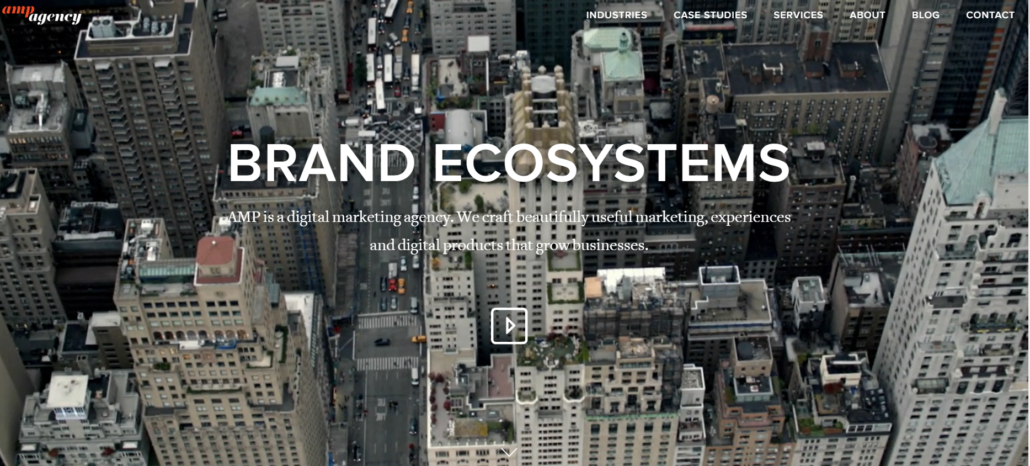 Team Size: > 400
Client Size: Budgets over $100k
Focus: B2B & B2C
UI/UX Design

Paid Social

SEO

Mobile Optimization and Installation

Digital Product Promotion



What makes them special?
Founded in Boston in 1995, Amp Agency has grown into a massively successful marketing agency with locations in Los Angeles, New York, Seattle, and Austin, Texas. Amp's specialization is in web development, UI/UX design, PPC, and social media marketing strategy, but as a full service agency there are few if any aspects of a job that would fall outside of its wheelhouse. As a veteran agency of the industry with decades of success, AMP Agency mainly takes on larger clients with extensive marketing budgets and high-end target ROIs such as their clients, Starbucks, Nike, and Patagonia.
Where AMP Agency really stands out however, is in its flexibility. Client reviews all convey a similar idea, that is, AMP Agency worked with them day and night to adapt to their needs. Many clients reported having to alter their direction or freeze budgets in the middle of a project, hazards which AMP met without resistance and still managed to deliver on targeted goals. This type of mobility is rare for a marketing giant as large as AMP Agency, and is rarer still to be delivered so consistently. Click here to learn more.
Infront Webworks – Colorado Springs, CO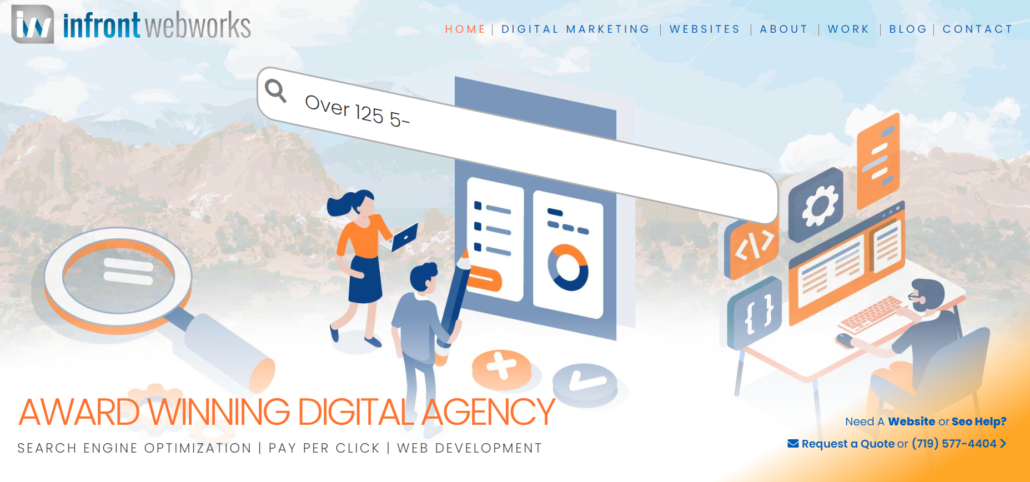 Team Size: < 50
Client Size: Small to Large
Focus: B2B & B2C
PPC

Search Engine Marketing

SEO

Website Development

E-Commerce



What makes them special?
Infront Webworks has racked up an impressive array of accolades as a small marketing agency, ranking as a finalist small agency in the US Search Awards. One of the consistent features in mentions of Infront Webworks is their client service. Clients of Infront Webworks are met in-person and are cared for throughout their partnership and often beyond. Despite their smaller size, their industry clout has been proven time and again by their landing of top-tier accounts such as YMCA, Goodwill, and the National Museum of World War II Aviation.
One of the most impressive things about Infront Webworks is you can land them with only a small marketing budget (usually those over $1,000). It is rare for smaller marketing budgets to stick out their neck for clients on such small budgets, but it is a risk that Infront Webworks takes regularly, and delivers on with solid results that one would normally associate with one of the larger marketing agency giants. Click here to learn more.
McGary Bowen –
Chicago, IL
Team Size: 600
Client Size: Mostly Large
Focus: B2B & B2C
Brand & Design

Innovation

SEO

Production

Conversion Rates, Analytics



What makes them special?
Founded in 2002, McGary Bowen has become a powerhouse of success, and now stands as a global force in marketing and advertising. They have one of the robust portfolios on this list, having worked with a host of industry giants: Hershey, American Express, Budweiser, United Airlines, Subway, Oscar Meyer, Disney, Hallmark, Verizon, Brita, Olive Garden, Reebok, Clorox, and Kool-Aid.
While it is certainly impressive to take stock of what a smaller agency can do, sometimes you just have to give credit where credit is due and recognize what the pinnacle of success looks like for a large marketing agency. When you look at what McGary Bowen has been able to achieve in two decades of explosive growth, you start to get a good picture of where they are going, and it's nothing short of amazing. Many marketing agencies around the world aspire to this level of success and notoriety. Click here to learn more.
SKDKnickerbocker –
Washington DC
Team Size: > 100
Client Size: Mostly Large
Focus: B2B & B2C
Crisis Communications

PR Management

SEO

Direct Mail

Market Research, Analytics



What makes them special?
Founded in 2004, Knickerbocker has become an agency of prestige in the marketing world. In 2019 they took home a Holmes Report Award for the 'best public affairs agency of the year.' And this is a clear indication of their approach to marketing–they are truly a full-service agency and might be more compared to a full-on management company due to the extensiveness of their services list. Their speciality however, lies in the intersection between policy, privacy, and the press, since they have worked with clients in both government and politics.
Their unique clientele will give you a clearer picture of what distinguishes from Knickerbocker from the competition. They have worked with Americans for Securing All Packages, The Rockefeller Foundation, and the National Latina Institute for Reproductive Health. But perhaps most notable of their clients is their recent partnership with Joe Biden's presidential campaign. If you are interested in full-service marketing delivered by top-tier PR specialists, look no further. Click here to learn more.
Web Mechanix –
Columbia, MD
Team Size: < 50
Client Size: Budgets over $10k
Focus: B2B & B2C
PPC

Web Development

SEO

UI/UX Design

Conversion Rate Optimization



What makes them special?
Web Mechanix was founded in 2009 and has grown to a small, but elite group of marketers. Web Mechanix targets mid-sized enterprises and has mastered its approach. Their focus is twofold: on the one hand they work to improve marketability and brand value in the eyes of investors and sponsors, while simultaneously working to improve efficiency and ROI in their daily product sales and lead generation. This is clearly a winning formula because Web Mechanix brings in a number of awards from various institutions year after year.
While their main focus is mid-sized operations, they have demonstrated success with larger accounts as well such as Amazon Brands, Trinity University, Social Solutions, and Learning Tree. While there is certainly something to be said for tailoring a custom marketing plan for each client, Web Mechanix demonstrates the value of sticking to a winning formula. Click here to learn more.
Silverback Strategists –
Alexandria, VA
Team Size: > 50
Client Size: Budgets over $10k
Focus: B2B & B2C
Google Analytics

Ad Words

SEO Strategy

Social Media Marketing

Content Marketing



What makes them special?
Founded in 2007, Silverback Strategists has since grown as an agency to a team sized at around 40 members with a second office in Philadelphia. Silverback is known for boosting mid-market operations through a focus on google search optimization and the strategic use of keyword marketing. Through combining this approach with a simultaneous push across social media platforms, Silverback Specialists has been able to deliver clients with consistent success.
Silverback Strategists have worked with some notable clientele including Strayer University, Mattress Warehouse, and Discovery Education. Client reviews and their awarded history shows that Silverback Strategists are able to deliver on a whole slew of marketing services, and can bring any mid-to-large sized enterprise up to the speed of industry leaders. Click here to learn more.
Avalaunch Media –
Lehi, UT
Team Size: >50
Client Size: Budgets over $1k
Focus: B2B & B2C
Web Design

PPC

SEO

Creative Strategy

Content Marketing



What makes them special?
Avalaunch Media was founded in 2012 and has since become an industry leader in content marketing with a specialization in video and audio content marketing. Avalaunch is credited with automating mid-sized company's marketing campaigns through the creation of top-tier reusable content that usually becomes the company's flagship marketing materials.
Avalaunch has mastered the approach to working with companies on a smaller budget, and stretches their client's dollar to an impressive extenet. Where Avalaunch really distinguishes itself though is in clientele care, that is, many of the client-reviews report that the Avalaunch team worked with them closely every step of the way with prompt replies and quick problem solving delivered through a collaborative working relationship. Click here to learn more.
SEO Works –
Sheffield, United Kingdom
Team Size: < 50
Client Size: Budgets over $1k
Focus: B2B & B2C
PPC & Paid Social

Web Design

SEO

Ad Words (Google, Bing)

Brand Management



What makes them special?
Sometimes you need to look outside the United States to find the marketing agency that best meets the unique needs of your operation. SEO Works is aware of this, and has maintained global relevance by specializing in niche keyword vectors. These areas include: automotive, b2b, ecommerce, education, health, manufacturing, and professional services. One of their most successful campaigns involved a PPC strategy targeting pharmaceutical conversions.
One of the strong suits of SEO Works is their specialization in certain keywords. Many marketing agencies will tailor strategies on the fly to meet the needs of a client's unique SEO demands. But by building experience in targeted areas of the industry, SEO works becomes more specialized and more desirable to those companies that work within their specialized range. Click here to learn more.
Coalition Technologies –
Culver City, California
Team Size: > 100
Client Size: Budgets over $1k
Focus: B2B & B2C
WordPress Development

PPC

SEO

E-Commerce Development

Web Design



What makes them special?
Founded in 209, Coalition Technologies has demonstrated enviable growth since its inception, having expanded their team to over 100 members after opening additional offices in Seattle, Washington and Austin, Texas. This level of success represents the dream for many smaller marketing agencies, and Coalition Technologies found their success in PPC search engine optimization. Despite their relatively young company and smaller size, Coalition has landed some outstanding accounts such as Harvard University, Whataburger, and Paypal.
What really sets Coalition apart from the rest is its proven track record demonstrated in over 600 case studies with high-margin ROIs. They deliver on these results time and again through a focus on an AI-facing future. That is, Coalition employs state of the art statistics analysis and high tech strategies backed by hard science. There is very little guesswork in marketing when Coalition Technologies is involved–a selling point in itself to many clients who are skeptical of promised outcomes. Click here to learn more.
Directive –
Irvine, California
Team Size: < 75
Client Size: Budgets over $5k
Focus: B2B & B2C
PPC

Content Marketing

SEO

Social Media Marketing

Conversion Rate Optimization



What makes them special?
Founded in 2014, Directive has carved out its corner of the market by specializing in marketing for software companies. Likely leveraging their fortuitous geographical location to this end, Directive has stayed intentionally small and intentionally focused on their target industry, i.e. computer software. This strategy has proved immensely successful as they have been able to stay about the same size, while increasing their operational capacity and professional achievements year over year.
What really takes Directive to the next level is their choice of specialization. By specializing in computer software marketing with a homebase in close proximity to the computer software capital of the world, they have absorbed a tremendous amount of clout in the global eye of marketing industry. In many ways, this has placed Directive in the throne of software marketing, attracting customers from all over the world looking to catch the wave of the new trends and strategies, to which Directive is inevitably privy. Click here to learn more.
Team Size: < 50
Client Size: Budgets over $1k
Focus: B2B & B2C
Web Development & Design

Social Media Marketing

SEO

UX/UI Design

Digital Design



What makes them special?
Fruition is a full-service marketing agency that specializes in working with small to mid-market businesses. Fruition leverages its smaller size to maintain a high level of professional mobility, that is, they are able to employ a variety of skill sets to each their client's goals. While their focus is smaller to mid-sized operations, they have demonstrated success with larger clients, too: US Department of Energy, the City of Ontario, and American Golf. Client reports and reviews suggest that Fruition is successful at tackling a surprising number of problems.
Fruition's unique approach to marketing is delivered in a three-fold strategy of building, growing, and finally, protecting. The idea is Fruition will first focus on building the necessary infrastructure of a marketing effort, then focus on growing leads and ROIs, before then focusing on protecting data, customer information, and hosting systems. Click here to learn more.
Infographic World –
Great Neck, New York
Team Size: 50
Client Size: Budgets over $5k
Focus: B2B & B2C
CRO

Social Media Marketing

SEO

Graphic Design

Visual Content Production



What makes them special?
Founded in 2009, Infographic World (IGW) has proven the success of its unique approach to content marketing for the past decade, particularly over the past several years, and now consists of a star studded crew of expert marketers (many previous team members from Linkedin, Facebook, and Instagram). IGW specializes in visual content marketing, and delivers data through visually pleasing forms of content. They further specialize in some specific keyword vectors: healthcare, business industries, IT, and advertising.
Despite their seemingly focused approach, IGW employs their visual marketing strategies as the foundation of their full-service marketing package. What clients typically go to IGW for however, is their industry-leading approach to converting data into easy-to-digest graphics, which can in-turn, function as client's funneling content, landing page, or promotional content. Click here to learn more.
PBJ Marketing –
Washington D.C
Team Size: < 20
Client Size: Budgets over $5k
Focus: B2B & B2C
PPC Advertising

Digital Strategy

SEO

Social Media Marketing

Marketing Analytics



What makes them special?
Despite having a small team of under 20 members, PBJ marketing maintains two offices, one in D.C and one in New York City. PBJ works with mid-size businesses to accommodate a variety of marketing needs. It is often the case that a marketing agency is only as good as its data, and this is a principle that PBJ leans into. By delving deep into the market analytics most relevant to their client's goals, they are able to find strategies that other agencies would have missed. While PBJ focuses more on mid to small size enterprises, they have done work with some heavy hitters such as the University of Maryland, MillerCoors, Czech Board of Tourism, and the Hawthorn Group.
What really sets PBJ Marketing apart from competitors however, is its stellar results, which have been recorded in the form of case studies. FactoryPure reported a 40% increase in ROAS; MPower Financing reported 146% increase in overall revenue; and BelcaraHealth reported 2,500% increase in leads combined with a 357% cost reduction to lead generation. These are the type of results you expect to see in much larger marketing agencies, which makes PBJ marketing an exemplary small agency and a benchmark of success for those who aspire to similar achievement. Click here to learn more.