The 10 Best Podcasts for Marketers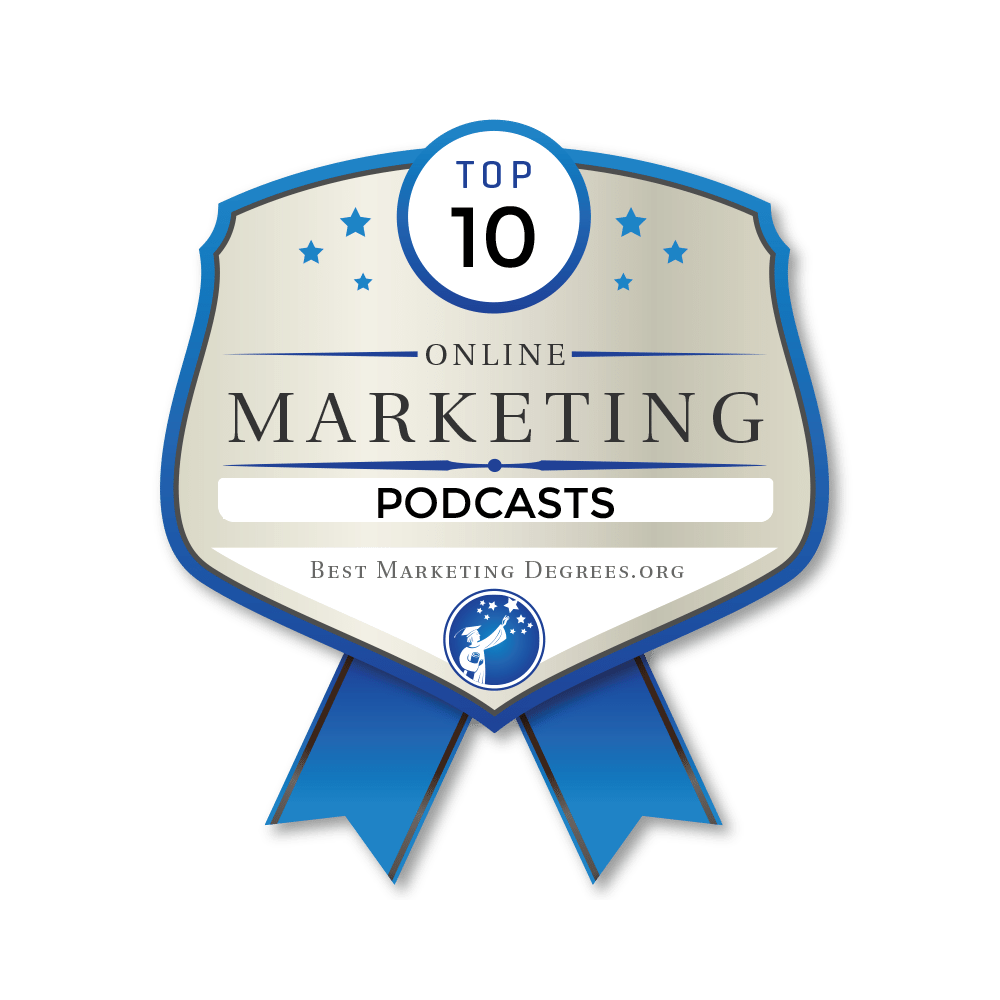 Podcasts have exploded in popularity in recent years. From widely popular series like Serial and This American Life, to niche products that are tailored for special interest groups, you can find podcasts about nearly anything. In fact, in the Management and Marketing category on most podcast services, there are pages and pages of potential podcasts to choose from. With so many podcasts available, how do you know which one is right for you? Or which ones contain the best or most up-to-date information? This list of podcasts is designed for readers with a range of marketing experience and interests. Many of the podcasts on this list focus on digital and social media marketing, but many take up current issues and new marketing trends. With such a range of content, you are sure to find the right podcast for your needs. To create this list, we considered podcasts that had at least 100 reviews on iTunes. We considered the number of iTunes reviews (the more reviews, the higher on the ranking) in conjunction with the average review rank. The podcasts with the best review rank and the most reviews made our Top 10.
1. The GaryVee Audio Experience
The GaryVee Audio Experience is hosted by entrepreneur, CEO, investor, vlogger, and public speaker Gary Vaynerchuk. The GaryVee Audio Experience is one of the most popular marketing and management podcasts on many podcast streaming services. Episodes range in format and style. Listeners will hear episodes composed of his #AskGaryVee Q&A with his social media followers, as well as keynote speeches on marketing and business, and segments from his DailyVee video series. Some episodes also include interviews with business leaders and "fireside chats" that cover Vaynerchuck's thoughts on new and current trends in marketing and management. Because of the variety of form and content, this is a great podcast for a general marketing listener with a range of experience in the field.
FEATURED ONLINE PROGRAMS
University of Denver – University College

Denver, CO & Online

>Master's in Marketing Communications

The Marketing Communication master's concentration prompts you to analyze consumer behavior, conduct market research, and engage the power of brands and messages in order to develop powerful digital marketing strategies. Evaluate various tactics, measure their effectiveness, and explore the intricacies of working with or in complex, multi-functional teams to execute compelling marketing campaigns. Highlights:

Top 100 university
100% online
No GRE
SPONSORED
2. The Goal Digger Podcast
The Goal Digger Podcast focuses on issues of marketing, social media, creative entrepreneurship, small business strategy, and branding. The podcast is hosted by Jenna Kutcher, a photography and online marketing educator. Each episode is in the form of a live-workshop for creative, businesswomen. Kutcher interviews industry leaders for their takes on social media strategy, launching your next business, online marketing, investing, and how to grow your business. While this podcast covers a range of topics, it is especially useful for marketers who focus on online and social media marketing strategy. The Goal Digger is also specifically designed for business women, often hosting female leaders in the industry.
3. Online Marketing Made Easy
Online Marketing Made easy is hosted by Amy Porterfield, and entrepreneur, social media marketing strategist, and online marketing specialist. The podcast answers big questions like, how to start an online business or how to grow email subscribers. Porterfield's podcast features online marketing experts sharing their online marketing tips, as well as more cultivated episodes containing marketing masterclasses and step-by-step guides on specific online marketing tools and methods. With many in-depth episodes on specific online marketing issues, this podcast is great for social media marketers, online marketers, or early entrepreneurs looking to grow their business by harnessing the web.
4. Social Media Marketing Podcast
Social Media Marketing Podcast is a podcast designed specifically for social media marketing specialists and entrepreneurs look to up their social media marketing game. The podcast's host, Michael Stelzner started looking at how businesses could harness the power of social media in 2009. Since then, he has grown his business into the Social Media Examiner that produces annual industry reports, produces video content, and conferences. That means Social Media Examiner, and its podcast, Social Media Marketing Podcast, are considered a leading source on marketing strategy and trends across all social media platforms.
5. Perpetual Traffic
Perpetual Traffic by Digital Marketer is a weekly podcast on Facebook advertising, social media marketing, and digital marketing. The show is hosted by Keith Krance, Ralph Burns, and Molly Pittman, who collectively share new strategies to acquire leads and increase sales through paid traffic. The 3 hosts interview business owners about overcoming digital marketing and online advertising struggles, whether that be on Facebook, YouTube, Twitter, or Google Adwords. With its focus on paid traffic, especially on social media sites, this podcast is particularly useful for social media and digital marketers, and entrepreneurs looking to grow their business through social media ads.
6. Marketing School
Marketing School is a podcast hosted by Neil Patel and Eric Siu. Siu is the CEO at Single Grain, a digital marketing agency that focuses on paid advertising and content marketing, while Patel is a bestselling author, identified by the Wall Street Journal and Forbes as one of the most influential marketers, and recognized by President Obama and the United Nations as one of the top 100 entrepreneurs under 30. Their podcast covers quick, action-oriented marketing advice on topics in digital and online marketing. With short episodes that cover quickly implemented marketing tasks, Marketing School is a great podcast for the busy marketer looking to improve their existing skills and knowledge base.
7. Social Media Marketing Happy Hour Podcast
The Social Media Marketing Happy Hour Podcast caters to network marketers, small business owners, entrepreneurs, MLM professionals, and social media marketers. The podcast is hosted by Dawn Marrs Ortiz, a blogger, online marketing expert, and educator, and Traci Reuter, the founder and CEO of Divine Social – a Facebook ad agency. Each episode covers issues related to leveraging the power of social media like Facebook, Twitter, and Instagram in order to increase leaders and sales. With short, tip-filled episodes, Social Media Marketing Happy Hour is a great choice for busy marketers looking to improve their existing social media strategies.
8. PNR: This Old Marketing Podcast
This Old Marketing Podcast is a content marketing podcast by Joe Pulizzi and Robert Rose, two of the most well-known experts in content marketing. As part of the Content Marketing Institute podcast network, This Old Marketing Podcast covers the latest content marketing trends, and how businesses can improve their current content marketing strategies. Each episode contains a discussion of current marketing headlines, Joe's and Robert's takes on current trends in the industry, and a marketing example from the past to learn from today. While Joe and Robert did their final This Old Marketing Podcast episode in December, there are still over 200 episodes to listen to that contain applicable insights to today's content marketer.
9. Harvard Business Review IdeaCast
The HBR IdeaCast is a weekly podcast put on by the Harvard Business Review that features leaders in business and management. IdeaCast is hosted by Sarah Green Carmichael, an executive editor at Harvard Business Review. Carmichael is a regular speaker and moderator at conferences like SXSW, the Drucker Forum, and Thinkers50. IdeaCast covers a lot of topics from across the world of marketing and business. With its broad range in topics and in-depth conversations with industry leaders, IdeaCast is a great general interest podcast for marketers, CEOs, and CMOs looking to stay on top of industry-shaping debates.
10. Copyblogger FM
Copyblogger FM is a weekly podcast by Sonia Simone. Simone is a writer, marketer, and founder of Rainmaker Digital, a digital marketing services and solutions company. Each episode Simone and industry leading guests analyze issues in content marketing, copywriting, email marketing, conversion optimization, and more. While the podcast features advice on digital and content marketing strategy, the focus is on writing excellent content and writing for marketing inv various forms and for different audiences. As such, Copyblogger, FM is an important podcast for any marketer looking to up the quality of their written content.