Fixing broken backlinks is one of the best ways to raise a site's profile in our race for search engine optimization. That's because Google, Bing, and other smaller search engines actually penalize sites with content that hosts dead links, while they reward sites with content that hosts links alive and well-connected to similar sites thriving with user activity.
In the event that you don't know, here's how link building with broken links works. Maybe a resource has moved, or a site has shut down, and it has left a backlink on another domain that no longer works. All of the following tools can help you to locate broken backlinks. So, you start by looking at sites likely to post the type of content that is topical to your domain. You then group broken backlinks, looking at what the largest single group of broken links were linked to. Then you make that content (or maybe your site already has it covered). You can then reach out to the domains with broken backlinks (which are a bad thing for SEO, as we mentioned in the first paragraph) and offer up your own content to replace the think. This tactic has been around for a while, but still gets good results.
Like Moz's Broken Backlink Building Bible notes, we do good for the web when we help our fellow collaborators and competitors fix links that have stopped working. We are doing what essentially amounts to rebuilding broken infrastructure. Or, as I like to think of it in more organic terms, participating in a symbiotic relationship, one in which everybody's back earns a pleasant scratch.
To meet these demands, several high-ranking blogs have dispensed with thousands of words, lists, and diagrams to provide step-by-step processes for how to build backlinks and target the right prospects.
FEATURED ONLINE PROGRAMS
University of Denver – University College

Denver, CO & Online

>Master's in Marketing Communications

The Marketing Communication master's concentration prompts you to analyze consumer behavior, conduct market research, and engage the power of brands and messages in order to develop powerful digital marketing strategies. Evaluate various tactics, measure their effectiveness, and explore the intricacies of working with or in complex, multi-functional teams to execute compelling marketing campaigns.

Highlights:

Top 100 university
100% online
No GRE
SPONSORED
But we don't need loads of technical and methodological know-how to build broken backlinks and send relevant emails. Sometimes we just need to be aware of the right tools, and our creative minds can order the rest.
In this post, we've curated some of the fastest (free -est) and most popular tools for streamlining the broken backlink building process. Most of them have been mentioned in at least two of the three "How-To" guides that we sampled and which demonstrated broken backlink marketing, specifically those found on Ahrefs, Moz, and Neil Patel's blog atQuicksprout. Some of you may recognize and already use these tools (or bloggers). Some of you may know even better ones—of you, we ask you to be in touch!
Whatever your present relationship with these tools may be, we guarantee using them will render your hunt for broken backlinks more efficient than scouting individual webpages with Ctrl + F, and your marketing campaigns better targeted than emailing every site that returns a 404 Error. Happy linking!
5 Fast Tools for Broken Backlink Building
1. Check My Links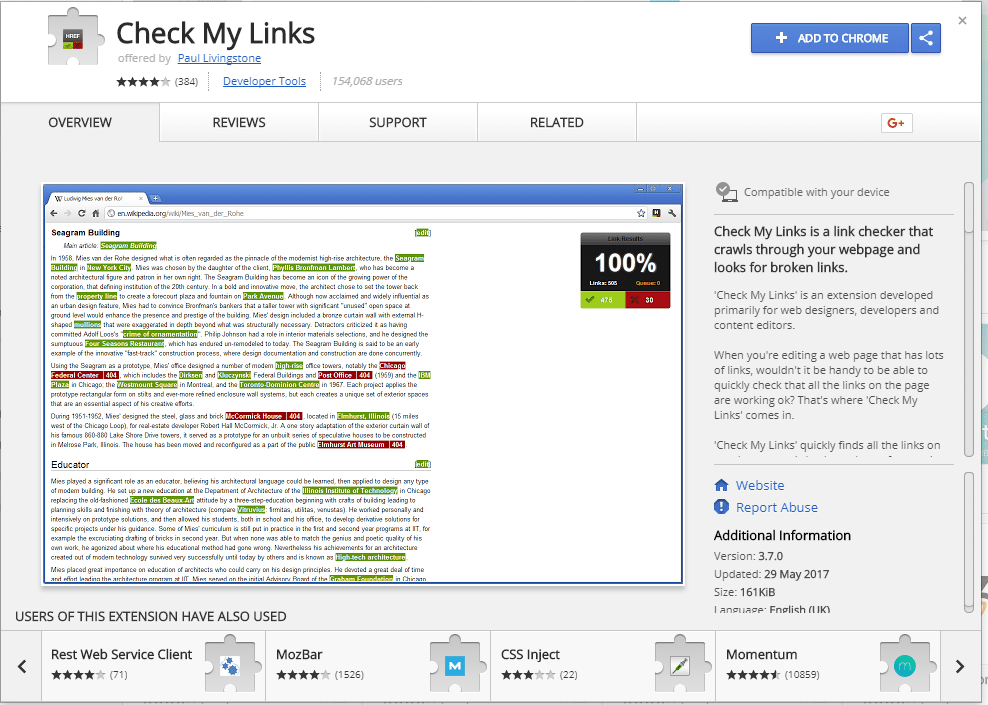 Check My Links is the most popular free plugin for chasing down broken links at the scale of individual webpages. Developed primarily as a tool for developers, content editors, and online publishers to gloss faulty hyperlinks in their own published content, Check My Links can also be used to peruse content made public on most websites. It is an ideal tool for researchers cobbling together a list of resources to be linked in content that is currently or already in-the-works. This means that using Check My Links to verify connectivity in content that informs our own will go a long way toward ensuring topical relevance when requesting a site fix one of their broken links with a working one to our own. It also increases editorial interest in the fact that we have essentially "done our homework" by reading a site's content and expressing a genuine interest in making it better. In other words, when paired with the usual link-cultivation stage for creating homegrown content, prospecting with Check My Links fertilizes the ground for growing those relationships that spring up when two sites fix a link together. And of course, it is a much faster tool than using a mouse and cursor to uncover broken links blindly.
2. ExpiredDomains.net
ExpiredDomains.netis a website containing a database of URLs for expired domains that can be sorted by backlink data. Drawing from thousands of domain names that expire every day, the site also gathers lists of deleted or dropped domains, many of which are bought and sold by sites like GoDaddy.com and are therefore unviewable unless purchased. However, many of these domains can also be viewed through Archive.org, where they can also be navigated via a series of snapshots taken during years when the domain was active. Expired Domains is perhaps best for inverting the process of broken backlink building, as it allows link prospectors to sift through backlinks at the scale of entire domains that are dead, meaning that every link to those domains is also dead, and therefore a good lead. Expired Domains also supports partnerships with a number of site surveyor services. These surveyors permit users to view URLs that link live domains to dead websites, so that users will know where they can go to find broken backlinks and contact information without a shadow of a doubt. Although most site surveyors provide their service for a fee, one offers a free option. With practice and in combination with the aforementioned services and other tools on this list, Expired Domain's top-down approach from the domain perspective can render the process of finding dead links much faster than the bottom-up approach of sifting through individual pages.
3. Xenu's Link Sleuth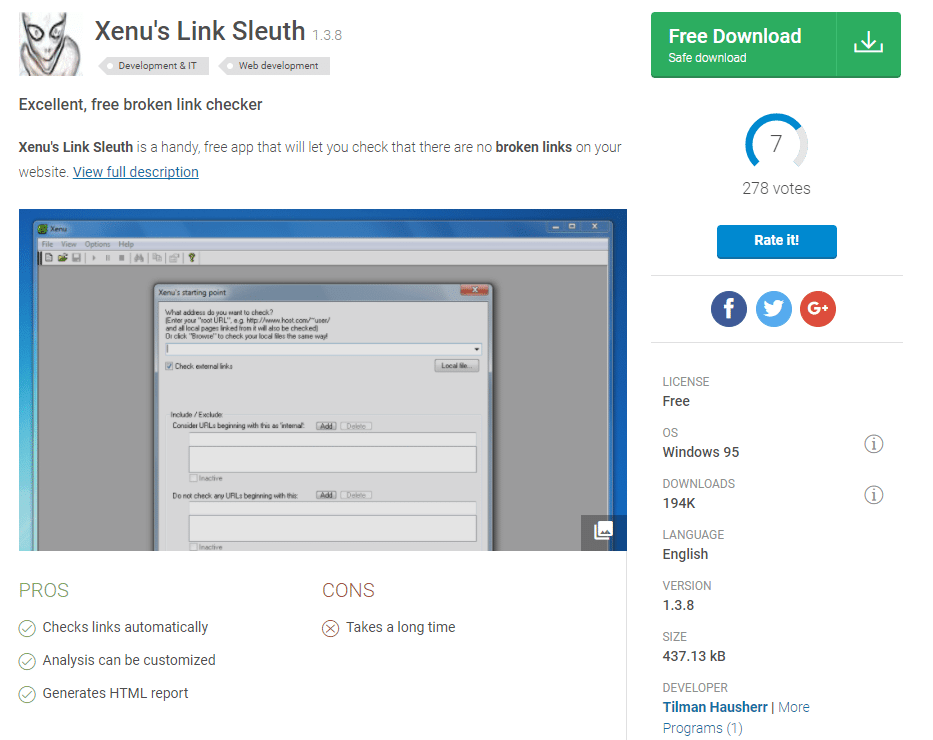 Xenu's Link Sleuth is a time-tested software program for finding broken links at the scale of hundreds of pages. True to its namesake of Xenu—the omnipotent Galactic Ruler from Scientology—this powerful tool works like an Internet detective to sleuth its way through every link on a given domain, follow them to their source pages, and test for connective errors. Although incompatible with OS X software, the program is ideal for self-teachers who have already learned (or are currently learning) the basics of web construction. This is because Link Sleuth ultimately spits out a report in HTML, a report that can be customized according to a number of filters, including Redirected URLs, Sitemaps, and of course Broken Links in a variety of forms. The larger a site, the more links it supports; and the more filters a user chooses, the longer a given sleuth will take. But the average time spent sifting through all links on a medium-to-small-sized website using the most basic filter, "Broken Links by page" is less than 5 minutes. That translates into 5 minutes that might have been spent looking for leads by clicking through links on one page rather than an entire domain. In addition, Link Sleuth was designed for checking and maintaining live links on a user's own site, which makes it a perfect tool for writers and publishers who want to check links on multiple sites without the monotony of having to click through each and every one.
4. Linkody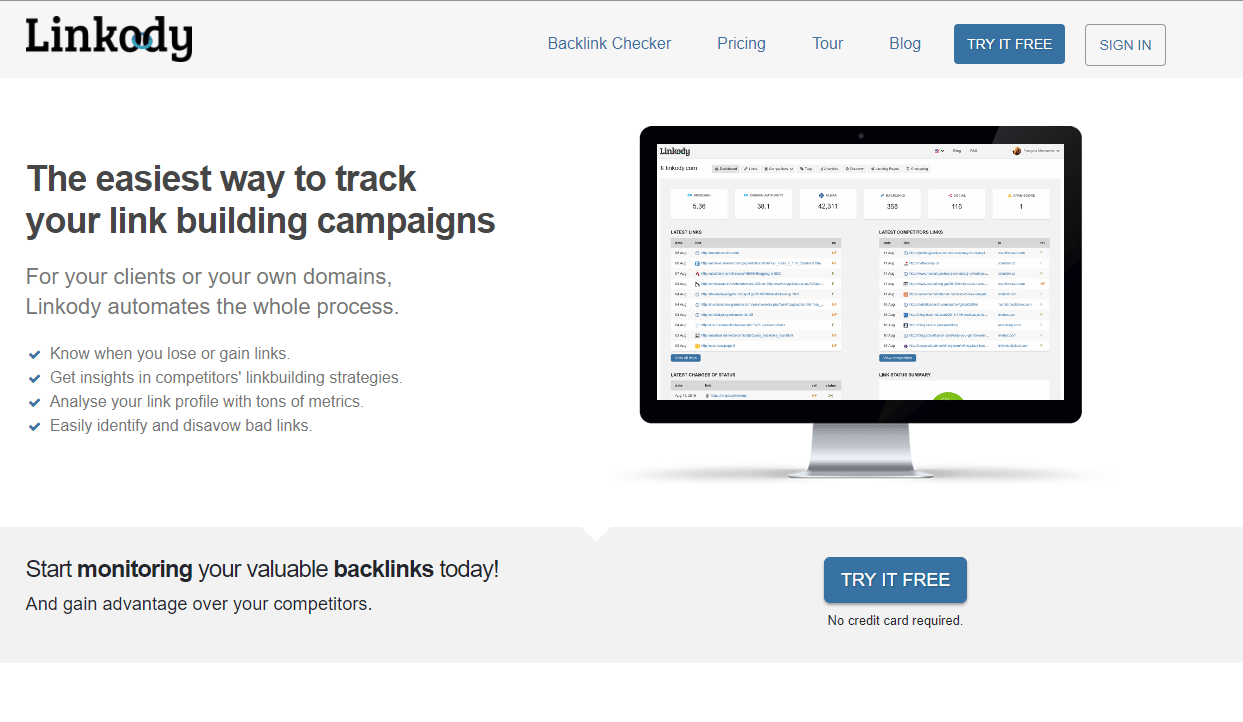 Linkody is a unique and easy-to-use service designed specifically for tracking changes in backlink status. For a small monthly fee (and free trial), users can monitor whether their own links are dead or alive on all the domains that link to them, as well as many related domains that don't. In fact, Linkody emails users when their competitors get a new backlink, permitting a window into competitors' strategy for building backlinks, as well as clueing users to other domains that show interest in content like their own. Linkody's other features include support for multiple users so broken backlink builders could work as a team; instant link location on source pages so users can locate the links they're looking for fast and easy; as well as link analytics that can be used to pinpoint broken links on top-level domains and high-ranking websites. All of this, along with Linkody's "Disavow" feature, permits users to spend more time making sure they're cultivating the best links for their site instead of spending hours manually clicking, sifting, and weighing a prospective link's value one-at-a-time. In other words, Linkody is a perfect fast tool for getting ahead in the game of building a list of fixable links.
5. Ahrefs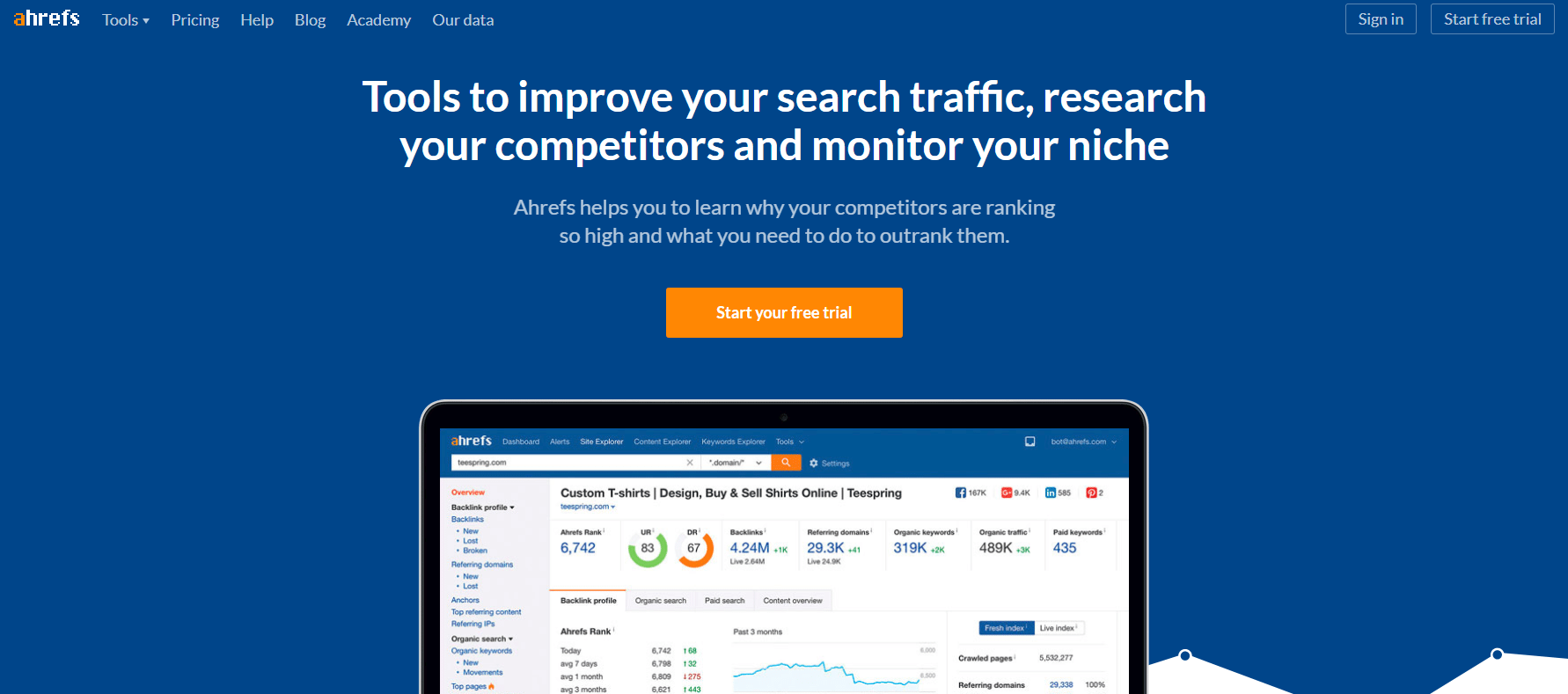 Ahrefs is a large-scale service for monitoring the status of backlinks on a practically unlimited number of domains. For a fee, users can avail themselves of a number of tools designed simply to perform the best backlink analysis available. These tools include Ahrefs' popular Site Explorer, which provides an in-depth look at the backlink profile and search traffic of any website by producing lists of its backlinks, organic traffic, and paid traffic all in a single interface. Ahrefs' tools also include Keyword Explorer, a database of keywords that places search terms according to a variety of ranking indicators that demonstrate a topic's current relevance; as well as Link Intersect, a function that allows users to find out who is linking to their competitors but not themselves and is therefore ripe to check for topical broken backlinks. In other words, Ahrefs is the essential basket of tools for serious backlink builders who want to find broken links as fast (and with as little hair-tearing or relevance-questioning) as possible. And although it may come at a cost, the time saved using it will far outweigh the time spent learning and using almost any individual tool on the market, especially in the long term.
5 Fast Tools for Marketing Targeted Content
1. Gmail's "Canned Responses" Lab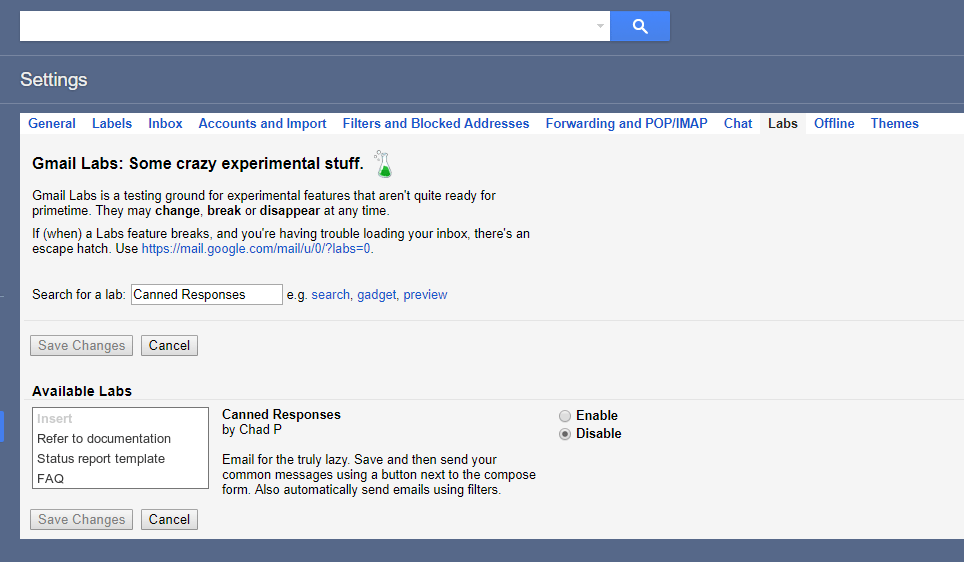 Gmail's Canned Responses is a free lab offered by Google for drafting quick, template messages to send the same (or similar) message to large and varied audiences. An excellent function for speeding through an email marketing campaign, the tool allows users to save drafted emails as "canned responses" without the need to individually copy and paste drafted messages into a new window, target phrasing for a different audience, and type the subject line without error. Inasmuch, Canned Responses works to ensure quality copy transfer without the worry of subject line typos, misappropriated targeting, or signatures with unintended spacing for each and every email. This fast feature is a must-have for email marketers and especially broken backlink curators, as its ability to save time, control quality, and target messaging with appropriate links to various verticals is sure to impact the user's bottom line in all the right ways.
2. Hemingway App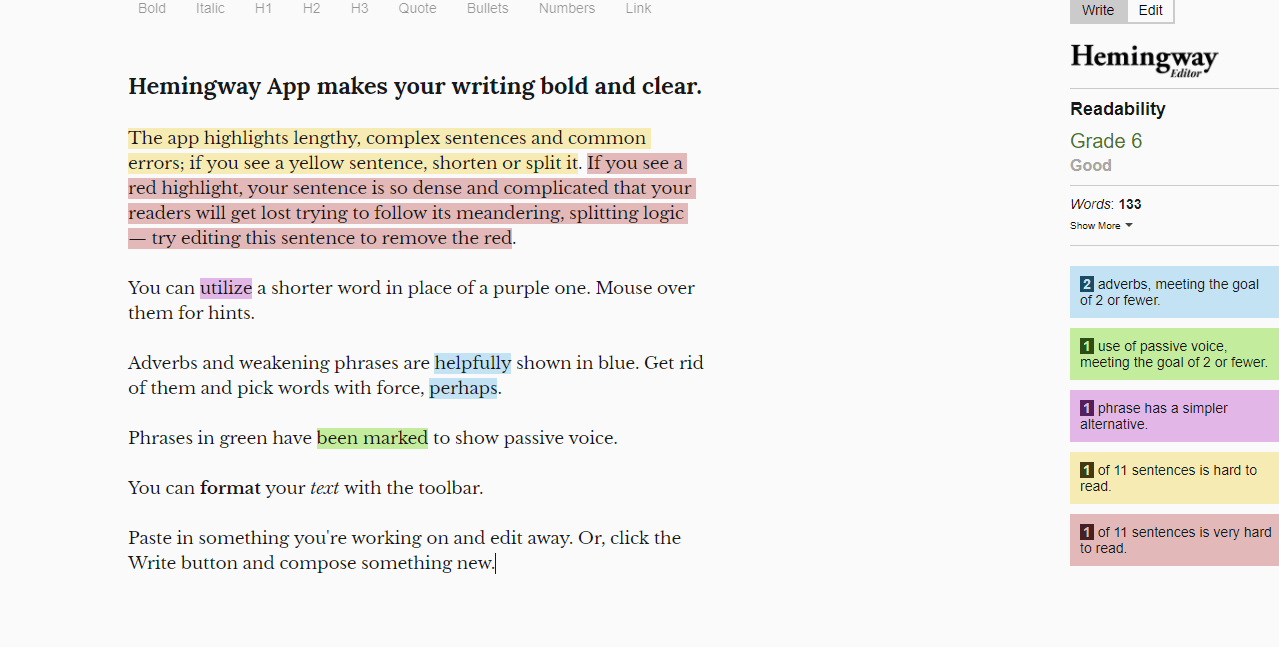 The Hemingway App is simple. It's a website designed for writers to make their prose crisp and clean. Bold and clear. Like Ernest Hemingway's. Hemingway App is ideal for testing email readability. It's suited to email marketers who want their message to grip audience attention, like a bull charging a matador. Broken backlink curators will appreciate the tool's breakdown of SEO influencers. It lets writers test what they've written for headlines, subheadings, and paragraphs, all with an eye toward cutting the fluff. And because all the tool demands is plugging your prose into a text box on the Internet, it's faster and easier than waiting for editorial feedback, or sending messages to-and-from personal email accounts to see if you'd love to fix that link you're telling yourself about. No matter what the mission is, if you're writing something that will go public, Hemingway App is a fast, great tool for not only targeting a no-nonsense business audience but also holding their full, undivided attention.
3. MailChimp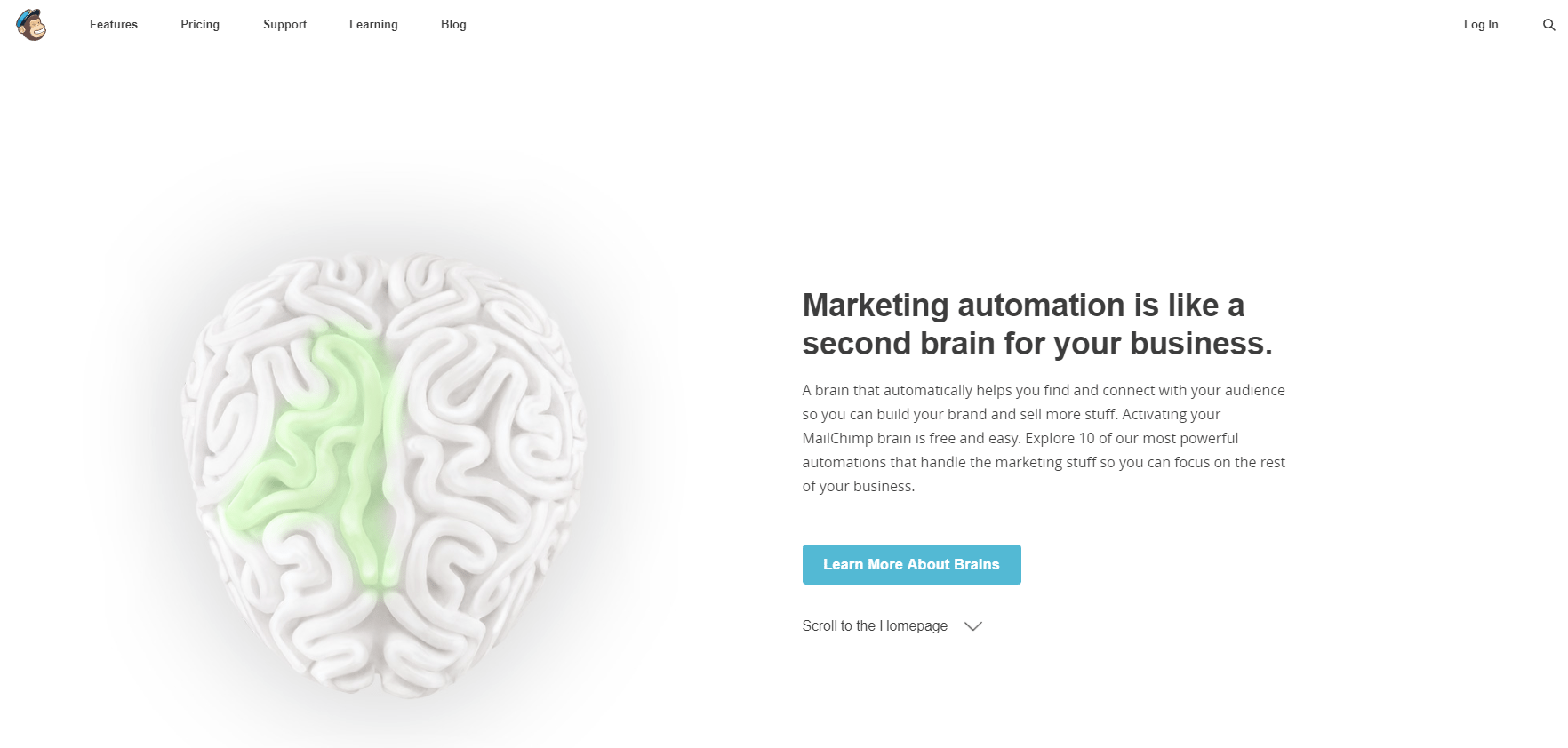 MailChimp is an email service provider for designing message templates, sorting and sending message, as well as replying with auto-response technology. Offering free sign up and a free plan for those with under 2,000 subscribers, MailChimp is perfect for assembling an email marketing campaign all under one roof. Designer templates allow customization for a number of target audiences. And for broken backlink curators, MailChimp's free reports on open rates and user engagement will come in handy when determining the success of a campaign that was targeted using broken backlink research. Targeting is MailChimp's strongest suit, with custom forms, group segmentation, advanced segmentation, and subscriber profiles available to users who require a high level of tailoring and message management for individual audience members. Upgrades to features such as automated-reply messaging are available for as little as $10 per month, making MailChimp one of the most affordable email service providers on the market. It is also one of the most user-friendly, with a simple interface and mobile adaptability that makes message-sending process much more efficient than most free email service providers.
4. Facebook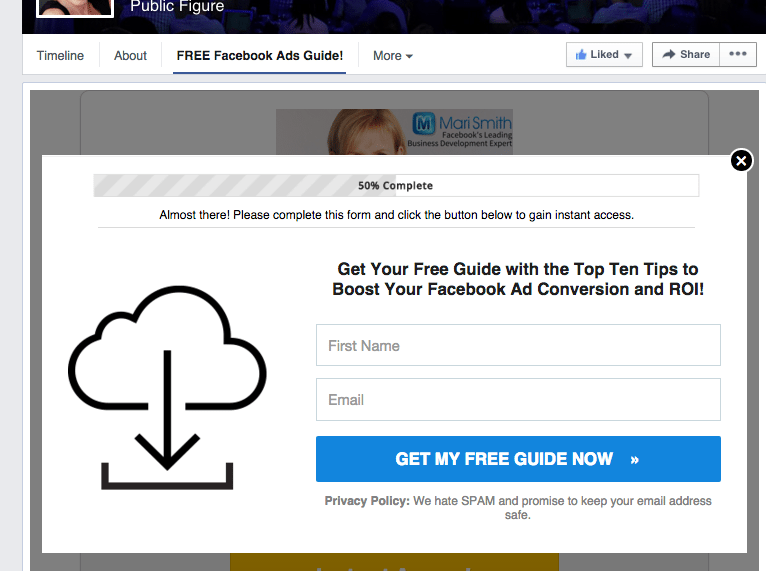 Facebook is of course an excellent tool for audience research, targeting, and engagment, but it's not often seen as the place to go for building an email list. Yet for those who maintain a company Facebook page, it is exactly that. That's because if you use an email service provider (like MailChimp above), then it's fast, free, and easy to set up an icon at the top of your page where users can click and sign up for your email list. Once they sign up, you'll know they hold a certain level of esteem for the types of content you post. You'll also know, that if they are web workers like yourself, they will almost certainly have or host links that may be broken and pertain to your own content. In other words, Facebook's email sign-up option is a highly targeted way of building a contact list from which to follow leads to broken links, as well as an excellent gauge of interest in the type of content you could suggest to fix broken links on your users' pages.
5. Raven URL Builder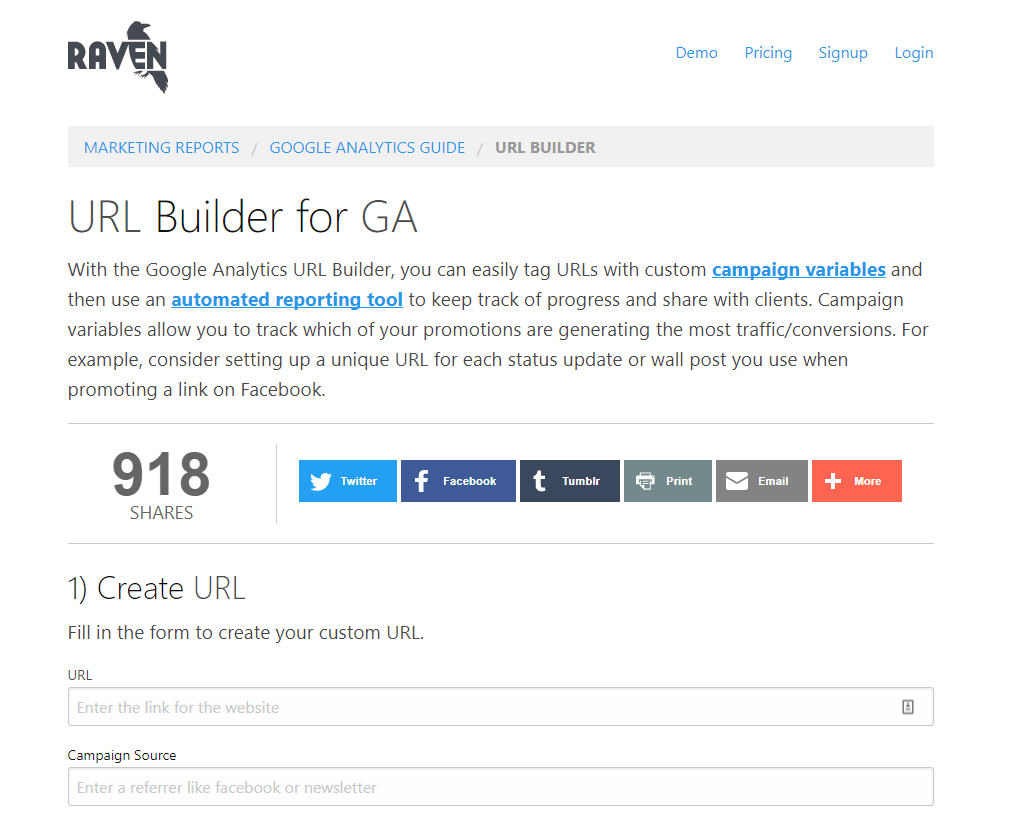 Raven URL Builder is a tool from Google Analytics designed for building, tracking, and analyzing engagement with links across a number of platforms, including email. Although it comes at a cost, Raven is essentially a double-edged tool that comes with several functions to assist with both the backlink gathering and email marketing processes. These include the ability to gather data from an unlimited number of marketing campaigns, a Site Auditor, which crawls up to 10,000 pages per site to gather link data, as well as unlimited, automated, and branded reports on these crawls. True to its name, Raven essentially operates as an informant for its subscribers, flying across the web to observe exactly how targeted audience members engage with promotional content, then returning to report the link profiles of that audience. Raven thus helps marketers pinpoint domains their target audience tends to come from, and thus where marketers are likely to find support in the future for any any link they propose to fix that can be traced back to their audience's most popular referring domains. In other words, Raven is an excellent tool for planning out a subscriber's next broken backlink marketing campaign, because it allows the user to prospect by merely including a coded link in their email marketing message. All this makes Raven one of the best, fastest, and most forward-linking tools out there for building broken backlinks and marketing targeted content.
If you track down broken backlinks and conduct targeted marketing campaigns both well and often, keep us posted on the best fast tools you use!