Do I Need a Marketing Degree?
Marketing is one of the few fields that is indispensible, regardless of the industry you're in. It's also a lucrative field, and for a certain type of creative, problem solver, or thrill seeker is a very rewarding field of work. Because marketing is such big business, and there are so many opportunities at every level of the field, we regularly get asked about the best way to enter into a marketing career. By proxy, the question often takes the form of "do I need a marketing degree?" Many of the best marketers i've met have degrees — often very rigorous ones — but not necessarily degrees in marketing. This might be because the academic discipline of marketing is relatively new, or because they work in settings that value results more than credentials. Take with this the fact that many of the top marketers in organizations hold a variety of degrees, and the picture becomes a bit more complex. In short,
needing a marketing degree or not just depends…
Top reasons you need a marketing degree: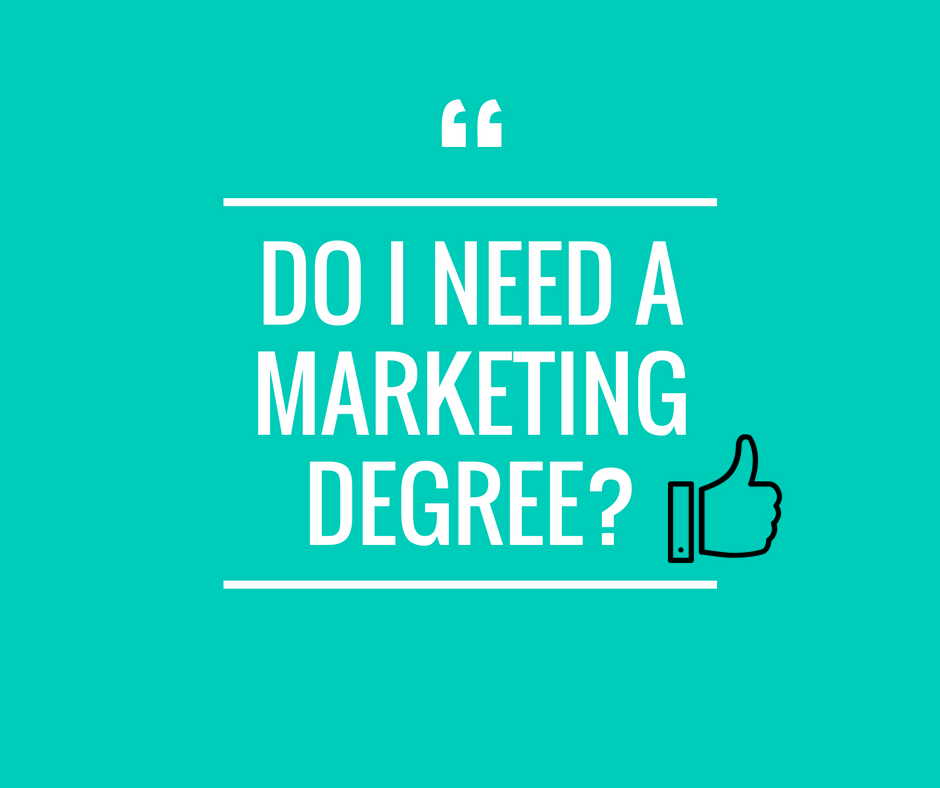 1.) It's hard to get the full breadth of knowledge complementary to marketing positions without a degree tailored for it
This isn't to say that there aren't other degrees that provide a huge range of background knowledge on marketing-related skills, or that you can't learn many marketing skills on the job, but rather that the academic knowledge that is complementary to marketing positions is very specific, and multidisciplinary. It's an off chance that another degree would prepare you for marketing positions
through select classes in business, psychology, web technologies, communication, creative writing, design, statistics, advertising, and well, marketing.
Graduate level study is even more specialized, making it even more doubtful that a full marketing education could be obtained without a marketing degree. At a bachelors level, an undergraduate degree in marketing might be composed of something like the following (from LSU's E.J. Ourso College of Business' B.S. in Marketing Degree):
2 semester-long accounting classes
3 semester-long economics classes
2 semester-long mathematics classes
2 semester-long oral and written communication classes
2 semester-long information systems and decisions science classes
1 semester-long finance class
2 semester-long management classes
1 semester-long business law class
2 semester-long upper level business elective classes
6 semester-long marketing core and elective classes
It's just plain unlikely that another single degree would provide background information in that range of topics. While students could do well by coupling more than one minor in subjects like statistics, mathematics, business, management, information systems, or marketing, their major would still need to be chosen very well to complement a marketing career as well as a marketing major like LSU's above. Add to that that marketing degrees often offer a range of industry or skill-specific concentrations and the academic results are even harder to mirror in another program. Interested in a bachelors degree in marketing, check out our
2016-2017 ranking of the best online bachelors in marketing degrees
. Interested in a masters degree in marketing? Check out our
2016-2017 ranking of the best online masters in marketing degrees
. Interested in a graduate level certification program in marketing? Check out our
2016-2017 rankings of the best online certifications in digital marketing
.
2.) You have an undergraduate degree that thought you how to reason, read, write, and think. But you need specialized knowledge quickly.
While the
exact
stack of knowledge needed by marketers will vary by position and industry (and likely learned on the job), oftentimes a degree is the quickest way to obtain a wide breadth of specialization knowledge that might be applicable to many marketing positions. If you're in a marketing position and looking to stay with your current organization, you might be well served to continue learning through work. But
if you're seeking to catch up with industry professionals, or looking to change positions or industries, a marketing degree might be the quickest route.
Particularly for students who have already obtained a rigorous undergradaute degree — in a STEM or liberal arts field — there are many post-bachellaureate and certification programs that can help you quickly gain specialized marketing knowledge. At the graduate level, a number of MBA programs with marketing concentrations may also be achieved in as little as a year and a half. Though not many, there are also
boot camps
for some marketing disciplines, or a very wide range of courses. For students who know the exact tools they would like to master, these are often valid options.
FEATURED ONLINE PROGRAMS
University of Denver – University College

Denver, CO & Online

>Master's in Marketing Communications

The Marketing Communication master's concentration prompts you to analyze consumer behavior, conduct market research, and engage the power of brands and messages in order to develop powerful digital marketing strategies. Evaluate various tactics, measure their effectiveness, and explore the intricacies of working with or in complex, multi-functional teams to execute compelling marketing campaigns. Highlights:

Top 100 university
100% online
No GRE
SPONSORED
3.) You're in an organization that highly values academic credentialing, or may even help you obtain another degree.
Whether or not it's the best way of screening for talent, or even related to a candidate's ability to do their job properly, most corporations still specify that job candidates should have at least a college degree. Oftentimes companies specify particular degrees, or graduate level work as well. While there's no question in my mind that people can self-study their way into becoming extremely competent marketers, many marketing positions require (A) a degree, and (b) would prefer for it to be from marketing or marketing-related fields.
But this doesn't apply to everyone.
Ask yourself what sort of organization you would like to work for. If you're already in a marketing position, ask yourself if you're looking to stay in this organization or switch to another. Oftentimes large established companies are those that can afford to truly screen out candidates without their exact degree requirements. If you're already in a marketing role already, have a job route through connections, or are looking at smaller organizations, there's probably more room for you to craft a role in the organization without a marketing degree. If you're looking at larger organizations with stricter organizational structure, you may want to obtain a degree (or a higher one). If you're already in a large organization, talk with your managers and HR professionals to see what educational paths they would recommend. In fact, some larger organizations require very specific degrees to advance up the corporate ladder farther, and some even provide financial aid or support in obtaining the degree.
4.) Degrees lead to higher job stability
Regardless of where you think you will be working, life can sometimes throw you a curve ball. And you need to be thinking about the long game here. If you have the chance to procure another degree — particularly one centered on job skills — chances are your lifetime job security will be substantially higher. Looking at
unemployment in the middle of the last recession
(2010), there was double the chance that high school graduates were unemployed compared to college graduates. In the middle of the recession, laid off graduates were also able to procure new jobs at a substantially faster rate than those without degrees (18 weeks to 28 weeks, respectivelly). Unless you're already advanced in your career, or have already mastered many skills that could be pertinant in a number of roles, help to provide yourself with the largest amount of job security by credentialing now.
5.) Marketing Degrees Boost Salaries at Mid-Levels and Above
Particularly at middle management and above, marketing degrees can often help marketing managers to further specialize, substantially boosting their earnings. Specializing from a role like general brand manager to a package design manager could boost a salary by as much as $5,000. Particularly at the upper end of middle management, any move distinguishing you from similar managers can also lead to a number of other substantial stock and option packages (depending on what type of organization you work for). Regardless of job title, higher education levels mean higher average salaries across the board in marketing careers. Marketers with masters in marketing typically make $2,000 to $5,000 more per year than bachelors holders. While marketers with MBAs typically earn $7,000-$11,000 higher in earnings. MBA holders also often start out in higher levels of management compared to other marketing degree holders.
Top Reasons You May Not Need a Marketing Degree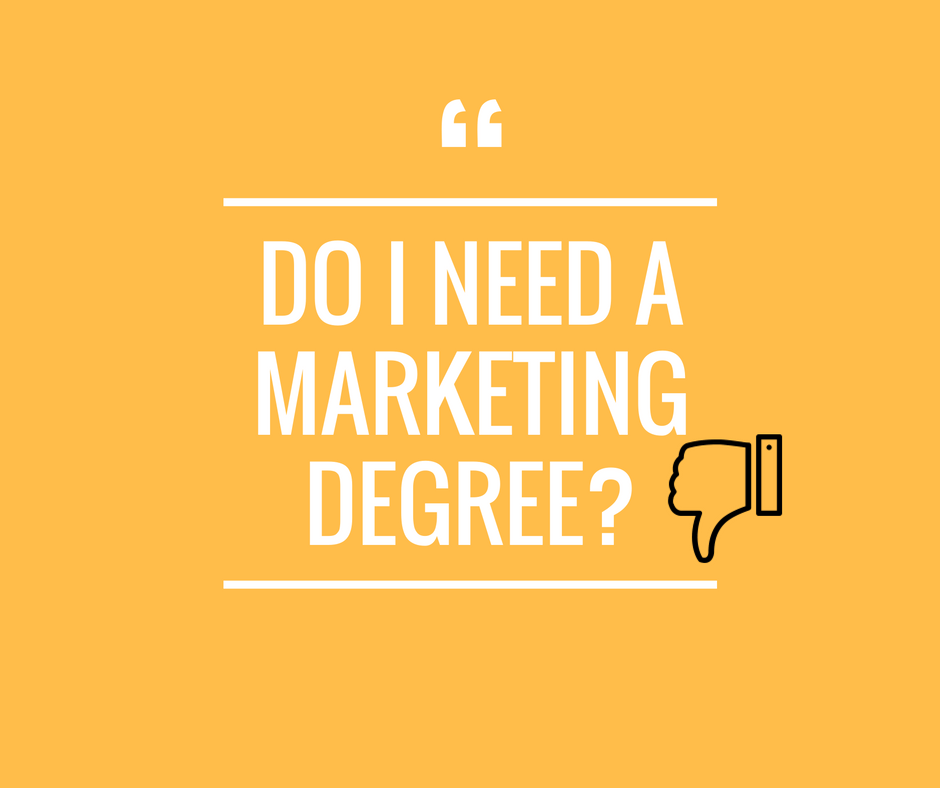 1.) Employers want skills over degrees
A 2014
Glassdoor
survey found that over 3/4 employers value prior work experience and skills more than a degree. For potential students already in a marketing position, this means that you may very well be better off focusing on gaining new projects in your current work more than spending the money and time needed to head to back to school. Furthermore — and for those looking to advance up the ladder — 53% of employers surveyed claim that graduate degrees are no longer necessary to secure a high paying job. While this doesn't exclude the usefulness of a bachelors-level marketing degree in marketing work, it notes that for some marketers seeking high paying jobs, they may not need to return to school for a graduate level degree.
2.) Marketing skills are only part of what will get you hired
When looking at the breadth of what makes a candidate successful in a given work role, there are every few positions where marketing skills are the only skills workers should excel at. The ability to communicate with co-workers and clients, the ability to ask meaningful questions, the ability to prioritize, networking, research skills, presentation, and executive function as a whole are often some of the most important skills in any role. Add to that that there are many technical skills, software skills, and organizational habits that can boost a workers productivity more than just marketing know-how, and there's even less reason to focus specifically on marketing degree-specific knowledge. Another important domain of worker knowledge is documented by
a study
from the Association of American Colleges and Universities, noting what many employers find most important (and lacking) in recent college graduates. In descending order these valued traits include: workers who know how to solve problems with others with differing viewpoints, an understanding of democratic institutions and values, civil knowledge, a broad knowledge of the liberal arts and sciences, and skills of intercultural understanding.
3.) Degrees can cost a lot
While many marketing positions will require some sort of undergraduate degree, graduate marketing degrees are generally the bigger ticket item. With typical graduate-level degrees ranging from $30,000-$120,000 and many marketing positions open to bachelors-degree holders, students may want to think long and hard before jumping into graduate programs. While that is an $80,000 spread, many marketing programs that are taken as part of a specialized MBA are on the higher end of that degree cost. For students hoping to get faster and cheaper graduate level credentials,
a number
of graduate level marketing certifications are available. These options generally range from 1-2 years at a part-time pace, and cost subtantially less than a full masters in marketing. If you're interested primarily in skills, and not in credentialing, check out our post on
How to Get a Top Marketing Education For a Fraction of the Cost
. Our guide walks students through a typical curriculum at a top marketing program and matches class types with free or almost free MOOC and open education opportunities. For the sake of comparison, a bachelors in marketing degree could cost close to $80,000 in core class fees at a top university. MOOC options, however, allow students to obtain many of the same courses (sometimes identical courses) for as little as $800 total.