30 of the Most Successful Video Game Marketing Campaigns Ever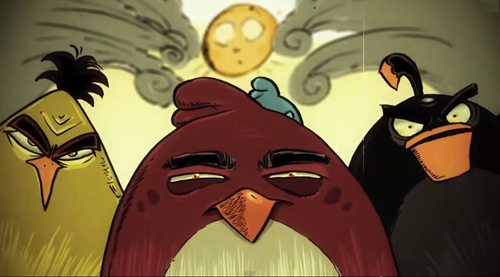 Video games are big business. In 2012 hugely popular first-person shooter romp
Call of Duty: Black Ops II
brought in $1 billion in only 15 days, which was quicker than 2009 Hollywood mega-hit
Avatar
. What's more, companies spend millions of dollars not just making games, but also marketing them. Rockstar Games' 2013 actioner
Grand Theft Auto V
had a total development and marketing outlay of around $290 million, which made it the most big-ticket gaming title ever produced. With such high stakes, the effectiveness of video game marketing can make or break a new release. There are even times when the right campaign may help throw a low-budget hit into the limelight, with smash success
Angry Birds
a case in point. Here we examine 30 of the most successful and innovative video game marketing campaigns in history, taking in everything from '90s magazine ads and TV spots to viral social media promotions, website takeovers and much more besides.
Methodology
First we looked at similar video game marketing list articles such as Answers'
5 Craziest Video Game Viral Marketing Campaigns
and Venture Beat's
10 Greatest Gaming Ad Campaigns of the Last Decade
. See a more complete breakdown below. We also considered resources like the
Game Marketing Summit Awards
. However, in the absence of many other comprehensive lists on the subject, we had to do other independent research as well. In terms of measuring success, we took into consideration multiple criteria. These included each marketing campaign's broad capacity to generate hype, anticipation and media attention, as well as more measurable end results – for example, the number of views trailers have received and, of course, sales figures. We also factored innovative, outside-the-box thinking into the equation. Lastly, we tried to limit each franchise to a single article entry, although the outstanding success of multiple games in certain series meant including more than one was unavoidable in a few cases. The article covers record-breaking modern marketing campaigns as well as landmark pre-social media and pre-YouTube offensives that still managed to engage audiences and sell millions of copies.
30. Portal 2 (2011)
Portal 2
publishers
Valve
initially teased a
Portal
sequel using an alternate reality game (ARG) that launched on March 1, 2010, four days before the real deal's official announcement. A second, more elaborate ARG titled
Potato Sack
was released the following year, on April 1. Seemingly, the game bundle allowed players to unlock
Portal 2
ahead of its planned April 19 release date – but this unfortunately turned out to be a bad April Fools' Day joke. Still, Valve's fresh, community-focused approach helped to build anticipation. Ignoring advertising agencies, Valve also created an in-house television commercial and plastered cities in the U.S. and U.K. with billboards and bus ads. By early May 2012
Portal 2
had shifted over four million copies, excluding sales from Valve's online Steam network.
FEATURED ONLINE PROGRAMS
University of Denver – University College

Denver, CO & Online

>Master's in Marketing Communications

The Marketing Communication master's concentration prompts you to analyze consumer behavior, conduct market research, and engage the power of brands and messages in order to develop powerful digital marketing strategies. Evaluate various tactics, measure their effectiveness, and explore the intricacies of working with or in complex, multi-functional teams to execute compelling marketing campaigns. You'll learn to:

Design, manage, and measure persuasive, integrated, digital marketing communication campaigns
Assess the current scope and predict future trends in traditional, social, mobile, email, search, and digital marketing
Measure traditional and digital marketing communication efforts and create plans to adjust future campaigns based on results
Create strategies to elevate an organization's or client's marketing and branding efforts
SPONSORED
29. BioShock 2 (2010)
Based on the success of its predecessor, dystopian 2010 first-person shooter
BioShock 2
had a lot to live up to. In March 2009 the
2K Games
marketing team unleashed the narrative-led "Something in the Sea" viral site, which according to
Gamespot
was aimed at the "core community of rabid fans." Then on August 8 of the same year empty bottles of fictional wine were loaded with hype-inducing posters and "washed ashore" on ten beaches around the globe, with their whereabouts revealed through the viral campaign so that fans could find them. The epic game trailer launched during a
Late Night with Jimmy Fallon
ad break on February 2, 2010, a week before the release. The largest campaign of 2K's life also utilized magazine inserts, handmade posters and downloadable content, while artwork was even added to Joey Logano's NASCAR ride.
BioShock 2
was February 2010's best-selling game.
28. Tomb Raider (2013)
Revolving around sultry heroine Lara Croft,
Tomb Raider
has grown from a 1996 video game into a massive multimedia franchise, spawning comics, thrill rides and Hollywood blockbusters. To market the 2013 reboot of
Tomb Raider
, publisher
Square Enix
initiated the series' biggest launch campaign to date. In January 2011
Game Informer
published print and online reveal content; then in June of the same year a teaser trailer hit the net that went on to rack up nearly six million views on YouTube. A fresh trailer was launched in December 2012, while IGN hosted "Tomb Raider Week" later that same month. Released on March 5, 2013,
Tomb Raider
shifted 3.4 million copies in a month. Moreover, on the back of a dynamic marketing campaign involving TV and movie ads, billboards, demos, special editions and online initiatives, it had sold close to six million units by March 2014, eventually surpassing its original financial projections. The campaign itself won multiple awards at the 2014 Game Marketing Summit.
27. Resident Evil 5 (2009)
Capcom
publishes the massively successful
Resident Evil
survival horror series, which has apparently spawned 89 titles across all platforms. To support the March 2009 launch of sequel
Resident Evil 5
, the video game company orchestrated a body part treasure hunt in London's Trafalgar Square, offering the winning collector a trip to Africa. The stunt generated media hype, while shocked tourists gawked as the blood-soaked winners gathered on Westminster Bridge. Amusingly, several of the body parts – which were smeared in chicken livers for added authenticity – went missing, and Capcom released a statement warning Londoners not to be alarmed if they came across the "realistic" appendages. By the end of March 2014
Resident Evil 5
had shifted 6.6 million copies, making it Capcom's best-selling game to date. Marketing initiatives also included strategically launched trailers, one of which was highly controversial, and a curious viral campaign based on the repeatedly used portent, "It came from Kijuju" – where the game is set.
26. Borderlands 2 (2012)
Much of the marketing for
2K Games
's September 2012-launched sequel
Borderlands 2
revolved around the cult RPG's gutsy comic artwork. The game's dark and daring box art and some of its promotional material featured a character pointing his fingers at his head as if the digits are guns. "I hope we're like a train wreck. You can't help but be like, 'What is that thing? I've got to know more about it,'" recalled designer Scott Kester.
Eurogamer
called the concept "a brave move… screaming from shop shelves 'f***ing buy me.'"
Borderlands 2
was unveiled at gamescom 2011, and
Game Informer
ran a front page piece on it that September. Created in conjunction with agency
g-NET
, a funny, award-winning trailer hit in July 2012, while developer
Gearbox Software
also added 16-bit online game
The Border Lands
to its campaign in August of the same year. By February 2014
Borderlands 2
had moved 8.5 million copies, becoming 2K's best-selling release to date.
25. Mass Effect 3 (2012)
Electronic Arts
and
BioWare
turned to viral marketing to promote highly anticipated 2012 role-playing game (RPG)
Mass Effect 3
. The sci-fi sequel was first heralded on December 11, 2010, and BioWare kept fans buzzing with weekly video uploads, social media updates, plot-revealing blog content and merchandise all designed to build anticipation. A demo was launched on Valentine's Day 2012, and that same month Electronic Arts attached copies of the game to a series of weather balloons, which were sent into space and tracked by GPS. Finding a landed balloon meant fans could grab a copy of the game before its scheduled March release date. As part of the campaign, a TV spot from global ad agency
FCB
was also strategically aired, close on the back of a cinematic trailer. From the marketing and packaging to the title's increased focus on third-person shooting,
Mass Effect 3
was designed for the mass market, and it took $200 million in two months.
24. Crash Bandicoot 2: Cortex Strikes Back (1997)
Before Twitter, Facebook and YouTube, video game publishers had to take a more tangible approach to market their titles. In 1997 Sony Computer Entertainment spent millions of dollars promoting
Crash Bandicoot 2: Cortex Strikes Back
, the follow-up to 1996 smash hit platformer
Crash Bandicoot
. The first installment sold "a record-breaking 1.7 million units worldwide," Sony's Andrew House explained at the time, adding, "This incredible popularity merits the blockbuster product roll-out that we have developed for the sequel." Sony's "Crash is Back" campaign targeted various magazine types plus TV. Created in collaboration with Los Angeles'
TBWA\Chiat\Day
were a series of commercials aired during high-profile '90s shows like
Seinfeld
,
Married… with Children
,
Home Improvement
and
The Simpsons
. Sony also purchased airtime on E! Entertainment, MTV and ESPN and made a significant promotional deal with Post Cereal.
Crash Bandicoot 2: Cortex Strikes back
shifted 7.58 million copies.
23. Saints Row IV (2013)
For years, THQ's sandbox action series
Saints Row
was dismissed as a
Grand Theft Auto
rip-off. So when
GTA V
launched in September 2013, a month after
Saints Row IV
, new
Saints Row
series developer
Deep Silver
took pot shots using its own attention-grabbing, wordplay-titled
GAT V
expansion pack. Deep Silver also released the marketing-savvy
Super Dangerous Wad Wad Edition
, which allegedly cost $1 million to buy and included a replica dubstep gun, spy training, plastic surgery, seven nights at Dubai's Burj Al Arab, a Lamborghini Gallardo, and a Toyota Prius with one year's insurance. Deep Silver also expressed misgivings about THQ's porn star-led marketing efforts for earlier
Saints Row
games and tried to re-brand the series, highlighting its tongue-in-cheek style.
Saints Row IV
sold a million copies in a week and won four honors at the 2014 Game Marketing Summit.
22. Disney Infinity (2013)
2013's
Disney Infinity
– which was perhaps more than a little inspired by Activision's
Skylanders
series – threw Disney and Disney/Pixar's army of money-spinning heroes together for the first time as action figures and virtual avatars. With the help of
Soap Creative
,
Disney
's campaign kicked off supported by a strong online base featuring a slick HTML 5 website and what has been touted as "one of YouTube's first truly responsive and fully interactive branded channels." The marketing push also involved a sweeping social media campaign that included teasing Facebook posts and digital Valentine's Day cards. Furthermore, Disney took up a presence on sites such as ESPN, Nickelodeon and Yahoo. The game launched on August 18, 2013, and by mid January of the next year Disney had shifted three million starter packs priced $74.99 apiece.
21. The Legend of Zelda: Ocarina of Time 3D (2011)
Actor Robin Williams loves Nintendo's fantasy action series
The Legend of Zelda
so much that he named his very own daughter for the titular character. Williams would further demonstrate his love for the game by appearing in a commercial for the 2011 Nintendo 3DS overhaul of
The Legend of Zelda: Ocarina of Time
, the series' most popular entry to date. The Williams-fronted ad tapped into enthusiasts' nostalgia for the original game, using the tagline, "Zelda fans since 1987." Meanwhile, in Japan
Nintendo
turned to native boy band Arashi to promote the game.
Ocarina of Time 3D
's marketing drive also included gameplay-highlighting TV spots, online site takeovers, pre-order bonus items, in-store displays, a major pre-release event in Sydney, Australia, and a targeted print ad campaign. The title was put out there in June 2011 and sold over a million copies in less than a month. It would go on to shift 3.36 million units by mid June 2013.
20. Dead Island (2011)
First-person zombie survival RPG
Dead Island
grabbed the world's attention with a dark, emotionally-charged 2011 viral announcement trailer. The mind-blowing short was made by Scottish studio
Axis Animation
and has been viewed over 13.4 million times on YouTube. It even scooped a 2011 gold award at the Cannes Lions International Festival of Creativity, and one
Wired
writer beamed, "It may be the best video game trailer I've ever seen."
Dead Island
was first heralded on August 8, 2007, and after multiple delays publisher
Deep Silver
finally launched gameplay trailers "Part 1: Tragedy Hits Paradise" and "Part 2: Dead Island Begins" in May and June 2011, respectively. The company also financed a four-episode comedy series set on Dead Island with GamesRadar's Talkradar and worked with Bantam Books on a
Dead Island
novel.
Dead Island
launched in September 2011 and has moved in excess of five million units.
19. Tetris (1989)
Russian game designer Alexey Pajitnov's influential tile-matching puzzle hit
Tetris
may have debuted in 1984 on PCs, but it wouldn't take its first real steps towards world domination until 1988. After coming across
Tetris
during the '88 Consumer Electronics Show in Las Vegas, Dutch publisher Henk Rogers jetted off to Moscow to secure the rights to Pajitnov's masterpiece. A court ruling granted
Nintendo
sole rights to the console version of
Tetris
, and with the video gaming multinational gearing up to release its 1989 Game Boy handheld console, Rogers had a plan. He told Minoru Arakawa, Nintendo of America's CEO, "If you want little boys to buy your machine include
Mario
, but if you want everyone to buy your machine, include
Tetris
." The rest, as they say, is history. Today,
Tetris
is the world's biggest-ever selling video game, having moved an estimated 143 million copies.
18. Mario Kart 8 (2014)
Mario is surely the single most iconic character in the history of video gaming. Since first appearing in 1981, the loveable Italian carpenter-cum-plumber has been the face of over 445.2 million game sales. Moreover, the
Mario Kart
series alone has shifted more than 100 million units since 1992. Before
Mario Kart 8
was launched in late May 2014,
Nintendo
's Wii U console was struggling. However,
Mario Kart 8
's launch would coincide with a sales boost, with U.K. weekly console sales alone increasing by 666 percent. To market the title, Nintendo unleashed a year-long publicity push encompassing everything from teasing screenshots and TV commercials to pre-order bundles and web-based promotions. The campaign even included a branded NASCAR ride and trackside appearances by Mario and his brother Luigi.
Mario Kart 8
had shifted two million copies by the end of June 2014.
17. Batman: Arkham City (2011)
Following the success of 2009 action hit
Batman: Arkham Asylum
,
Warner Bros. Interactive Entertainment
set its sights even higher when marketing sequel
Batman: Arkham City
, launched in October 2011. The company's senior vice president of worldwide marketing Russell Arons said the idea was "to make it a top-selling game, not just a top-selling superhero game." The publisher did this by emphasizing aspects that might entice those who enjoy general action titles and first-person shooters such as
Call of Duty
. Inspired by iconic images like those of Steve Jobs and James Dean, marketing company
Trailer Park
suggested the strong black and white aesthetics, while blood was also added to help humanize Batman. Stunts featuring costumed actors were staged as well, and viral videos were created. The campaign took more than a year to develop and cost around $10 million. What's more, the title – one of the swiftest-selling ever – had shifted more than six million copies by early February 2012.
16. God of War III (2010)
Sony's flagship mythological action series
God of War
has shifted over 21 million copies since it launched on PlayStation 2 in 2005. Unsurprisingly, Sony threw everything it had into marketing 2010's
God of War III
. Some of the more adventurous techniques included developer SCE Santa Monica Studios asking gamers to submit "Ultimate
God of War
fan" videos; Sony staging a "Last Titan Standing" in conjunction with Spike's GameTrailers TV; and a downloadable content (DLC) partnership struck with 7-Eleven involving
God of War III
Slurpees being sold in specially designed cups. In March 2010 NASCAR star Joey Logano's race car was wrapped in
God of War III
artwork, and in April of the same year gaming site Machinima uploaded behind-the-scenes, hype-building videos titled "Art of the Game." The campaign also included action figures as well as pre-order and DLC bonus editions.
God of War III
was released on March 16, 2010, and by June 2012 it had moved close to 5.2 million units.
15. Assassin's Creed 3 (2012)
Assassin's Creed 3
was officially announced in February 2012. From the very beginning, the marketing campaign was bold, engaging and one of the most ambitious in
Ubisoft
's history. The idea was to attract new fans to the action series using social media. A brand-communicating American Revolution-themed live-action trailer dubbed "Rise" was created by international agency
Sid Lee
and released exclusively online, which helped lead the way to Ubisoft attracting more than two million new faces to its Facebook page. "It's not a question of changing and shifting our way to communicate, it's to combine all the media to reach our target," explained chief sales and marketing officer Geoffroy Sardin. Ubisoft most certainly got it right. Released on October 30, 2012,
Assassin's Creed 3
shifted 3.5 million copies inside a week, making it easily the best-selling – and most pre-ordered –
Assassin's Creed
game to date.
14. Metal Gear Solid 4: Guns of the Patriots (2008)
Konami
took an
I, Robot
approach to marketing the sixth Hideo Kojima-directed title from its
Metal Gear Solid
series, striking product placement deals with Apple, Sony Ericsson, Regain Energy Drink and Triumph Motorcycles, all of which feature in the game. Ahead of the title's June 12, 2008 launch, a hype-building April Fools' Day trailer was released, with protagonist Old Snake disguised as
Assassin's Creed
hero Altaïr – and later it was revealed that the outfit would be an unlockable bonus feature. To market the release, Konami also ventured out on a "Metal Gear Solid 4 World Tour" in June 2008. The tour involved a string of publicity events, including signings, special appearances, a live broadcast, and a midnight launch party in Hollywood. To date,
Metal Gear Solid 4: Guns of the Patriots
has shifted close to six million units globally, meaning it is the top-selling Sony exclusive created by a third party.
13. Gran Turismo 5 (2010)
Developed by
Polyphony Digital
, Sony Computer Entertainment's PlayStation-exclusive racing series,
Gran Turismo
, has sold over 70 million copies since 1997. When
Gran Turismo 5
was announced in 2006, fans began counting down to the release of the first installment made for the PS3. The launch date was, at long last, set for November 24, 2010. In July 2010
Mercedes-Benz World
in the U.K. let enthusiasts test drive an in-game version of the Mercedes SLS AMG, even giving some players the opportunity to drive the real thing. In September 2010 the "We Love Cars" campaign kicked off in Japan, while Sony also staged a branded Honda CR-Z event in Times Square. In addition, the marketing offensive included deals with Schick, Tissot and Subway; plus it featured a Google Street View ad, an Oslo motor show promotion and a game-branded supercar show in Paris. By March 2013
Gran Turismo 5
had moved over 10.6 million copies.
12. Final Fantasy VII (1997)
Spread over three discs and loaded with cinematic cutscenes, role-playing epic
Final Fantasy VII
was a game like no other when it launched in 1997. Moreover, it exploded in Japan, selling 2.3 million copies in just three days. Keen to capitalize,
Sony
amassed a $100 million marketing budget, and the Square (now
Square Enix
) hit headed west. The internet was still in its infancy back then, and with no YouTube or Twitter to fall back on, Sony launched a three-month publicity offensive that included a 60-second theatrical trailer, short TV ads, and a saturating print-based ad campaign covering gaming magazines as well as marquee publications like
Playboy
and
Rolling Stone
. Sony also targeted comic book fans and made a promotional deal with Pepsi.
Final Fantasy VII
has sold over 10 million copies, making it the most popular game in the series.
11. FIFA Soccer 13 (2012)
Having moved over 100 million units since 1993,
Electronic Arts
'
FIFA
series represents the top-selling sports franchise in gaming history. When it launched in September 2012,
FIFA Soccer 13
sold 4.5 million copies in as little as five days and had shipped 14.5 million units by May 2013, making it the biggest-selling sports simulator of all time. To support the title's release, billboards went up in soccer stadiums around the U.K., a Twitter campaign was launched and top soccer stars lent their weight to the marketing. Legend of the sport Lionel Messi was the face of the campaign, which included a "Join the Club" TV ad devised by Wieden+Kennedy Amsterdam and a hype-building soundtrack release.
FIFA Soccer 13
's 2012 gamescom trailer has been viewed more than five million times on YouTube.
10. Grand Theft Auto IV (2008)
The seventh generation debut of
Rockstar Games
' seminal
Grand Theft Auto
series was a watershed moment for the franchise, and the release was supported by a slick, attention-grabbing marketing campaign that had gamers drooling with anticipation.
GTA IV
was first heralded by Microsoft's Peter Moore at E3 2006. Moore – who already had a
Halo 2
announcement tattoo – pulled up his shirt to display a stylized
GTA IV
motif inked on his left arm.
GTA IV
's iconic cover design was revealed on November 28, 2007, and this was followed by 13 teaser trailers from February through April 2008. Meanwhile, four movie-style trailers were launched between March 2007 and late March 2008, with the first causing the host website's servers to overload nearly at once owing to the large influx of traffic. Elsewhere, information was slowly released to the press, and viral guerrilla posters, graffiti, murals and billboards went up in locations everywhere from New York to Milan. When
GTA IV
eventually hit the shelves on April 29, 2008, it moved six million copies in a week.
9. The Sims 2 (2004)
Electronic Arts
knows better than anyone how much of a good thing it has been onto with life-simulating franchise
The Sims
. From expansion and branded content packs to deluxe and special edition DVDs, the commercial possibilities have been seemingly endless. When
The Sims 2
launched in September 2004, its marketing campaign had already begun targeting a new demographic: women between the ages of 13 and 34. Digital marketing company Freestyle Interactive set its sights on these would-be gamers in their own neck of cyberspace, attracting 1.5 million users via Yahoo! Messenger alone. The campaign also enticed retail companies by offering them the chance to showcase their real-life goods in the game's virtual marketplace, eventually leading to branded expansions like
IKEA Home Stuff
and
H&M Fashion Stuff
.
The Sims 2
has moved 20 million copies to date.
8. The Elder Scrolls V: Skyrim (2011)
Bethesda Softworks
used one of the most unique marketing stunts imaginable for its massively popular fantasy role-playing title
The Elder Scrolls V: Skyrim
. In February 2011 the publisher offered free Bethesda games for life to any fans who had a baby on the game's November 11, 2011 launch date and named it after protagonist Dovahkiin. Unbelievably (or perhaps not) Americans Megan and Eric Kellermeyer accepted the challenge and reaped the rewards. Back in the real world,
Skyrim
's marketing team aimed to widen the series' appeal, angling the game towards non-fantasy enthusiasts. Global agency
AKQA
tried to relay
Skyrim
's grittier backbone as well as its contemporary cinematic mood. With only a limited number of videos released in the year following the game's announcement, fans were left thirsty for more
Skyrim
. The painstakingly detailed marketing campaign worked wonders, and
The Elder Scrolls V
would go on to move more than 20 million copies by late January 2014.
7. Halo 3 (2007)
Microsoft
went all out with marketing 2007 Xbox 360 exclusive
Halo 3
, turning the intergalactic first-person shooter into a record-breaking juggernaut that has shifted 14.5 million copies. The game's $40 million marketing campaign kicked off in May 2006 with a theatrical trailer at the E3 gaming expo. A second trailer, produced by global ad agency
McCann-Erickson
, was released on December 4, 2006 and had been viewed more than 11 million times by the time the title launched the following September. The campaign also included teasers created by
District 9
director Neill Blomkamp in conjunction with Weta Workshop and
Bungie
. In September 2007 Microsoft unleashed its iconic $10 million "Believe" campaign, featuring a video series, a website and a diorama.
Halo 3
's marketing efforts also encompassed an alternate reality game, over 10,000 global launch parties, and ad partnerships with PepsiCo and Burger King.
6. Call of Duty: Modern Warfare 3 (2011)
Since launching in 2003,
Activision
's insanely popular first-person shooter franchise has moved over 140 million copies.
Call of Duty: Modern Warfare 2
, the sixth and biggest-selling entry to date, was released on November 10, 2009. Boosted by a reported $200 million marketing and distribution campaign – which included high-profile trailers and adding a
Modern Warfare 2
decal to NASCAR driver Joey Logano's stock car – the game sold 28.5 million units and brought in $1 billion. However, on the back of a strong TV ad campaign featuring actors Jonah Hill and Sam Worthington, 2011's
Call of Duty: Modern Warfare 3
smashed the series' record for first-day sales, taking $400 million in 24 hours throughout the U.S. and U.K.
Modern Warfare 3
's campaign – key aspects of which were produced in conjunction with creative agency
AntFarm
– included a two-day Los Angeles convention dubbed the
Call of Duty: Experience 2011
.
Modern Warfare 3
has shifted 26.5 million copies to date.
5. Skylanders: Giants (2012)
Activision
's
Skylanders
series took a McDonald's Happy Meal approach to marketing, combining the pocket-lining power of video games with an ever-increasing range of cute collectible toys. "The emotional connection that we have to toys and the representation of our childhoods – it just seemed like the perfect fit," explained Alex Ness, producer and chief of staff at
Toys for Bob
, which collaborated with Activision on the project. Jon Coyne, Activision's vice president of marketing, saw the groundbreaking idea's potential, saying, "I think early on you can sense if something is going to resonate with kids." Marketing initiatives for the 2012 sequel
Skylanders: Giants
stressed the game's fresh characters and its toy figures' new sizes, powers and poses, as well as other improvements to the original release. And the products were a hit, with 500,000 packs moved inside two weeks. To date, Activision has shifted in excess of 175 million toys and grossed $2 billion with the franchise.
4. Wii Sports (2006)
A lot was riding on 2006
Nintendo
Wii launch title
Wii Sports
: the company was reaching out to a new audience that included soccer moms and grandparents.
Wii Sports
was chosen for its universal appeal, and based on early player input Nintendo dropped characters from the
Super Mario
series in favor of cute and customizable avatars known as Miis.
Wii Sports
was announced at E3 2006 alongside a playable demo of
Wii Sports: Tennis
. Meanwhile, a host of marketing efforts highlighted the game's ease of use and social appeal. Trailers featured families, friends and senior citizens having fun together, also emphasizing the kinetic aspect of Wii gaming. Costing more than $200 million, the campaign involved TV ads, in-store displays, demo kiosks, public events and even a music tour.
Wii Sports
has shifted 82.54 million copies to date.
3. Angry Birds (2009)
Finnish developer
Rovio
launched
Angry Birds
on the iOS App Store in December 2009. By May 2012 the game had been downloaded on a billion different occasions. "The iPhone opened up the whole world. You had one contact, plus worldwide distribution," explained Rovio co-founder Niklas Hed. Niklas and Mikael Hed did their market research in early 2009 and began looking for something simple, iconic and universal. After their brainchild topped App Store charts in countries such as Finland and Greece, Rovio teamed up with publishing company Chillingo and took
Angry Birds
to
Apple
– which showcased it as "game of the week" on its U.K. App Store. Shrewdly, Rovio launched a trailer on YouTube to tie in with the plug. The trailer was one of the first of its kind for a mobile game and has now been viewed over 100 million times. Today, the
Angry Birds
empire includes board games, stuffed toys, branded spin-offs, theme park attractions and much more.
2. Call of Duty: Black Ops II (2012)
In late 2010 – on the back of a marketing campaign that included a
Call of Duty
Chrysler Jeep and a zombie-infested viral site –
Call of Duty: Black Ops
sold over 5.6 million units in 24 hours and grossed $1 billion in a month and a half.
Activision
would eventually unveil follow-up
Black Ops II
on TNT in the midst of the May 1, 2012 NBA playoffs. Showing off the game's futuristic setting, the trailer helped the title set a new Amazon pre-order record and has now been viewed over 32 million times on YouTube. To assist in steering the futuristic setting away from the realm of sci-fi, Activision also produced three videos starring controversial U.S. military figure Oliver North. The publisher additionally worked with agencies
72andSunny
and
AntFarm
on a pair of brief teasers and even a full-length film. Plus, the campaign boasted a strong mobile element and even a live-action ad featuring Robert Downey Jr.
Black Ops II
grossed $1 billion in 15 days, reaching the figure quicker than 2009 blockbuster
Avatar
.
1. Grand Theft Auto V (2013)
Rockstar Games
' ultra-violent
Grand Theft Auto
(GTA) series has been thrilling gamers and infuriating conservatives since 1997. In October 2011 Rockstar nonchalantly tweeted a link to an official
GTA V
website. A trailer soon followed, and the world licked its lips in anticipation. A second trailer was issued in November 2012, followed by a December
Game Informer
cover story. Related murals went up in Manhattan in March 2013. The campaign also included a viral marketing drive, exclusive pre-order packaging deals, and strategically-placed billboards and posters. Rockstar shelled out a reported $265 million developing and marketing the game, and by the time it was released on September 17, 2013, gamers were ready to pop. The open-world action title made $800 million in 24 hours and went on to rack up seven Guinness World Records – including swiftest entertainment property to gross $1 billion.