Reaching Voters: The Effects of Political Ads

Share this graphic on your site!
Reaching Voters: The Effects of Political Ads
Due in part to the upcoming presidential election, Americans are constantly surrounded by political ads on TV, on social media and in the news. Just how effective is political marketing, and do negative ads really work?
$4.4 billion
Estimated amount of ad spending on federal political races in 2016, compared to $3.8 billion in 2012. (1)
$1 billion
Expected amount of online political ad spending in 2016(2)
General Effects of Political Ads
Action taken by voters after viewing political ad (2)
Action: Percentage of viewers
Voted in election: 36%
Watched related video: 16%
Clicked on political ad: 13%
Contacted representative: 8%
Signed up for newsletter: 6%
Donated money to campaign: 6%
Donated money to cause: 5%
Volunteered for campaign: 3%
The most effective political ad platforms according to internet users(2)
TV news: 69%
TV political shows: 61%
Digital: 49%
Word-of-mouth : 48%
TV ads: 42%
Negative Ads
Many voters openly reject attack ads on political candidates, and yet they are often emotionally affected by them. So at the subconscious level, perhaps negative ads are more effective than we think.
Political ads have slowly become more negative over the past four election cycles. (3)
Year Negative ads Positive ads
2000 28% 40%
2004 45% 27%
2008 51% 27%
2012 64% 14%
87%
Percentage of voters who say they are concerned about the number of negative political ads in the media (4)
63% of voters believe the following should be considered "out of bounds" in attack ads: (4)
A candidate's lack of military service
Past personal financial issues
The actions of a candidate's family members
Past alcohol or drug abuse
Why do they work?(5)
Negative ads tend to encourage voters to seek out more information about candidates.
People are emotionally wired to pay attention to threatening, negative information.
Negative information sticks to the brain, more easily converting to long-term memory.
Attack ads tend to contain more information and seem more reliable.
They also help sway the undecided voter toward the end of an election.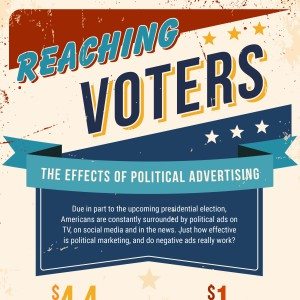 SOURCES:
2. http://trends.e-strategyblog.com
3. http://journalistsresource.org