Online Marketing Education Opportunities in North Carolina
North Carolina has the 10th largest economy of any state in America. In 2015, it would have been the 30th largest economy in the world. There are nearly 5 million civilian workers in the state, with major sectors in agriculture, manufacturing, finance, technology, research and much more. Fortunately for you, all of these sectors need marketers to work for them. In fact, the skills you'll earn in a Marketing Associate's, Bachelor's, or Master's program will be applicable to most jobs in North Carolina, and the world at large. In 2017, Forbes ranked North Carolina the best state for business in the country. They noted low labor costs, diminished unions, and booming migration to the state. North Carolina is rapidly innovating its tech culture, leading to increasing online education options, and a multitude of marketing opportunities in fields like business administration, business psychology, communications, and public relations.
Average Salaries for Common Marketing Roles In North Carolina
As noted, wages in North Carolina aren't particularly high. This has obvious drawbacks, but is also alluring for businesses that hire marketers, who can use their experience at those businesses to expand their career opportunities and potential earnings. Additionally, cost of living in North Carolina is below many other states in the nation.
Social Media Analyst: $59,615
Marketing Specialist: $49,482
Marketing Manager: $93,096
Marketing Director: $131,179
Chief Marketing Officer: $160,000
Remember, these numbers are below national averages, but sometimes what you sacrifice in salary you can make up in job opportunities. Also, there's nothing stopping you from earning an online marketing degree from a North Carolina institution and then plying your trade somewhere else. Additionally, Marketing Manager and Market Research Analyst jobs are projected to grow by over 100,000 openings between now and 2024 nationwide.
The 5 Best Online Marketing Degree Providers in North Carolina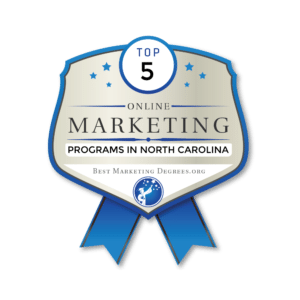 In order to compile this list, we looked at the online degree providers in North Carolina, then delved further into those offering online Marketing degrees. We found excellent online marketing degree offerings at the Associate's, Bachelor's, and Master's levels. Make sure these degrees and specific programs align with your career goals, what you can afford, your ability to commit time and effort, and any other factors that impact you personally. We looked at two factors in creating the below ranking: the number of full online marketing degrees offered by an institution of higher learning, and the academic prestige score of an institution. The academic prestige score took into account metrics including the average amount of financial aid met, the average size of classes, admissions standards, and the percentage of professors holding terminal degrees in their field. Check out our 5 favorite colleges offering marketing education in North Carolina now!
Directory of Online Marketing Degree Providers in North Carolina
William Peace University
Raleigh, NC
Online M Degrees: 1

ADDRESS & CONTACT INFO

(919) 508-2000 15 E Peace St, Raleigh, North Carolina 27604-1194
East Carolina University
Greenville, NC
Online M Degrees: 2

ADDRESS & CONTACT INFO

(252) 328-6131 East 5th Street, Greenville, North Carolina 27858-4353
Blue Ridge Community College
Flat Rock, NC
Online M Degrees: 1

ADDRESS & CONTACT INFO

(828) 694-1700 180 West Campus Drive, Flat Rock, North Carolina 28731-4728
Fayetteville Technical Community College
Fayeteville, NC
Online M Degrees: 1

ADDRESS & CONTACT INFO

(910) 678-8400 2201 Hull Rd, Fayetteville, North Carolina 28303-0236
Pitt Community College
Winterville, NC
Online M Degrees: 1

ADDRESS & CONTACT INFO

(252) 493-7200 1986 Pitt Tech Road, Winterville, North Carolina 28590