Online Marketing Education Opportunities in Michigan
Michigan has the 12th largest economy of any state in America. In 2015, it would have been the 37th largest economy in the world. There are nearly 4.9 million civilian workers in Michigan. Major sectors in its economy include education, information technology agriculture, manufacturing (especially automobiles), research and much more. Historically, it's known for its powerful unions. A great part of earning a marketing degree is that basically every industry needs marketing. What you learn and the skills you build Marketing Associate's, Bachelor's, or Master's program will be applicable across Michigan and the world. Michigan was one of the first states to explode in the technology sector, with well over 500,000 tech employees in 2002, making it rank 4th in the nation then. It has continued to build its tech sectors, in addition to the portion of its economy that's made up of research and development. Of course, the automotive industry is still the juggernaut in Michigan's economy, and employs many of its marketers. In 2010 Michigan led the nation in job creation improvement.
Average Salaries for Common Marketing Roles In Michigan
Michigan's agricultural, manufacturing and tech industries all employ marketers. Marketing Specialists in Michigan make almost $15,000 more annually than the national average. Let's dive in:
Social Media Analyst: $50,698
Marketing Specialist: $$65,024
Marketing Manager: $75,493
Marketing Director: $94,891
Chief Marketing Officer: $164,848
In addition to the above average Marketing Specialist salaries in Michigan, Marketing Manager and Market Research Analyst jobs are projected to grow by over 100,000 openings between now and 2024 nationwide.
The 5 Best Online Marketing Degree Providers in Michigan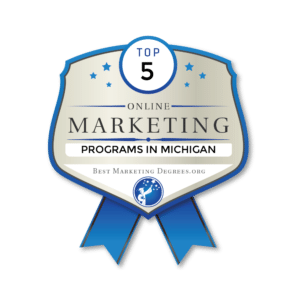 In order to compile this list, we looked at the online degree providers in Michigan, then delved further into those offering online Marketing degrees. Eight schools were inspected, and five were chosen. In those five we found excellent online marketing degree offerings at the Associate's, Bachelor's, and Master's levels. When perusing this list, make sure they fit your career goals, budget, schedule and interests. We looked at two factors in creating the below ranking: the number of full online marketing degrees offered by an institution of higher learning, and the academic prestige score of an institution. The academic prestige score took into account metrics including the average amount of financial aid met, the average size of classes, admissions standards, and the percentage of professors holding terminal degrees in their field. So don't dally! Check out our 5 favorite colleges offering marketing education in Michigan below.
1
Concordia University-Ann Arbor
4-year, Private not-for-profit
Online M Degrees: 2
Concordia University Ann Arbor is a private, liberal arts university headquartered in Ann Arbor, Michigan. It was founded in 1963. It's affiliated with the Lutheran Church–Missouri Synod (LCMS) and is a member of the Concordia University System. Nearly 1,050 students attend CUAA, which has an 11:1 student-to-faculty ratio. It gives students access to more than 70 areas of study, graduate programs, adult education programs, and significant study-abroad activities. In 2016-17, it recorded an all-time high in enrollment, surpassing 1,050 students. CUAA offers two online graduate programs in Marketing. The first is a MBA in Communications and Public Relations. This program focuses on improving student's articulation in the realms of organizational messaging, client communication and media communication. It prepares students for careers in advertising, corporate public relations, spokespeople, consultants, and public image managers. They also offer an MBA in Strategic Marketing. It's aimed at keeping you competitive in the advertising business, and other related fields. In this program, you'll learn "how to plan, implement and manage marketing tasks like market segmentation, use of media and promotion, budgeting and evaluation." Students will also learn how to research an audience and make sure the message you share with them is communicated across the best channel.
2
Siena Heights University
4-year, Private not-for-profit
Online M Degrees: 1
SHU is a Roman Catholic University based out of Adrian, Michigan. It also has satellite campuses in Southfield, Dearborn, Benton Harbor, Monroe, Battle Creek, Kalamazoo, Lansing, Jackson, and of course, online. Siena was founded in 1919. Over 2,600 students attend Siena, which has a 13:1 student-to-faculty ratio. Siena offers students access to over 40 academic programs of study through colleges of Arts and Sciences, Professional Studies and its Graduate College. Its undergraduate offerings are broken into divisions of Business & Management; Computing, Mathematics & the Sciences; Humanities; Nursing; Social & Behavioral Science; Visual/Performing Arts & Teacher Education. U.S. News and World Report ranked SHU's online programs as the best in Michigan and tied for 24th place in the country in 2017. Siena Heights offers an online Bachelor's in Marketing. It helps cultivate student's skills and aptitudes in communication, creativity, analytical ability, integrative thinking, ethics and more. Sample courses include Micro and Macroeconomics, Marketing Management, Marketing Research, Consumer Behavior, Advertising and Promotion, Strategic Management, and much more. Through a detailed education in business principles and analysis, you'll see significant growth in your rational decision-making abilities. In addition to the Marketing concentration, students can opt for concentrations in Accounting, Finance, Health Care Management, Information Technology Management and Management.
4-year, Private not-for-profit
Online M Degrees: 2
Cleary is a private business university headquartered in Howell, Michigan. It was founded in 1883. It also offers programming online, and at education centers in Ann Arbor and Detroit. Cleary offers certificate, ABA, BBA, and MBA programs. Just under 600 students attend Cleary, which has a 14:1 student-to-faculty ratio. One of Cleary's most fascinating institutions is its Center for Innovation & Entrepreneurship. It serves "students, entrepreneurs, intrapreneurs, managers, corporations and small business owners." CIE's staff aims to help people "nurture ideas, fuel growth, turn around companies, innovate IP and develop employees." Cleary offers an online Associates in Business Administration. It comes in six concentrations, including Accounting/Finance, General Studies, Hospitality/Food Service, Management, Marketing/Communication, and Sports Promotion and Management. It also offers an online Bachelor's in Business Administration Marketing. This program gives students a comprehensive education in marketing and management. It focuses on practical applications, and complex real-world business problems. The methodology of the program was founded on case studies, project-based learning, and anything that promotes professional decision-making. Sample courses include Digital Marketing, Multimedia Design, Interactive Marketing, Quantitative Business Analysis, and much more.
4-year, Private not-for-profit
Online M Degrees: 1
Davenport is a private, non-profit university with locations throughout Michigan and a robust online division. Approximately 7,700 students attend Davenport, which has a 12:1 student-to-faculty ratio. It was founded in 1866. In 1910 it was on the verge of closing when a new teacher, Michael E. Davenport took the reins and transformed the school forever, while saving it. Davenport conveys Associate's, Bachelor's, and Master's Degrees, diplomas, and post-grad certification programs in business, technology, health professions, and graduate studies. Its programming is delivered through colleges of Arts and Sciences, Health Professions, Technology and Business. Davenport offers an online Bachelor of Business Administration in Marketing. The program was created with the help of business leaders to insure its relevancy. Students will learn essential marketing theory and strategy concepts, then build practical, tactical skills for success in the modern marketplace. In the program students can further specialize by choosing a concentration in either digital marketing and advertising, technology marketing, or value-chain. Learning outcomes include successfully managing information using digital technologies, strategy development, leveraging/integrating essential information into marketing plans, and much more. Some of the coursework can lead to essential certifications in the field. Sample courses that do so include Professional Selling, Digital Marketing, Digital Retailing, and Digital Brand Engagement.
4-year, primarily associate's, Private not-for-profit
Online M Degrees: 1
Baker is a private, not-for-profit career college focused on career developing degree programs. It was founded in 1911. Baker was founded in Flint, Michigan. Since then, it's expanded to 14 locations, 13 in Michigan and one in Pennsylvania. Over 21,200 students attend Baker, which has a 16:1 student-to-faculty ratio. Baker offers certificates, associate, bachelor, master and doctoral degree programs in business, healthcare, human services, education, and technology. These categories include programs in: nursing, teaching, interior design, architecture, automotive service technology, and computer and Internet technologies. Baker has a right-to-try admissions policy, so anyone with a high school diploma or GED can attend. In 1996, Baker College began offering online education. By 2001, they had 4,000 students enrolled online. Baker College also has an extensive financial aid office to help students afford its education. Baker offers a Bachelor of Business Administration in Marketing. It demonstrates what can be accomplished in the field by combining your creativity and analytical skills to take on unique challenges and expand your career. The program's faculty is made up of marketing professionals with extensive real-world experience. With classes and practical exercises, students will learn the principles of marketing and sales, business concepts and technical skills to boost your career. Graduates will be prepared to work in "entry-level marketing positions at advertising and marketing agencies or in-house marketing departments." Baker notes that graduates often go on to work in "marketing management, promotional strategy, retail merchandising, market research, and sales management."
Directory of Online Marketing Degree Providers in Michigan
Concordia University-Ann Arbor
Ann Arbor, MI
Online M Degrees: 2

ADDRESS & CONTACT INFO

(734) 995-7300 4090 Geddes Road, Ann Arbor, Michigan 48105
Siena Heights University
Adrian, MI
Online M Degrees: 1

ADDRESS & CONTACT INFO

(800) 521-0009 1247 E. Siena Heights Dr., Adrian, Michigan 49221
Cleary University
Howell, MI
Online M Degrees: 2

ADDRESS & CONTACT INFO

(800) 686-1883 3750 Cleary Drive, Howell, Michigan 48843
Davenport University
Grand Rapids, MI
Online M Degrees: 1

ADDRESS & CONTACT INFO

(616) 698-7111 6191 Kraft Avenue S.E., Grand Rapids, Michigan 49512-9396
Baker College
Flint, MI
Online M Degrees: 1

ADDRESS & CONTACT INFO

(800) 964-4299 1050 West Bristol Road, Flint, Michigan 48507-5508
Northwood University
Midland, MI
Online M Degrees: 1

ADDRESS & CONTACT INFO

(800) 622-9000 4000 Whiting Dr, Midland, Michigan 48640-2398
Schoolcraft College
Livonia, MI
Online M Degrees: 1

ADDRESS & CONTACT INFO

(734) 462-4400 18600 Haggerty Road, Livonia, Michigan 48152-2696
Walsh College of Accountancy and Business Administration
Troy, MI
Online M Degrees: 1

ADDRESS & CONTACT INFO

248-823-1600 3838 Livernois, Troy, Michigan 48083-5066