Online Marketing Education Opportunities in California
largest labor markets
in the United States, supporting almost 1.5 million businesses and 17 million employees in 2016, with gross annual wages totaling more than $250 million. And with nine schools offering at least one online marketing degree throughout the state, California houses some of the best online learning opportunities for marketing in the western half of the United States. Due to the ever-increasing size of the marketing infrastructure in almost every industry and governmental body, earning a degree from a top-tier California university goes a long way toward establishing one's credentials as a professional marketer in fields like business administration, business psychology, communications, and public relations.
Average Salaries for Common Marketing Roles In California
As both a national and international leader in agriculture, technology, tourism, and entertainment, California values marketers and advertisers in all of its industries. This is evidenced by particularly high earnings for those with marketing manager roles in the State of California. But it is also true of other roles, all of which make salaries that are at or above California's median household income of $64,500:
Social Media Analyst: $64,391
Marketing Specialist: $70,032
Marketing Manager: $102,452
Marketing Director: $144,044
Chief Marketing Officer: $241,204
Indeed, with Marketing Manager and Market Research Analyst jobs projected to grow by over 100,000 openings between now and 2024, jobs such as those above are some of the best an online learner can have, especially in a state where marketers and PR professionals are increasingly needed in every industry.
The 5 Best Online Marketing Degree Providers in California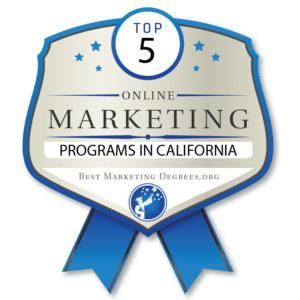 There are a total of 9 schools offering marketing education online in California. From community colleges through graduate business schools (and even a PhD program), there are marketing degrees available at every level in California. While future students may find their interest piqued by the "best" universities in the state, they should first and foremost check to make sure that the institution offers the type of degree they're looking for. After all, marketing roles can be reached through a wide variety of angles, from speech and communication degrees, to business degrees in marketing analytics. We looked at two factors to compile the ranking below: the number of full online marketing degrees offered by an institution of higher learning, and the academic prestige score of an institution. The academic prestige score took into account metrics including the average amount of financial aid met, the average size of classes, admissions standards, and the percentage of professors holding terminal degrees in their field. Check out our 5 favorite institutions for marketing education in California below!
Directory of Online Marketing Degree Providers in California
National University
San Diego, CA
Online M Degrees: 9

ADDRESS & CONTACT INFO (800) 628-8648
9388 Lightwave Ave, San Diego, CA 92123

UNDERGRADUATE DEGREES

Associate of Arts in Creative Writing
Associate of Arts in Communications
Associate of Arts in Digital Media Design
Bachelor of Arts in Integrated Marketing Communications
Bachelor of Arts in Digital Journalism
Bachelor of Arts in Strategic Communications
Bachelor of Arts in Digital Media Design

GRADUATE DEGREES

Master of Fine Arts in Creative Writing
Master of Arts in Digital Journalism
Master of Arts in Strategic Communication
California Baptist University
Riverside, CA
Online M Degrees: 7

ADDRESS & CONTACT INFO (951) 689-5771
8432 Magnolia Ave, Riverside, CA 92504

UNDERGRADUATE DEGREES

Bachelor of Arts in Graphic Design And Digital Media
Bachelor of Arts in Public Relations
Bachelor of Science in Marketing
Bachelor of Arts in Communication Studies
Bachelor of Arts in Interdisciplinary Studies – Communication Arts

GRADUATE DEGREES

Master of Arts in Public Relations
Master of Arts in Communication
Golden Gate University-San Francisco
San Francisco, CA
Online M Degrees: 5

ADDRESS & CONTACT INFO (415) 442-7000
536 Mission St, San Francisco, CA 94105

UNDERGRADUATE DEGREES

Bachelor of Arts in Management – Marketing
Bachelor of Science in Business – Marketing

GRADUATE DEGREES

Master of Business Administration – Marketing Concentration
Master of Science in Integrated Marketing Communications
Master of Science in Integrated Marketing Communications – Public Relations
Master of Science in Marketing
Brandman University
Irvine, CA
Online M Degrees: 3

ADDRESS & CONTACT INFO (949) 753-4774
16355 Laguna Canyon Rd, Irvine, CA 92618
University of Southern California
Los Angeles, CA
Online M Degrees: 1

ADDRESS & CONTACT INFO (213) 740-2311
Los Angeles, CA 90007
Hope International University
Fullerton, CA
Online M Degrees: 1

ADDRESS & CONTACT INFO (866) 722-4673
2500 Nutwood Ave, Fullerton, CA 92831
Pepperdine University
Malibu, CA
Online M Degrees: 1

ADDRESS & CONTACT INFO (310) 506-4000
24255 Pacific Coast Hwy, Malibu, CA 90263
The Chicago School of Professional Psychology (Irvine and Westwood)
Westwood & Irvine
Online M Degrees: 1

ADDRESS & CONTACT INFO (949) 769-7700

West Los Angeles College
Culver City, CA
Online M Degrees: 1

ADDRESS & CONTACT INFO (310) 287-4200
9000 Overland Ave, Culver City, CA 90230
California is home to the 6th largest economy in the world. It also hosts one of the